Wanted to draw your attention to a couple of recent donations to the "life is complex and frustrating, so let's go have some fun!" cause.
First, you can generally look to the Seven Impossible Things Before Breakfast blog for a pick-me-up. (And before breakfast, say researchers, is when 99% of the populace most needs picking up. (The other 1% need it most while they're sitting on barstools and fantasizing about Mr. or Ms. Right, as the case may be.))
But today's post, "Some Cartoons for You," just made me grin from ear to ear. (It might even have made the grin wrap around to the back of my neck — an alarming sight, no doubt, for the people behind me in the elevator this morning.) As is usually the case at 7-Imp, the focus is on children's books and illustrators — specifically, in this case, illustrators who favor a cartoon-like style of art.
It's pretty darned hard for me to look at this without smiling, and it's not even the whole image (from "Mr." [Tom] Warburton's 1000 Times No — see a reproduction of the entire page at the 7-Imp site):

As if that's not enough, Jules — author of the "Some Cartoons for You" post, also recently alerted me to a project which possibly smacks of blasphemy to some folks… but not to me: Terrible Yellow Eyes. Which is:
…a collection of works inspired by the beloved classic, Where the Wild Things Are by Maurice Sendak […] created by invited contributing artists and myself.

We share a love and admiration for Sendak's work and the pieces we present here are done as a tribute to his life and legacy.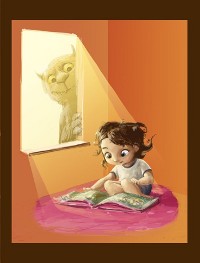 Over there at the right, you'll see Kate Burgess's contribution: "reading." Hmm. I wonder what book the little girl is so absorbed in while the Wild Thing looks over her shoulder…
The other day, Kate Lord Brown introduced me to another reason to smile:
There is so much I love about this life — the things I find hard to deal with are the inability to think in a straight line and the constant chaos (does this sound familiar — tidy one room and while your back's turned the next door room is devastated?). Too much 'stuff' bothers me, but I've had to learn to live with it because that's family life. To me, simple is beautiful — think of blue jeans, Shaker style, perfect pop (like Lenka's 'The Story' in today's clip), Rodin's drawings or a classic pair of white sneakers.
And what might the "'The Story' in today's clip" refer to? This:
Lyrics:
The Show
(by Lenka)

I'm just a little bit caught in the middle
Life is a maze and love is a riddle
i don't know where to go, can't do it alone
I've tried, and i don't know why…

Slow it down, make it stop
Or else my heart is going to pop
'Cause it's too much, yeah it's a lot
To be something i'm not
I'm a fool out of love
'Cause i just can't get enough…

I'm just a little bit caught in the middle
Life is a maze and love is a riddle
i don't know where to go, can't do it alone
I've tried, and i don't know why
I'm just a little girl lost in the moment
I'm so scared but i don't show it
I can't figure it out, it's bringing me down
I know i've got to let it go…
And just enjoy the show

The sun is hot in the sky
Just like a giant spotlight
The people follow the signs
And synchronise in time
It's a joke, nobody knows
They've got a ticket to the show….

(i want my money back, just enjoy the show)
Perfect pop indeed. Bubble-gum music, you bet. But this kind of thing is so far beyond '60s-style bubble-gum (Yummy yummy yummy, I've got love in my tummy… Sugar sugar, You are my candy girl…) I'm almost embarrassed to mention them in the same sentence.
Send to Kindle