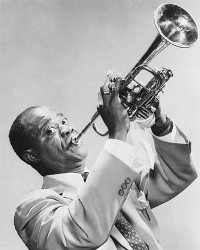 Laissez les bons temps rouler, eh? And among the songs often regarded as "typical New Orleans," we have the subject of today's Midweek Music Break.
No way could I even begin to match the masterful job of documenting its history which Robert W. Harwood undertook with his I Went Down to St. James Infirmary. One hundred ninety pages. Subtitle (all by itself practically a foreword to the book): Investigations in the Shadowy World of Early Jazz-Blues in the Company of Blind Willie McTell, Louis Armstrong, Don Redman, Irving Mills, Carl Moore, and a Host of Others, and Where Did This Dang Song Come from Anyway?
Briefly, though (and thank you, Wikipedia):
"St. James Infirmary Blues" is based on an 18th century traditional English folk song called "The Unfortunate Rake" (also known as "The Unfortunate Lad" or "The Young Man Cut Down in His Prime")… "The Unfortunate Rake" is about a sailor who uses his money on prostitutes, and then dies of a venereal disease…

The title is derived from St. James Hospital in London, a religious foundation for the treatment of leprosy.
Doesn't sound much like an invitation to party, does it? No good times rollin' here! But then we find these relevant lyrics, almost sketching for us a picture of a completely classic New Orleans funeral march:
"Get six young soldiers to carry my coffin,
Six young girls to sing me a song,
And each of them carry a bunch of green laurel
So they don't smell me as they bear me along.

"Don't muffle your drums and play your fifes merrily,
Play a quick march as you carry me along,
And fire your bright muskets all over my coffin…"
Here's "The Unfortunate Rake," in a suitably mournful interpretation by A.L. Lloyd (vocals) and Alf Edwards (concertina) (complete lyrics here):
[Below, click Play button to begin The Unfortunate Rake. While audio is playing, volume control appears at left — a row of little vertical bars. This clip is 2:59 long.]
Audio clip: Adobe Flash Player (version 9 or above) is required to play this audio clip. Download the latest version here. You also need to have JavaScript enabled in your browser.
By the time Louis Armstrong got hold of it, "The Unfortunate Rake" had morphed into a mysterious What exactly is going on here? sort of song. Now it's no longer the rake, but his woman laid out in the hospital. And the guy? Well, the sound is right. But the words? He's strangely, awfully damn ready to sing his own praises…
I went down to the St. James Infirmary
Saw my baby there
Stretched out on a long white table
So cold… so sweet… so fair

Let her go… let her go… God bless her
Wherever she may be
She can look this wide world over
But she'll never find a sweet man like me

When I die Baby in straight-lace shoes
I wanna a boxback coat and a Stetson hat
Put a twenty-dollar gold piece on my watch chain
So the boys'll know that I died standing flat…
[Below, click Play button to begin St. James Infirmary (Louis Armstrong). This clip is 4:46 long.]
Audio clip: Adobe Flash Player (version 9 or above) is required to play this audio clip. Download the latest version here. You also need to have JavaScript enabled in your browser.
Finally, we have straight-up instrumentals — no need for any of these to retain a single lugubrious scrap of "The Unfortunate Rake." This is sweetly swinging Allen Toussaint, on the piano:
[Below, click Play button to begin St. James Infirmary (Allen Toussaint). This clip is 3:51 long.]
Audio clip: Adobe Flash Player (version 9 or above) is required to play this audio clip. Download the latest version here. You also need to have JavaScript enabled in your browser.
Send to Kindle