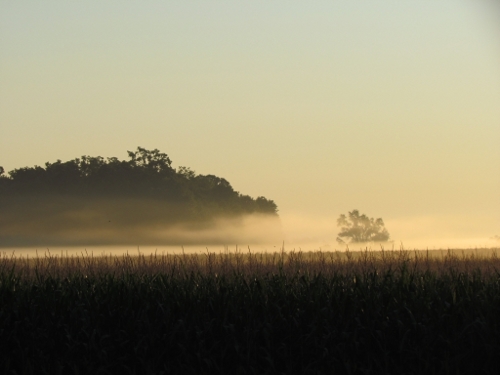 [Image: "August Morning," by Tracy, from "August in Ohio" at the Seasons Flow blog]
[Below, click Play button to begin Summertime (Charlie Parker). While audio is playing, volume control appears at left — a row of little vertical bars. This clip is 2:46 long.]
Audio clip: Adobe Flash Player (version 9 or above) is required to play this audio clip. Download the latest version here. You also need to have JavaScript enabled in your browser.
From whiskey river:
Late August

Let me enjoy
this late-summer day of my heart
while the leaves are still green
and I won't look so close
as to see that first tint
of pale yellow slowly creep in.
I will cease endless running
and then look to the sky
and ask the sun to embrace me
and then hope she won't tell
of tomorrows less long than today
Let me spend just this time
in the slow-cooling glow
of the warm afternoon light
and I'd think
I will still have the strength
for just one more
last fling of my heart
(Jon Bohrn [source])
…and (italicized portion):
Directions

You know the brick path in back of the house,
the one you see from the kitchen window,
the one that bends around the far end of the garden
where all the yellow primroses are?
And you know how if you leave the path
and walk up into the woods you come
to a heap of rocks, probably pushed
down during the horrors of the Ice Age,
and a grove of tall hemlocks, dark green now
against the light-brown fallen leaves?
And farther on, you know
the small footbridge with the broken railing
and if you go beyond that you arrive
at the bottom of that sheep's head hill?
Well, if you start climbing, and you
might have to grab hold of a sapling
when the going gets steep,
you will eventually come to a long stone
ridge with a border of pine trees
which is as high as you can go
and a good enough place to stop.

The best time is late afternoon
when the sun strobes through
the columns of trees as you are hiking up,
and when you find an agreeable rock
to sit on, you will be able to see
the light pouring down into the woods
and breaking into the shapes and tones
of things and you will hear nothing
but a sprig of birdsong or the leafy
falling of a cone or nut through the trees,
and if this is your day you might even
spot a hare or feel the wing-beats of geese
driving overhead toward some destination.

But it is hard to speak of these things
how the voices of light enter the body
and begin to recite their stories
how the earth holds us painfully against
its breast made of humus and brambles
how we who will soon be gone regard
the entities that continue to return
greener than ever, spring water flowing
through a meadow and the shadows of clouds
passing over the hills and the ground
where we stand in the tremble of thought
taking the vast outside into ourselves.

Still, let me know before you set out.
Come knock on my door
and I will walk with you as far as the garden
with one hand on your shoulder.
I will even watch after you and not turn back
to the house until you disappear
into the crowd of maple and ash,
heading up toward the hill,
piercing the ground with your stick
(Billy Collins [source])
Not from whiskey river:
Intimate Detail

Late summer, late afternoon, my work
interrupted by bees who claim my tea,
even my pen looks flower-good to them.
I warn a delivery man that my bees,
who all summer have been tame as cows,
now grow frantic, aggressive, difficult to shoo
from the house. I blame the second blooms
come out in hot colors, defiant vibrancy—
unexpected from cottage cosmos, nicotianna,
and bean vine. But those bees know, I'm told
by the interested delivery man, they have only
so many days to go. He sighs at sweetness untasted.

Still warm in the day, we inspect the bees.
This kind stranger knows them in intimate detail.
He can name the ones I think of as shopping ladies.
Their fur coats ruffed up, yellow packages tucked
beneath their wings, so weighted with their finds
they ascend in slow circles, sometimes drop, while
other bees whirl madly, dance the blossoms, ravish
broadly so the whole bed bends and bounces alive.

He asks if I have kids, I say not yet. He has five,
all boys. He calls the honeybees his girls although
he tells me they're ungendered workers
who never produce offspring. Some hour drops,
the bees shut off. In the long, cool slant of sun,
spent flowers fold into cups. He asks me if I've ever
seen a Solitary Bee where it sleeps. I say I've not.
The nearest bud's a long-throated peach hollyhock.
He cradles it in his palm, holds it up so I spy
the intimacy of the sleeping bee. Little life safe in a petal,
little girl, your few furious buzzings as you stir
stay with me all winter, remind me of my work undone.
(Heid E. Erdrich [source])
…and (complete transcript here):
[Below, click Play button to begin Summer Sounds: Dogs Panting. While audio is playing, volume control appears at left — a row of little vertical bars. This clip is 3:42 long.]
Audio clip: Adobe Flash Player (version 9 or above) is required to play this audio clip. Download the latest version here. You also need to have JavaScript enabled in your browser.
Sally Marie is becoming a lady of a certain age. She has long, delicate legs and her slight pot belly looks right above all four of them as she keeps pace with her younger, more uncouth and insanely playful new companion, Lula Harp.

Their styles couldn't be more different and, thus, they trudge up and down and up again the gravel road through the woods in the 103-degrees heat… What they both do on these long expeditions that Laura and I take for our postprandial constitutional is pant.

…different as they are, they both pant, not halfway through the walk.

By the end of it, they could be heard panting from a mile off and give off that lovely smell of sweaty, tired dog that is sweet, acrid and smug as if it were some kind of trophy substance.

Neither one of them turns down the walk, there being treats at the end of it, but the treats are, of course, different. Lady Sally Marie will have only beef rawhides, while carefree Lula is practically a hippy. She'll gobble apple, grapes, peach and nuts.

But they pant. They pant like overexerted athletes and they wallow in the glory of their panting slime like Olympic gymnasts. The lady and the tramp are one in panting sisterhood, the sound of summer, all right.
(Andrei Codrescu, "Summer Sounds: Panting Dogs" [source])
I knew I wanted to use an instrumental version of Gershwin's sweet, languorous, and nowhere near long-enough "Summertime" (from Porgy and Bess) at the top of this week's post. Picking one rendition, though, proved difficult. Here are a few more favorites (including various vocals):
________________________
P.S. This post was drafted before we knew where
Hurricane Irene
seemed to be headed. We still don't
know
 know, but it's not looking good for the east coast of the US, especially the mid-Atlantic and northeast states. New Jersey and Maryland, especially, have the highest concentration in the world of the people and places dearest to me; even if the storm should drop to a Category 1 before hitting there, I'm thinking of them a lot as the weekend starts to unfurl.
Send to Kindle