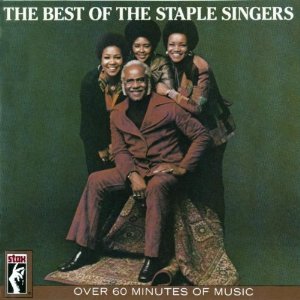 Wake-you-up music, even — or especially — if you (unlike me, alas) have just gotten out of bed and stumbled to your computer:
[Below, click Play button to begin Slippery People. While audio is playing, volume control appears at left — a row of little vertical bars. This clip is 6:37 long.]
Audio clip: Adobe Flash Player (version 9 or above) is required to play this audio clip. Download the latest version here. You also need to have JavaScript enabled in your browser.
[Lyrics]
This isn't the first appearance by the Staples here at RAMH. (I mentioned Pops in a comment a long while ago (although — note to self — I have still not posted that clip!), and Mavis got a solo here, singing Randy Newman's "Losing You.") As for "Slippery People," it first appeared on the Talking Heads' great 1983 album, Speaking in Tongues. (It was also released as a single, and a music video, taken from their 1984 concert film, Stop Making Sense. The lyrics linked above match these versions more closely than the Staple Singers cover.) The comment about Pops Staples even took place in the context of a Talking Heads film.
But clearly, none of these people required my help: the Staples and the Heads were destined for each other. Witness today's song, mid-'80s techno-R&B-disco funk welded seamlessly to New Wave rock.
(The clip, by the way, comes thanks to the good graces of the indispensable Aquarium Drunkard.)
Update (1:10pm-ish): While we're talking about icons of the 1980s… You probably know that Norah Ephron died yesterday at age 71. Ephron crafted some of the best romantic-comedy scripts of that decade and the one following, maybe ever (When Harry Met Sally, anyone? Sleepless in Seattle?) The New Yorker has opened up their vaults and made the following freely available:
Send to Kindle