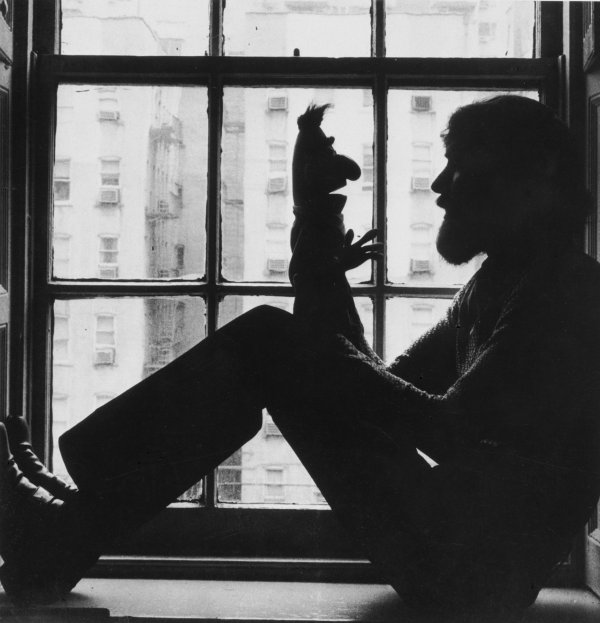 [Image: Jim Henson and Bert, circa 1971]
From whiskey river:
Sometimes a kind of glory lights up the mind of a man. It happens to nearly everyone. You can feel it growing or preparing like a fuse burning toward dynamite. It is a feeling in the stomach, a delight of the nerves, of the forearms. The skin tastes the air, and every deep-drawn breath is sweet. Its beginning has the pleasure of a great stretching yawn; it flashes in the brain and the whole world glows outside your eyes. A man may have lived all of his life in the gray, and the land and trees of him dark and somber. The events, even the important ones, may have trooped by faceless and pale. And then — the glory — so that a cricket song sweetens his ears, the smell of the earth rises chanting to his nose, and dappling light under a tree blesses his eyes. Then a man pours outward, a torrent of him, and yet he is not diminished. And I guess a man's importance in the world can be measured by the quality and number of his glories.
(John Steinbeck [source])
…and:
Should we finally and willingly cease to understand? I have often said I would rather wonder than know. Is that a youthful stance, a Keatsian stance? Is that — could it be — negative capability? Should one mature beyond it? I don't know. Rilke advises the young to "live the questions now," because the answers can only be revealed in time, the extension of which they do not possess. Much like Keats himself says, in a letter, that certain lessons can only be learned on the touchstone of the heart, that is, through direct experience.

What has life taught me? I am much less afraid than I ever was in my youth — of everything. That is a fact. At the same time, I feel more afraid than ever. And the two, I can assure you, are not opposed but inextricably linked. I am more or less the same age Emily Dickinson was when she died. Here is what she thought: "Had we the first intimation of the Definition of Life, the calmest of us would be Lunatics!" The calm lunatic — now that is something to aspire to.
(Mary Ruefle [source])
Not from whiskey river:
Origin

The first cell felt no call to divide.
Fed on abundant salts and sun,
still thin, it simply spread,
rocking on water, clinging to stone,
a film of obliging strength.
Its endoplasmic reticulum
was a thing of incomparable curvaceous length;
its nucleus, Golgi apparatus, RNA
magnificent. With no incidence
of loneliness, inner conflict, or deceit,
no predator nor prey,
it had little to do but thrive,
draw back from any sharp heat
or bitterness, and change its pastel
colors in a kind of song.
We are descendants of the second cell.
(Sarah Lindsay [source])
…and:
My first exercise is to get twenty people in a ring. They don't know each other and they're all terrified. I tell them the rules for this exercise: I don't want to see anything interesting and I don't want to see anything creative. And immediately twenty people's shoulders go down and they breathe a sigh of relief. They say to themselves: "Well thank God I don't have to do what I came here for. I don't have to be the thing that I wanted this workshop to accomplish for me." Then what we do is just play imaginary ball for about ten minutes, and we keep changing the nature of the ball. The ball will become a bowl, it will become a piece of rope, it will become a small suitcase, and at the end of five or six minutes everybody's laughing, having a good time, and being enormously creative. At the end of the exercise I ask: "What happened, what were the instructions for this?"

…My teacher, and a lot of Eastern thought, says that you don't need to be taught anything. You need to remember, you need to shed skin after skin after skin until the truth, which is within you already, just starts revealing itself to you.
(Alan Arkin, on improvisation workshops he's led [source])
…and:
Re-enactment

All the tiny abandoned halts along the Irwell
have been re-opened, their clocks
set ticking. And everyone
is here—
but not yet everyone:
across the bridge, past the terraced cottages

a last couple appear, he in khaki,
she in a red print dress, her blond hair
rolled immaculately.

There is a whistle in the valley.
Huffs of smoke move this way across the fields
like dropped clouds
and they start to run, holding hands
or try to run in her impossible heels
down the steep street, back

to where the others are already waiting
on the platform.
It happens so quickly

that the parting is over
before they know it is a parting.

The whistle comes again
and a shiver,
the ground trembling in anticipation.
(Caroline Price [source])
Send to Kindle