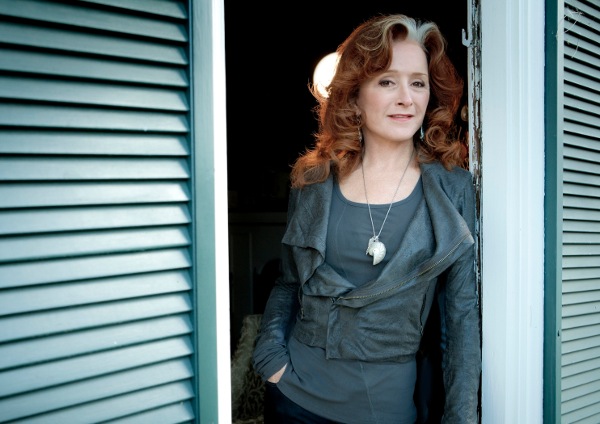 [Photo: Bonnie Raitt, by Marina Chavez. I love this photograph of her,
which (to my eye) doesn't look "staged" at all — but utterly knowing.]
Maybe this is true for women, too. But I'm certain that men of a certain age may recall, circa 1989, watching Bonnie Raitt flirt with a boyish Dennis Quaid in the video for "Thing Called Love." (Quaid did some flirting of his own, apparently.) They may recall strongly identifying with his response — not just to her, but to her music. What a great song and performance that was. But really, that rollicking Wow, I bet SHE'S fun! number barely hinted at Raitt's range, which she'd already established in nearly 20 years of developing her craft.
Rolling Stone seems to get it: not only have they placed her as #89 on their list of top 100 guitarists, they also rank her as #50 among the top 100 singers. (And for good measure, her Nick of Time — the album which included "Thing Called Love" — stands as #230 of their top 500 albums.)
Her newest album, Slipstream, is her first in years. Both the guitar and the voice shine throughout; less obviously, she has included no songs of her own, but demonstrates exceptional taste in other songwriters' work. I'm particularly taken by the third and fourth tracks, listed respectively in the title of this post.
Bob Dylan composed "Million Miles" for his 1997 album Time Out of Mind. Dylan's version is a rather strange, highly-reverb'd, almost talking-blues piece. In Raitt's hands, it becomes — without question — music. I love the guitar here, especially, featured in not one but three instrumental breaks — including a glorious, luxurious almost full minute and a half to close the track. Raitt uses a glass slide for her guitar playing (at one time the sawed-off neck of a Mateus wine bottle), worn on her middle finger. What she does with it here transcends any language I can come up with; how to summarize a musical instrument that plinks sweetly as a harp at the upper register, then tumbles-and-slides smoothly downhill to a jazz-bass simulacrum?
[Below, click Play button to begin Million Miles. While audio is playing, volume control appears at left — a row of little vertical bars. This clip is 6:27 long.]
Audio clip: Adobe Flash Player (version 9 or above) is required to play this audio clip. Download the latest version here. You also need to have JavaScript enabled in your browser.
[Lyrics]
The narrator of "Million Miles" has almost had it with you (whoever you are, you cold, distant bastard). But oh, she's still got enough sass and growl in her to cock a finger and summon you: "Rock me, pretty baby, rock me all at once / Rock me for a little while, rock me for a couple of months / And I'll rock you too."
The next track turns the mood around. In "You Can't Fail Me Now" (by Joseph Lee Henry and Loudon Wainwright III), the sass-and-growl is gone. Pleading, anxious, and almost despairing, as though aware — despite the imperative in the title — that she's out of chances, the singer nevertheless gives it one last shot. Raitt's interpretation allows room for a single, contemplative instrumental, and it's nothing to sneer at. But her voice carries this song.
[Below, click Play button to begin You Can't Fail Me Now. While audio is playing, volume control appears at left — a row of little vertical bars. This clip is 4:19 long.]
Audio clip: Adobe Flash Player (version 9 or above) is required to play this audio clip. Download the latest version here. You also need to have JavaScript enabled in your browser.
[Lyrics]
I read an interview with Raitt recently in which she confessed that she's never had any voice training and, really, doesn't think much about how to sing. Put a statement like that alongside her voice on "You Can't Fail Me Now" and you've pretty much got an answer to the question, What is art?
Send to Kindle