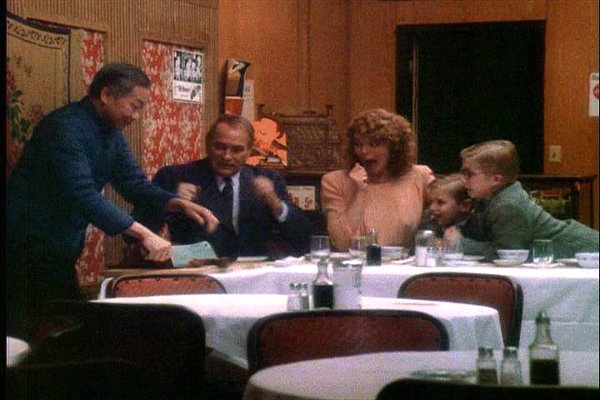 [Scene from A Christmas Story. The Peking duck no longer smiles at the Old Man.]
In 1993, The then Missus-Eventually-To-Be and I went on our first one of these, and we've done so every December 23rd since. (Which, yes, made 2012 the twentieth time.)
That first year, we had a few things generally to celebrate, aside from the holiday itself. Eleven months before, on January 1, I'd moved sorta-kinda-ever-so-cautiously to this area, from the Richmond, VA neck of the woods, expressly to be closer to her. I didn't move straight to this city, mind you, but to a town about forty minutes away — one with the small-town feel I was used to, and hoping to continue. I was jobless and all but flat broke then [*], so I took as a priority the getting of work… Yet, y'know, a common downside to small towns is that most of the work to be had must be had in nearby cities. So I eventually scored a series of part-time/temporary jobs down here, and by the fall was working enough that a date-date didn't feel like an extravagance. Indeed, in October we'd abandoned all pretense at tentativeness and moved in together, to our first house: another thing to celebrate. And we had rich creative lives, as well, especially thanks to The METB's course of studies for a Masters degree in English ("creative writing emphasis," as the University said).
So we splurged, that first year, on a meal at a splurge-worthy downtown restaurant called Chez Pierre. It was then a small, elegant, intimately lit, fireplaced and stone-walled nook of a place on the same block as the old Federal courthouse, and it was easy to love: the service was personable, the atmosphere relaxed — take as long as you want! — and the food spectacular. (When they had to relocate a few years later, to a giant sprawling brick pile in the area known as Midtown, we never did get used to the changes; Chez Pierre finally changed hands, and then, after what was widely felt to be a slow decline, finally went out of business last year.)
But — and this would become the enduring (and to me, endearing) little hook to the Christmas-date tradition — The METB did not know in advance that we'd be eating there. She knew only that we were dressing up (if not strictly, given our circumstances, upscale). And en route to dinner, I drove a circuitous route, expressly to keep her guessing…
The particulars have changed over the years, of course. For the last eleven years, for one thing, we've lived way out on the east side of town. It's a fifteen- to twenty-minute drive hence to almost everywhere in town, where all the really nice restaurants are to be found; this rather puts a damper on the tradition of driving all around — detouring, circling blocks, doubling back, and so on — just to prolong the suspense. If I still did as much of that, we'd be gnawing on the car upholstery by the time we got to the restaurant.
(This year, my only decoy action was to briefly slow down and turn on the right signal for a couple of blinks… before finally accelerating past one of our current favorite restaurants.)
The character of both the restaurants and their clientele has changed, too. National chains are crowding out local independents, for starters. And — not to be all snobbish about it (hey, I wear jeans every day of the year, including to work) — almost no one really dresses up anymore, except for catered or business-related events. I remember one year we went waaaay the heck up to the north side of town, to a restaurant with great reviews on just about every count, including ambience. What a shock to find we were the only ones dining in a black dress and a suit-and-tie: everyone else was in colorful, casual — however "tasteful" — country-club-brunch attire. (That place, we also learned, didn't have a bar as such, although they did have a nice selection of wine. [What? No pre-appetizer Maker's Mark???] I started researching new restaurants' bar facilities in advance after that year's shocking experience.)
Deciding as a matter of principle never to deviate from the December 23rd date does add one complication: every so often, that date falls on a Sunday or Monday. (The independent, upscale restaurants which close on Sundays tend to be open Mondays, and vice-versa, but seeking reservations either of those two nights will always give you fewer choices than on any other night of the week.)
That happened this year, of course, immediately eliminating from consideration our favorite place [**] and the one new(ish) place I was first considering. Sometime after Thanksgiving, though, I remembered another option — an "Asian fusion" restaurant about which The Missus and The Stepdaughter had both raved, but where I myself had never eaten. And luckily, they'd be open on Sunday night…
For the record, our selections from the menu were:
Appetizer: steamed pot-stickers; lump crabmeat fried wontons
Soup: miso; hot-and-sour (excitingly high on both the heat and the sourness scales)
One side salad (The responsible Missus)
Entree: two sushi rolls (a shrimp tempura and a lobster thing: cream cheese, lobster, tilapia, cilantro, masago, sriracha sauce, panko fried) (I love but never have any idea how to order sushi); grilled garlic sesame glazed salmon
Beverages: water; wine (she); hot sake (he); coffee (regular, w/cream and sugar) (and yes, I forgot to check on the bar: one patron's review said that "their pre-dinner drinks were delivered promptly," which I obviously read too much into)
Total tab was just about $100 even, plus a 20% tip. (Service very smooth and helpful.) Ambience not quite what we like for the Christmas date — a little too loud, a little too insufficiently intimate — but okay. (We'll mind it less, though, on subsequent visits.) Overall, maybe an A-minus. Not bad at all. And one of the nicest bits: I'd remembered wrongly — The Missus had never eaten there, after all.
_______________________
* True enough, the publisher of Crossed Wires offered me a nominal advance for a sequel. It was the same advance I'd gotten for CW itself. Even back then, though, and even in a small town in South Georgia, $2K wouldn't carry even a single adult far through the calendar. [back]
** We have a number of reasons for loving Georgio's. From my perspective, though, I have to say I'll never forget the one evening we stopped by there just for drinks. We got into a conversation with the bartender about bourbon; it culminated in his giving me an array of shots, lined up on the bar and sequenced from least to most expensively priced… just as an educational exercise. Unfortunately, one side effect of this, even dispensed in shot-sized portions, is that I'll never remember the names of the two or three exquisite rightmost offerings from that night. [back]
Send to Kindle