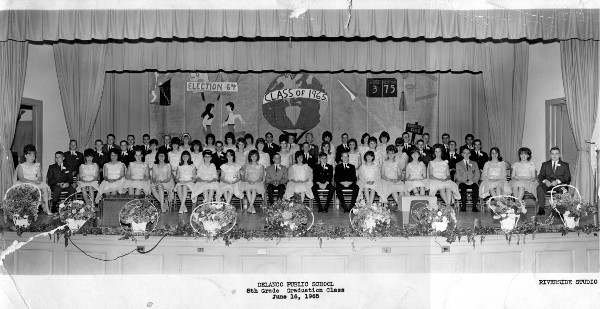 [Image: The Boy and his classmates, en route from childhood, almost all of them apparently terrified. Click image to enlarge to a less eye-strainingly viewable version, or choose an alternate blowup: left side, full-size (1.0MB); right side, full-size (1.0MB); entire original scanned version (2MB). The Boy sits, flat-headed and a little jug-eared, in the back row, second from left.]
If you're a blogger: did you ever have that one post which you never thought you'd write? (If you're not a blogger, just bear with me a moment.) I don't mean a post too controversial and/or confidential in subject matter. I mean a post about a subject you just didn't think you could do justice to: it would be too long, or too difficult to write, would take too much out of you. That ever happen to you?
I've had this post on my mind for years. Running After My Hat is over four-and-a-half-years old, and I've thought about this post that whole time. (The subject, and the incident which the story describes, has been lurking in my head since boyhood, unforgettable and pretty much never far out of reach.) It's not controversial and it's not confidential. But boy did I want to write about it. And boy did I want to do right by it…
The photo above was always going to be included with the post. So for a while, I had an excuse for not writing it: I hadn't scanned the photo. Then I lost the photo for a few years. Then I found it again. I eventually scanned it, a few months ago… And then I dithered.
I've been working on the post now for weeks. (Hence, another reason for my recent all-but-invisibility online.) It is, I think, about as done as it will ever get. But at 3,000-plus words (seven pages if printed), it's way too long to include in a real post — not very nice for anyone who reads RAMH via email or RSS subscription. So I've put it all in a separate standalone page of its own. I've included the first couple of paragraphs below. If I haven't scared you away from it by emphasizing its length, I hope you'll enjoy the entire piece there.
And thanks — not just to readers (that should go without saying), but especially to the post's never-forgotten subjects.
—
That last year of elementary school would be forever, in The Boy's mind, dotted with the footprints of change, of some things started anew and others overturned. Among other upheavals which touched him, he paid attention to a Presidential election for the first time; The Addams Family, Bewitched and Rudolph the Red-Nosed Reindeer premiered on TV; the Warren Commission report came out; his friend Lindsay moved away; the Yankees (Lindsay's favorite team) played their last World Series for a looong time and, shockingly, lost; a country named Vietnam first entered his consciousness; and with the rest of the eighth-grade class, he visited The Museum for the first time ever.
The Museum was one of two large and world-famous museums of science in the nearest city. It specialized in what was called "natural history," a subject of which The Boy had made a hobby since, well, since he was The Little Boy: rocks and minerals, plant life, dinosaurs, birds and animals… For this reason alone, The Boy looked forward to this field trip. He couldn't imagine how the excursion could affect him more deeply.
As would become his habit in life, however, The Boy failed to anticipate the large inner events to be found in real-world ones, no matter how small or how outsized…
— continue reading "Perfect Moments: The Girl Group on the Bus" —
Send to Kindle