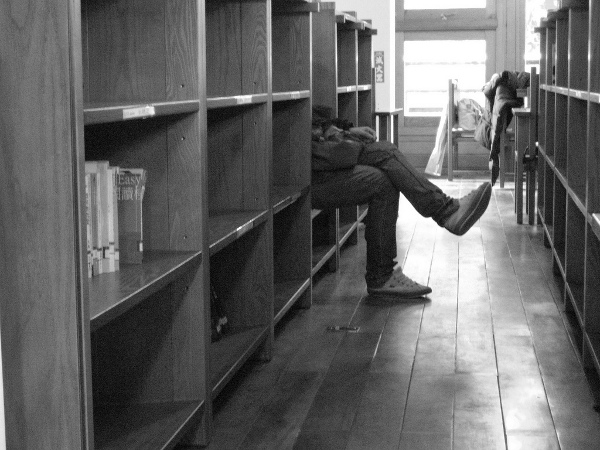 From whiskey river:
Indeterminacy means, literally: not fixed, not settled, uncertain, indefinite. It means that you don't know where you are. How can it be otherwise, say the Buddhist teachings, since you have no fixed or inherent identity and are ceaselessly in process? Life is filled with uncertainty. Chance events happen to all of us. Each of us must take responsibility and make decisions. None of us should be imposing our ego image on others.

There's another way to live. Accept indeterminacy as a principle, and you see your life in a new light, as a series of seemingly unrelated jewel-like stories within a dazzling setting of change and transformation. Recognize that you don't know where you stand, and you will begin to watch where you put your feet. That's when the path appears.
(Kay Larson, on John Cage [source])
…and (from whiskey river's commonplace book — not counting the lovely epigraph, which walks a line between mysterious and profound):
Nothing is too wonderful to be true.
— Michael Faraday

There is a hole in the universe.

It is not like a hole in a wall where a mouse slips through, solid and crisp and leading from somewhere to someplace. It is rather like a hole in the heart, an amorphous and edgeless void. It is a heartfelt absence, a blank space where something is missing, a large and obvious blind spot in our understanding of the universe.

That missing something, strange to say, is a grasp of nothing itself. Understanding nothing matters, because nothing is the all-important background upon which everything else happens.
(K. C. Cole [source])
…and:
To the Reader

As you read, a white bear leisurely
pees, dyeing the snow
saffron,

and as you read, many gods
lie among lianas: eyes of obsidian
are watching the generations of leaves,

and as you read
the sea is turning its dark pages,
turning
its dark pages.
(Denise Levertov)
Not from whiskey river:
[Novelist Paul Auster] says "I think I hate cynicism more than anything else. It's the curse of our age and I want to avoid it at all costs."

Here lies the secret of Auster's work. It makes it possible for Kafka to sit alongside Humpty Dumpty and it covers the ground between baseball and Marx-reading terrorists. Allusive density and the belief that human life is utterly contingent blends with the good humour and narrative velocity of his fiction. This is why for him disasters always contain opportunities. Deaths give up life, and the necessarily solitary site of invention blooms with unlikely fictions.

Auster often claims to have no idea where a book will go when he begins. What he means is that "every time, you start from nothing. I really do feel as it I have to re-invent everything from the ground up. I can't tell you how lost and afraid I feel." He adds that "what the process of writing a book is, is learning how to write that book – and you've never done it before."
(Guy Mannes-Abbott [source])
…and:
The Conductor

There's no mention, of course, in the program
that the conductor has Parkinson's.
He enters the stage, stands for a moment
facing the audience,
his hands by his sides, tapping air.
Then he holds them together, an act of gratitude
—we are gathered, we can do this—
and of firmness, each hand forcing
the other to be still.
His expression, darkly bemused,
the good news/bad news:
I've lived long enough to lose so much.
Or maybe he's staving off our sympathy,
don't clap because of this.
Then he turns his back to us, begins his work.
Mendelssohn's Scottish Symphony.
No baton, and from behind
his body is jerky as a boy's,
jumpy with excitement.
His hands shake when they scoop
the sections of the orchestra,
as though pulling a weighted net
from the sea. Still, I wonder if this work
is easier than taking on the ordinary
objects of a day—
buttons, keys, and pens.
I am an old man
he must think when he looks
in the mirror,
briefly naked before trading
the bathrobe for the tie and tails.
And when he turns to us again
after the last movement, he looks both
old and young, his face washed
of the expression in the program photograph,
clearly taken years before,
one eyebrow slightly raised,
his smile more satisfied than happy.
Now he shows us his innocence,
if innocence is what the face
unconstructed can be called.
What else can he do,
while his fingers tap theft useless code,
while the audience, in rows, rises from their seats,
still clapping, what can he do
but show us who he is,
a man standing too close to the edge,
edge no one can call him back from.
(Jacqueline Berger [source])
…and:
Lionel Rose was nearing the end of a hard training session when he got the message that Elvis Presley wanted to meet him. It was December 1968 and the 20-year-old Aboriginal boxer had come to Los Angeles to defend his world bantamweight title against Mexican challenger Chucho Castillo. But the bout was still two days away, and an invitation from the King was not something to be passed up. Elvis was, after all, a big favourite of Lionel's mum. Rose "pulled off the gloves, jumped under the shower and drove straight to the MGM lot".

Presley was shooting a movie, probably The Trouble with Girls, one of the string of mediocre musicals that occupied his time and talents in the hiatus between his hip-grinding glory days and his decline into a Las Vegas grotesque. A runner on the set, a fight fan, had suggested the get-together, judging that the two men would get along well. He was right. They spent two hours together, talking about music and the manly arts.
(Shane Maloney [source])
That last bit comes from a series of articles which Shane Maloney wrote (most/all accompanied by illustrations from Chris Grosz) for The Monthly, in Australia. Each piece provides a little capsule portrait of chance meetings between denizens of Australia, and either people from elsewhere or other Australians. There's a report about the meeting between the Archduke Franz Ferdinand and a platypus (1893); between Dr. Who and actress and future thoroughbred trainer Gai (Smith) Waterhouse (1978); between Kylie Minogue and Michael Hutchence (1987); and many others. (You can read most/all of the series at the Monthly site.) Maloney also collected the pieces for a complete book, called Australia Encounters; I found an interview with him about the book, originally broadcast on December 2, 2010, on the Radio National (Australia) The Book Show.
[Below, click Play button to begin Interview with Shane Maloney: Australian Encounters. While audio is playing, volume control appears at left — a row of little vertical bars. This clip is 12:48 long.]
Audio clip: Adobe Flash Player (version 9 or above) is required to play this audio clip. Download the latest version here. You also need to have JavaScript enabled in your browser.
Send to Kindle