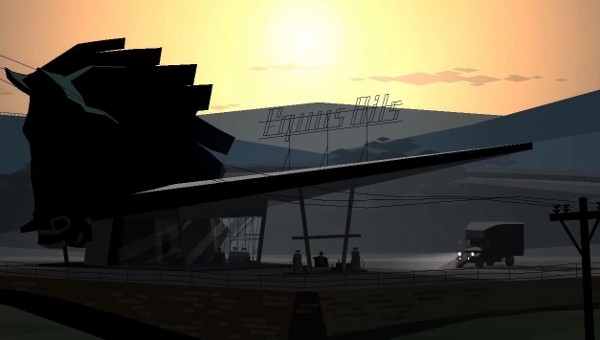 [Image: still from the game Kentucky Route Zero, Act 1: the Equus Oils service station]
Other than as a Kickstarter supporter from a couple of years ago, I've got no particular vested interest in the newly released computer game Kentucky Route Zero, Act 1 (of a planned five to be released over the next year). (Yes, all right — I'm also invested in it as someone who hopes to be a satisfied player very soon now: I've only just downloaded the game.) One interesting feature of the game is the makers' commitment to music — particularly, atmospheric music, some traditional bluegrass and some original.
The action in KRZ, as it's already becoming known, takes place in rural Kentucky. The protagonist is on a quest of sorts, which involves traveling about on the very mysterious Route Zero of the title. Along the way, he encounters a variety of characters (eventually including one Junebug, a country singer who just happens to be… a robot).
Today's selection is one of the numbers on the soundtrack, by a group about whom I've been able to learn close to nothing, at least outside the context of any association with the game. (I suspect the group's name may just function as an umbrella covering a house band recruited just for KRZ itself.) The Kickstarter project page, for what it's worth, says only:
The music for the game will be performed and recorded by a local (Chicago) experimental folk group, and will consist of slow, spacey arrangements of bluegrass songs.
Aside from bluegrass, the game's soundtrack seems to consist of electronic setting-the-mood tone poems. A couple of months after making its modest Kickstarter target,  Cardboard Computers told supporters in an April, 2011, status-report e-newsletter:
As the last icy hours of March creep away from the American Midwest, we're warming our headphones with some weird, warbly digital audio files shared with us by Ben Babbitt. Ben is a Chicago-based musician working with us to create the music of Kentucky Route Zero. Along with singer Emily Cross and bassist Bob Buckstaff, Ben is recording six old bluegrass songs for the game as the Bedquilt Ramblers.

…As [protagonist] Conway and his companions explore, they'll encounter the Bedquilt Ramblers performing in just about every area. The band functions as a checkpoint or a save point, to help map out the world and remember certain locations for fast travel later.
As for today's song: the Second Hand Songs database of cover versions says that it's traditional, recorded as far back as 1930 by the Carter Family. Wikisource sets the first recording at 1927, by David Miller. In any case, it's been covered by many country, folk, and bluegrass artists. (In addition to those listed by Second Hand Songs and Wikisource, I know of versions by Joan Baez and the Kingston Trio, and it appeared on the soundtrack of O Brother, Where Art Thou?, as rendered by gospel group The Fairfield Four.) The Bedquilt Ramblers here claim a spot among their predecessors' melancholy, almost fatalistic number:
[Below, click Play button to begin (You've Got to Walk That) Lonesome Valley. While audio is playing, volume control appears at left — a row of little vertical bars. This clip is 2:19 long.]
Audio clip: Adobe Flash Player (version 9 or above) is required to play this audio clip. Download the latest version here. You also need to have JavaScript enabled in your browser.
[Traditional lyrics, per Wikisource]
Even though the delivery is being stretched out over a year, and even though it's taken the two-man operation which calls itself Cardboard Computers two years instead of the expected nine months, from the reviews I've read so far Kentucky Route Zero already has all the earmarks of a gaming classic. If you're at all interested in mystery (as opposed to puzzle or conventional adventure) games, or for that matter in sound design, it might be worth the small initial investment — $7 just for Act 1, or $25 for the lot — to explore the game's own lonesome valley. (Versions available for PC, Mac, and — huzzah! — Ubuntu/Linux computers.)
Send to Kindle