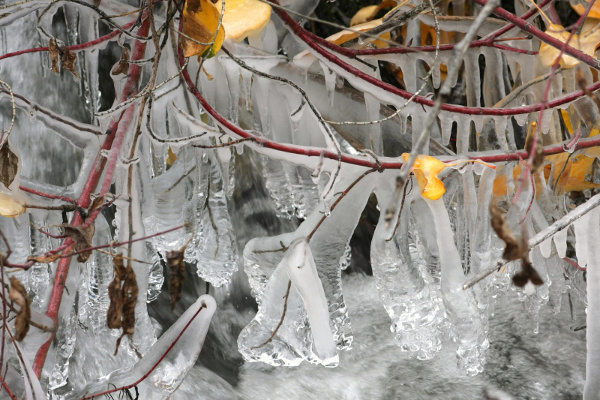 [Image: "ice-creeksicles," by Jeremy Hiebert. For more information, see the note at the foot of this post.]
From whiskey river:
Winter Afternoon by the Lake

Black trunks, black branches, and white snow.
No one nearby, five o'clock, below zero,
Late January. No birds. No wind.
You look, and your life seems stopped. Perhaps

You died suddenly earlier today. But the thin
Moon says no. The trees say, "It's been this way
Before, often. It's cold, but it's quiet." We've experienced
This before, among the messy Saxons putting back

The hide flap. A voice says: "It's old. You'll never
See this again, the way it is now, because
Just today you sensed that someone gave you
Life and said, 'Stay as long as you like.'"

The snow and the black trees, pause, to see if we're
Ready to re-enter that stillness. "Not yet."
(Robert Bly [source])
…and:
Driving to Town Late to Mail a Letter

It is a cold and snowy night. The main street is deserted.
The only things moving are swirls of snow.
As I lift the mailbox door, I feel its cold iron.
There is a privacy I love in this snowy night.
Driving around, I will waste more time.
(Robert Bly [source])
…and:
There are stories that are true, in which each individual's tale is unique and tragic, and the worst of the tragedy is that we have heard it before, and we cannot allow ourselves to feel it too deeply. We build a shell around it like an oyster dealing with a painful particle of grit, coating it with smooth pearl layers in order to cope. This is how we walk and talk and function, day in, day out, immune to others' pain and loss. If it were to touch us it would cripple us or make saints of us; but, for the most part, it does not touch us. We cannot allow it to.
(Neil Gaiman [source])
Not from whiskey river:
Paradise

January finally drags into February and one fumbles with
numb fingers at the ordinary knots and hooks of life. People
are irritable, difficult. Some days you want to stay in bed
with the covers over your head and dream of paradise. A
place where the warm sea washes the white sand. There
are a few palm trees on the higher ground, many brightly
colored fish in the lagoon, waves breaking on the reef
farther out. No one in sight. Occasionally an incredibly
large, split-second shark darkens the clear water. Sea birds
ride the wind currents, albatross, kittiwake, … and pass
on. Day after day, sea wind and perfect sky …. You make a
big heap of driftwood on the beach.
(Louis Jenkins [source])
…and:
February

Winter. Time to eat fat
and watch hockey. In the pewter mornings, the cat,
a black fur sausage with yellow
Houdini eyes, jumps up on the bed and tries
to get onto my head. It's his
way of telling whether or not I'm dead.
If I'm not, he wants to be scratched; if I am
He'll think of something. He settles
on my chest, breathing his breath
of burped-up meat and musty sofas,
purring like a washboard. Some other tomcat,
not yet a capon, has been spraying our front door,
declaring war. It's all about sex and territory,
which are what will finish us off
in the long run. Some cat owners around here
should snip a few testicles. If we wise
hominids were sensible, we'd do that too,
or eat our young, like sharks.
But it's love that does us in. Over and over
again, He shoots, he scores! and famine
crouches in the bedsheets, ambushing the pulsing
eiderdown, and the windchill factor hits
thirty below, and pollution pours
out of our chimneys to keep us warm.
February, month of despair,
with a skewered heart in the centre.
I think dire thoughts, and lust for French fries
with a splash of vinegar.
Cat, enough of your greedy whining
and your small pink bumhole.
Off my face! You're the life principle,
more or less, so get going
on a little optimism around here.
Get rid of death. Celebrate increase. Make it be spring.
(Margaret Atwood [source])
…and:
Lines for Winter

for Ros Krauss

Tell yourself
as it gets cold and gray falls from the air
that you will go on
walking, hearing
the same tune no matter where
you find yourself—
inside the dome of dark
or under the cracking white
of the moon's gaze in a valley of snow.
Tonight as it gets cold
tell yourself
what you know which is nothing
but the tune your bones play
as you keep going. And you will be able
for once to lie down under the small fire
of winter stars.
And if it happens that you cannot
go on or turn back
and you find yourself
where you will be at the end,
tell yourself
in that final flowing of cold through your limbs
that you love what you are.
(Mark Strand [source])
…and:
Ugh, I hate January. It's dark and freezing and everyone's wearing bulky coats. You can do some serious subway flirting before you realize the guy is homeless.
(Tina Fey as Liz Lemon, 30 Rock [source])
…and:
Second Investigating Officer: Good. (Exits as Snowden appears from the other side of the stage in combat clothes. He is doubled over, clutching his belly, and sinks to the floor.)
Snowden: I'm cold.
Yossarian: (Stopping.) I'm freezing.
Snowden: I'm cold. I'm cold. (Yossarian turns back from following the Officer and notices Snowden with surprise. He hangs his bathrobe on the coatrack and puts on a parachute harness. He take up a first aid kit from desk or coatrack and moves across the stage to Snowden, crawling on his knees as he comes near.) I'm cold.
Yossarian. (Inspecting Snowden's thigh.) You're going to be all right, kid. You're going to be all right.
Snowden: I'm cold. I'm cold.
Yossarian: There, there. There, there.
Snowden: I'm cold. I'm cold.
Yossarian: There, there. There, there. (Yossarian begins treating Snowden for his thigh wound. Snowden moans.) Did I hurt you?
Snowden: I'm cold. I'm cold.
…
Yossarian: I've got two aspirin.
Snowden: (Shakes his head. In delirious fright.) I'm cold. I'm cold.
Yossarian: It's very warm. It's very warm here in the plane.
Snowden: I'm cold.
Yossarian: I'm scared!
Snowden: I'm cold.
Yossarian: The edges of your mouth, they're turning blue! How do you feel?
Snowden: Cold. I'm cold.
Yossarian: You're going to be all right. There's no more bleeding.
Snowden: I'm cold. I'm cold.
Yossarian: There, there. There, there. We'll be back on the ground soon. You're going to be okay.
Snowden: (Shakes his head and points, with his chin, down toward his armpit. Yossarian opens his jacket, gapes in horror, and screams wildly.) I'm cold. (Yossarian looks again. He screams a second time and squeezes both hands over his eyes.) I'm cold. I'm cold.
Yossarian: I'm cold. I'm cold too.
(Joseph Heller [source])
About the image: I met Jeremy Hiebert, a British Columbia-based photographer/musician, some years ago, among the  regular commenters at the Seven Impossible Things Before Breakfast blog. A few months later, Jules featured his work in one of her weekly "7 Kicks" posts, although she normally writes about authors and illustrators of kids' books. Because of some of his comments there, I'd already visited his site and seen many of his photos of ice in its sundry forms: bubbled, chipped and slivered, melting, broken, jagged and spiky, icicled, blocky, and sometimes combinations of those types in a single photo. Many are closeups, revealing previously unsuspected depths and variety; when we see icicles and frozen lakes and shards from a distance, our minds must sort of blur over, thinking not Hmm, I think I should look more closely! but rather Omigod omigod I have got to get further away, preferably to an enclosed space!  But Jeremy masterfully upends that priority.
He has since collected some of his favorites in a book called looking into ice, now in its second edition. It's drop-dead gorgeous — and strangely warming.
Send to Kindle