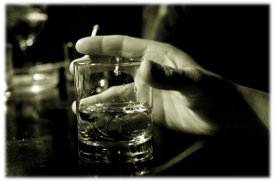 [Don't know what this is? See the Story Up My Sleeve background page.]
Sitting in his apartment, drinking a glass of milk, Mr. Martin reviewed his case against Mrs. Ulgine Barrows, as he had every night for seven nights. He began at the beginning. Her quacking voice and braying laugh had first profaned the halls of F & S on March 7, 1941 (Mr. Martin had a head for dates). Old Roberts, the personnel chief, had introduced her as the newly appointed special adviser to the president of the firm, Mr. Fitweiler. The woman had appalled Mr. Martin instantly, but he hadn't shown it. He had given her his dry hand, a look of studious concentration, and a faint smile. "Well," she had said, looking at the papers on his desk, "are you lifting the oxcart out of the ditch?" As Mr. Martin recalled that moment, over his milk, he squirmed slightly. He must keep his mind on her crimes as a special adviser, not on her peccadillos as a personality. This he found difficult to do, in spite of entering an objection and sustaining it. The faults of the woman as a woman kept chattering on in his mind like an unruly witness. She had, for almost two years now, baited him. In the halls, in the elevator, even in his own office, into which she romped now and then like a circus horse, she was constantly shouting these silly questions at him. "Are you lifting the oxcart out of the ditch? Are you tearing up the pea patch? Are you hollering down the rain barrel? Are you scraping around the bottom of the pickle barrel? Are you sitting in the catbird seat?"

It was Joey Hart, one of Mr. Martin's two assistants, who had explained what the gibberish meant. "She must be a Dodger fan," he had said. "Red Barber announces the Dodger games over the radio and he uses those expressions — picked 'em up down South." Joey had gone on to explain one or two. "Tearing up the pea patch" meant going on a rampage; "sitting in the catbird seat" means sitting pretty, like a batter with three balls and no strikes on him. Mr. Martin dismissed all this with an effort. It had been annoying, it had driven him near to distraction, but he was too solid a man to be moved to murder by anything so childish. It was fortunate, he reflected as he passed on to the important charges against Mrs. Barrows, that he had stood up under it so well. He had maintained always an outward appearance of polite tolerance. "Why, I even believe you like the woman," Miss Paird, his other assistant, had once said to him. He had simply smiled.
[source]
Send to Kindle