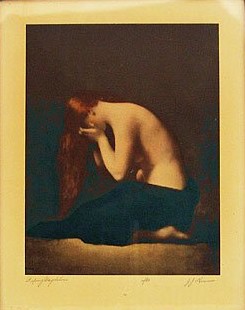 [Don't know what this is? See the Story Up My Sleeve background page.]
Herbie earned enough, and they took a little apartment far up town. There was a Mission-furnished dining-room with a hanging central light globed in liver-colored glass; in the living-room were an "over-stuffed suite," a Boston fern, and a reproduction of the Henner "Magdalene" with the red hair and the blue draperies; the bedroom was in gray enamel and old rose, with Herbie's photograph on Hazel's dressing-table and Hazel's likeness on Herbie's chest of drawers.

She cooked — and she was a good cook — and marketed and chatted with the delivery boys and the colored laundress. She loved the flat, she loved her life, she loved Herbie. In the first months of their marriage, she gave him all the passion she was ever to know.

She had not realized how tired she was. It was a delight, a new game, a holiday, to give up being a good sport. If her head ached or her arches throbbed, she complained piteously, babyishly. If her mood was quiet, she did not talk. If tears came to her eyes, she let them fall.

She fell readily into the habit of tears during the first year of her marriage. Even in her good sport days, she had been known to weep lavishly and disinterestedly on occasion. Her behavior at the theater was a standing joke. She could weep at anything in a play — tiny garments, love both unrequited and mutual, seduction, purity, faithful servitors, wedlock, the triangle.

"There goes Haze," her friends would say, watching her. "She's off again."

Wedded and relaxed, she poured her tears freely. To her who had laughed so much, crying was delicious. All sorrows became her sorrows; she was Tenderness. She would cry long and softly over newspaper accounts of kidnapped babies, deserted wives, unemployed men, strayed cats, heroic dogs. Even when the paper was no longer before her, her mind revolved upon these things and the drops slipped rhythmically over her plump cheeks.

"Honestly," she would say to Herbie, "all the sadness there is in the world when you stop to think about it!"

"Yeah," Herbie would say.

She missed nobody. The old crowd, the people who had brought her and Herbie together, dropped from their lives, lingeringly at first. When she thought of this at all, it was only to consider it fitting. This was marriage. This was peace.

But the thing was that Herbie was not amused.
[source]
___________________________________
Update — a note about sources: Some of the "[source]" links I provide in this series take you to the corresponding specific page(s) in an authoritative source (Google Books, often, or Amazon.com, if a preview is available there). And yet you get frustrated, because one or more of a story's other pages can't be previewed. No help for it, really — a little something called "copyright," you know. That said, many of the stories are viewable in their entirety online. You just have to search for an extended bit of text. For instance, search on:
She would cry long and softly over newspaper accounts of kidnapped babies, deserted wives, unemployed men
and you'll probably find lots of opportunities to read the whole thing. They might or might not be "authoritative," but they're the whole thing, all right.
(In rare cases, too, your good old RAMH right-bracket secret decoder ring trick might work just fine to get you the complete story. Assuming, of course, you know that trick…)
Send to Kindle