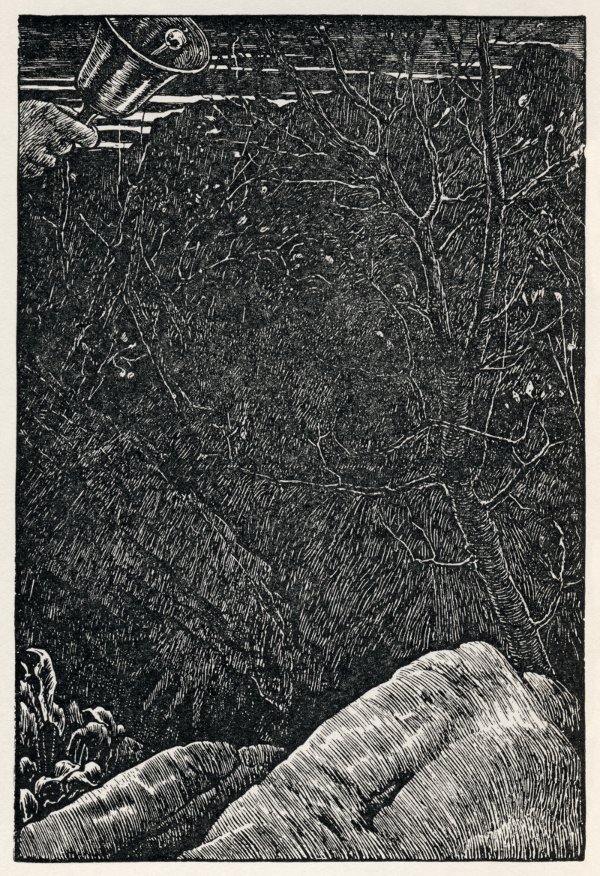 [Image: Where the Baker was last seen. Plate 10 of Henry Holiday's original illustrations for Lewis Carroll's
The Hunting of the Snark. For an interesting report on some of the (possible) sources for Holiday's
illustrations, see this paper (3.6MB PDF) by Goetz Kluge.]
From whiskey river:
There are poems
that are never written,
that simply move across
the mind
like skywriting
on a still day;
slowly the first word
drifts west,
the last letters dissolve
on the tongue,
and what is left
is the pure blue
of insight, without cloud
or comfort.
(Linda Pastan)
…and:
The journey is there and every single one of us has got to go through it, and you can't dodge it, and the purpose of everything and the whole of existence is to equip you to take another step, and another step, and another step, and so on.
(Jesse Watkins)
…and:
Hope

It hovers in dark corners
before the lights are turned on,
it shakes sleep from its eyes
and drops from mushroom gills,
it explodes in the starry heads
of dandelions turned sages,
it sticks to the wings of green angels
that sail from the tops of maples.

It sprouts in each occluded eye
of the many-eyed potato,
it lives in each earthworm segment
surviving cruelty,
it is the motion that runs the tail of a dog,
it is the mouth that inflates the lungs
of the child that has just been born.

It is the singular gift
we cannot destroy in ourselves,
the argument that refutes death,
the genius that invents the future,
all we know of God.

It is the serum which makes us swear
not to betray one another;
it is in this poem, trying to speak.
(Lisel Mueller)
Not from whiskey river:
My father had an idea. "Let's take the subway to Greenwich Village. We can see the beatniks," he said.

"What are beatniks?" I asked, my head cocked to one side.

"They wear black turtleneck sweaters, smoke cigarettes, and read poetry in front of jazz bands," my father explained.

"What's jazz?" I asked.

"Some terrible, noisy music," my mother chimed in.

"Oh," I nodded.

[…]

We walked around Greenwich Village and weren't sure if we saw beatniks or not. As we walked, my father added another clue.

"They also wear goatees," he said, and showed us with his gloved finger on his own face the shape of a goatee.

We nodded. My sister was not that interested. She ran open-armed after pigeons in Washington Square, hoping to hold one. They flew ahead of her. Jo Ann's feet were getting blisters from her party shoes. She wanted to sit down on a bench, but I was intent on finding a beatnik. I walked around and stared into men's faces — it never occurred to me, or to my father, that women could be beatniks. I thought I almost found one, but he was wearing a tan overcoat. I couldn't tell if he was wearing a black turtleneck underneath, but he did have a goatee and was carrying a satchel. Maybe it contained a poem. He flicked the last bit of a Camel into a garbage container.
(Natalie Goldberg [source])
…and:
We seek other conditions because we do not understand the use of our own, and go out of ourselves because we do not know what it is like there. Yet there is no use our mounting on stilts, for on stilts we must still walk on our own legs. And on the most elevated throne in the world we are still sitting only on our own ass.
(Michel de Montaigne [source])
…and:
The Hunting of the Snark
(excerpt)

Fit the Eighth
The Vanishing

They sought it with thimbles, they sought it with care;
They pursued it with forks and hope;
They threatened its life with a railway-share;
They charmed it with smiles and soap.

They shuddered to think that the chase might fail,
And the Beaver, excited at last,
Went bounding along on the tip of its tail,
For the daylight was nearly past.

"There is Thingumbob shouting!" the Bellman said,
"He is shouting like mad, only hark!
He is waving his hands, he is wagging his head,
He has certainly found a Snark!"

They gazed in delight, while the Butcher exclaimed
"He was always a desperate wag!"
They beheld him—their Baker—their hero unnamed—
On the top of a neighbouring crag,

Erect and sublime, for one moment of time,
In the next, that wild figure they saw
(As if stung by a spasm) plunge into a chasm,
While they waited and listened in awe.

"It's a Snark!" was the sound that first came to their ears,
And seemed almost too good to be true.
Then followed a torrent of laughter and cheers:
Then the ominous words "It's a Boo—"

Then, silence. Some fancied they heard in the air
A weary and wandering sigh
That sounded like "-jum!" but the others declare
It was only a breeze that went by.

They hunted till darkness came on, but they found
Not a button, or feather, or mark,
By which they could tell that they stood on the ground
Where the Baker had met with the Snark.

In the midst of the word he was trying to say,
In the midst of his laughter and glee,
He had softly and suddenly vanished away—
For the Snark was a Boojum, you see.
(Lewis Carroll [source])
Send to Kindle