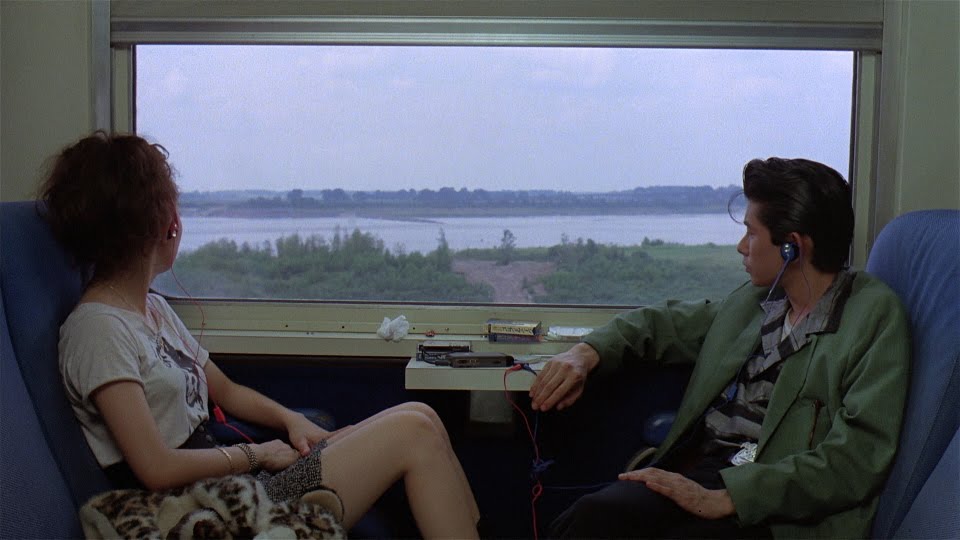 [Image: still from Jim Jarmusch's 1989 film, Mystery Train (highly recommended!)]
A lyrical burst from Echo and Reverb: Fabricating Space in Popular Music Recording, 1900-1960, by Peter Doyle, in discussing Elvis Presley's recording of "Mystery Train":
The first words — "Train I ride, sixteen coaches long" — "back announce" the electric guitar and bass figures mimicking the sound of a train in the distance. The song is thus placed within that large body of songs — hillbilly, country, R&B, jazz and popular — that deal with trains. Songs about railway people, engineers, hobos, brakemen, or songs that chronicle train wrecks or celebrate particular rail lines. Songs in which voices or instruments mimic the minor third sound of train whistles approaching and passing by or that make use of rhythm to simulate the mechanical sound of the steam locomotive; songs that begin with a shouted "All aboard!" Songs about ghostly trains, trains to hell, gospel trains to heaven, trains that take all day to pass by, trains that take away the singer's beloved, or (less often) bring her back. Eerie night trains that symbolize freedom to jailed singers, last trains to anywhere, trains heard in the distance, trains that take the jubilant singer away and then trains that promise to take the world-weary singer back home. Trains from which the singer is existentially excluded and trains that call individuals together into religious, social or political collectivities. Lonesome trains, blue trains, honky-tonk trains, trains of love…
[source]
I can't think of any mode of transportation that's inspired or just plain been referenced by more music — instrumental or vocal — than trains. (Walking? Maybe horses. Maybe.) Plenty of fun songs celebrate the automobile in general, or specific cars. But cars have got a looooong way to go to catch up to trains, and I don't believe that's just because trains have been around longer. Cars are instruments of solitude, of friendship, of family, as much as they are instruments of travel. But trains speak of greater distances, of community; you yourself don't even have to be aboard, just within earshot.
The first trainsong* I ever learned was "I've Been Working on the Railroad," which starts out conventionally but — at least as we sang it in elementary school — devolved into a surreal narrative about someone named Dinah, who may or may not have been in the kitchen, and… was it…? strumming on a banjo? Huh? (Later in life I might have seen a double entendre in that line, but I didn't know about such things in the mid-'50s.)
It didn't make a lot of sense to pick just one of these songs today. Instead, I put together a little playlist of fourteen of them — ones I had in my own music collection. They don't have anything else in common; one performer (Gordon Lightfoot) appears twice, and they range in length from twenty-two seconds (John Hammond, from the Matewan soundtrack) to 7:05 (Lightfoot again). Total length is somewhere around fifty minutes.
I'm not saying these are the only ones I might have included — just in keying in that sentence I thought of a couple more — but I had to get them online sometime while the term "midweek" still fit!
| # | Title | Artist | Length |
| --- | --- | --- | --- |
| 01 | Mystery Train | Junior Parker | 2:26 |
| 02 | Chattanooga Choo Choo | Glenn Miller | 3:29 |
| 03 | Steel Rail Blues | Gordon Lightfoot | 2:50 |
| 04 | Just Like This Train | Joni Mitchell | 4:25 |
| 05 | Orange Blossom Special | Johnny Cash | 3:06 |
| 06 | On The Tracks | John Hammond | 0:22 |
| 07 | Waiting For The Train To Come In | Peggy Lee | 3:09 |
| 08 | Train To Birmingham | John Hiatt | 3:39 |
| 09 | Downbound Train | Bruce Springsteen | 3:38 |
| 10 | Last Train To Clarksville | The Monkees | 2:47 |
| 11 | Take The "A" Train | Duke Ellington | 3:01 |
| 12 | Railroad Wings | Patty Griffin | 4:02 |
| 13 | Canadian Railroad Trilogy | Gordon Lightfoot | 7:05 |
| 14 | Mystery Train | Elvis Presley | 2:29 |
_________________
* No, I don't think that's a real word. But if I had to make up a word to go there, it works, doesn't it?
Send to Kindle