[Video: opening title sequence from the Outlander television series]
The Missus and I have been watching, with pleasure, the Starz TV adaptation of Diana Gabaldon's Outlander novels. The pleasure is personal, since we both know Ms. Gabaldon. (As we have since her first drafts of individual paragraphs in what would become the first of the book series, twenty-five years ago.)
And the pleasure is also aesthetic, I guess you could say — of particular interest, today, the music.
When I first heard the Outlander theme song, I was dazzled — the lyrics, melody, arrangement, and accompanying visuals during the open credits: all seemed of a piece. Mysterious, mystical, wistful… all those adjectives that I thought to apply as well to (say) the closing title theme in The Return of the King.
Here are the lyrics:
Sing me a song of a lass that is gone,
Say, could that lass be I?
Merry of soul she sailed on a day
Over the sea to Skye.

Billow and breeze, islands and seas,
Mountains of rain and sun,
All that was good, all that was fair,
All that was me is gone.

Sing me a song of a lass that is gone,
Say, could that lass be I?
Merry of soul she sailed on a day
Over the sea to Skye…
It fits the story, sorta-kinda, and features a disappearing lass, and lots of rich imagery. (Outlander's protagonist is a 1940s-era British nurse who falls through a sort of temporal discontinuity into the Scotland of the 1740s.) From the start, I — grammar nerd alert! — liked about the theme that the lyricist used the first-person singular pronoun for those end-rhymes… exactly as s/he should have.
But then during the season finale episode, one thing suddenly grated on me. They hadn't used "I" consistently perfectly. Last line of the middle stanza: see it? a subjective me. ARGH. You lazy bastards, I thought. And you were doing so well…
As one does, over the next day or two I looked to the Internets for support from others outraged by such minutiae.
…and, um, well… I was wrong. (Sorta-kinda.)
—
As it happens, see, the so-called "theme from Outlander" didn't start out as such. It came almost straight from a poem by Robert Louis Stevenson — included in his Songs of Travel and Other Verses (1896) — which in turn was based on a traditional tune called "The Skye Boat Song."
And — yes — Stevenson's poem does the same I/me thing:
Sing me a Song of a Lad that is Gone

Sing me a song of a lad that is gone,
Say, could that lad be I?
Merry of soul he sailed on a day
Over the sea to Skye.

Mull was astern, Rum on the port,
Eigg on the starboard bow;
Glory of youth glowed in his soul;
Where is that glory now?

Sing me a song of a lad that is gone,
Say, could that lad be I?
Merry of soul he sailed on a day
Over the sea to Skye.

Give me again all that was there,
Give me the sun that shone!
Give me the eyes, give me the soul,
Give me the lad that's gone!

Sing me a song of a lad that is gone,
Say, could that lad be I?
Merry of soul he sailed on a day
Over the sea to Skye.

Billow and breeze, islands and seas,
Mountains of rain and sun,
All that was good, all that was fair,
All that was me is gone.
Sigh. Embarrassed again by preconceptions!
—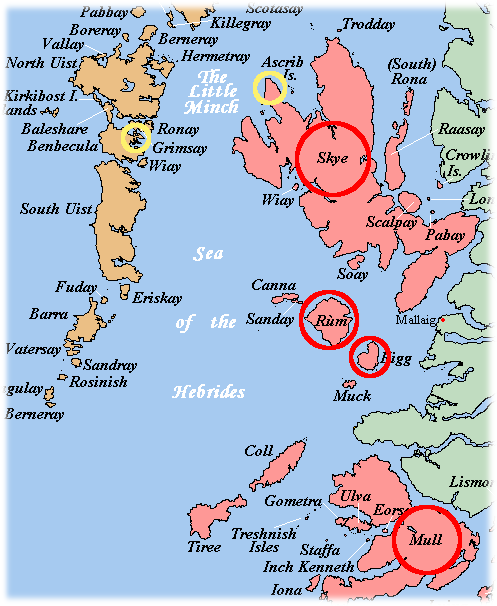 So what about the Stevenson poem? Obviously it's just a romantic song of a young man leaving his home perhaps to make his way in the world?
Umm, no. Or rather, umm, no — not really. For there's quite a historical context to the song. (And not incidentally, a historical context of importance to the Outlander series as well.)
In 1746, Prince Charles Edward Stuart — a/k/a "Bonnie Prince Charlie" — was more or less stuck in the Scottish Outer Hebrides. (These are the tan islands to the west in the map there at the right.) He'd fled the Scottish mainland (in green) in April, following a disastrous battle against the English at Culloden, and moved about on the islands of North Uist, Benbecula, and South Uist to stay ahead of the English troops in pursuit.
Finally, on June 28, Charles escaped the Outer Hebrides, bound for the island of Skye — among the Inner Hebrides — to the east. (Skye, and the other Inner Hebrides mentioned in Stevenson's poem, are highlighted with red circles on the map.) Disguised as a maid, he got into a rowboat with several companions, who rowed him from approximately Rossinish, on Benbecula, to the peninsula on Skye, to the northwest, known as Waternish. On the map, Rossinish is the small yellow circle to the west; Waternish, the slightly larger yellow circle. (The straight-line distance between those two points is a bit less than fifty miles.)
One source (originally published in 1827) describes the trip by Charles and his companions this way:
In the forenoon (Saturday, June 28) it being resolved to proceed to sea, Miss MacDonald desired Charles to dress himself in the disguise, which consisted of 'a flowered linen gown a light coloured quilted petticoat a white apron and a mantle of dun camlet made after the Irish fashion with a hood;' and the party soon after set out for the beach… They arrived at the beach very wet and very much fatigued, and made a fire upon a rock, to keep themselves warm till night…

About eight o clock in the evening the party got safely away from Benbecula, and directed their course to the Isle of Skye.
(Shortly after this passage is another which sketches some of what happened to those who aided Charles, including this: "O'Neal, after some wanderings in Skye and elsewhere, was apprehended in Benbecula, and sent prisoner to London. The journal of this person shews a somewhat confused intellect, but he certainly possessed a generous heart." I confess, that made me laugh.)
So that's it, then: the "lad" of the Stevenson version is the Bonnie Prince himself — whose campaign for the English crown is at the heart of the Outlander story line.
The poem seems to take some bizarre liberties with geography, though. The island of Mull behind, Rum on the port, and Eigg off the starboard bow, bound for Skye: this would put Charlie's boat somewhere in the channel between Rum and Eigg, a bit north of Muck. Jeez, you might say, that Robert Louis Stevenson was one crappy navigator, or researcher, or both!
Umm, well, again: not so fast… Remember that "traditional tune," "The Skye Boat Song"?
—
Scroll back further from Stevenson's time, to the 1870s. The (yes) English Sir Harold Edwin Boulton, 2nd Baronet, composed the lyrics to the original "Skye Boat Song," first published in 1884 He laid them down over an "air" collected by one Anne Campbelle MacLeod (credited as co-author of Boulton's 1884 book) in the 1870s.
Here are the lyric's to Boulton's song:
The Skye Boat Song

[Chorus:] Speed, bonnie boat, like a bird on the wing,
Onward! the sailors cry;
Carry the lad that's born to be King
Over the sea to Skye.

Loud the winds howl, loud the waves roar,
Thunderclouds rend the air;
Baffled, our foes stand by the shore,
Follow they will not dare.

[Chorus]

Though the waves leap, soft shall ye sleep,
Ocean's a royal bed.
Rocked in the deep, Flora will keep
Watch by your weary head.

[Chorus]

Many's the lad fought on that day,
Well the Claymore could wield,
When the night came, silently lay
Dead on Culloden's field.

[Chorus]

Burned are their homes, exile and death
Scatter the loyal men;
Yet ere the sword cool in the sheath
Charlie will come again.
See that? Almost no geography at all, and the only island mentioned is Skye itself. Stevenson, that rascal: he had made all those bits up, after all.
—
And so there's still one more layer to dive down into: the "air" which Lady MacLeod had discovered. Wikpedia:
According to Andrew Kuntz, a collector of folk music lore, MacLeod was on a trip to the isle of Skye and was being rowed over Loch Coruisk (Coire Uisg, the "Cauldron of Waters") when the rowers broke into a Gaelic rowing song Cuachag nan Craobh ("The Cuckoo in the Grove"). Miss MacLeod set down what she remembered of the air, with the intention of using it later in a book she was to co-author with Boulton, who later added the section with the Jacobite associations.
So much for tradition: "Cuachag nan Craobh" has nothing much to do with history. It's a love song, a portion of whose Gaelic lyrics (says one rather argumentative source) go like this:
Thuit mi le d'ghath mhill thu mo rath,
Striochd mi le neart dorain
Saighdean do ghaoil sait anns gach taobh,
Thug dhiom gach caoin co-lath,
Mhill thu mo mhais, ghoid thu mo dhreach,
'S mheudaich thu gal broin domh;
'S mar fuasgail thu tra le t fhuran s le t'fhailt'
'S cuideachd am bas dhomhsa.

'S cama lubach t'fhalt fanna bhui 'nan cleachd
'S fabhrad nan rosg aluinn;
Gruaidhean mar chaor broilleach mar aol,
Anail mar ghaoth garaidh—
Gus an cuir iad mi steach an caol taigh 'nan leac
Bidh mi fo neart craidh dheth,
Le smaointinn do chleas, 's do shugradh ma seach,
Fo dhuilleach nam preas blath'or.
Or, translated to English (per the same source):
Yet nought to me but a sting all her bright beauties bring—
I droop with decay and I languish;
There's a pain at my heart like a pitiless dart,
And I waste all away with anguish.
She has stolen the hue on my young cheek that grew,
And much she has caused my sorrow;
Unless now she renew with her kindness that hue,
Death will soon bid me "Good morrow."

The curl of her hair was so graceful and fair,
Its lid for her eye a sweet warden;
Her cheek it was bright, and her breast limy white,
And her breath like the breeze o'er a garden.
Till they lay down my head in its stone-guarded bed
The force of these charms I feel daily,
While I think of the mirth in the woods that had birth;
When she laughed and sported gaily.
Fits the tune, doesn't it?
—
About the playlist: The history of this song is so bound up in the popular history of Scotland that it's generated dozens, hundreds of covers. I haven't even tried to collect them all (or even a broad sampling of them all) here.
Instead, I've trimmed the list down to its bare bones:
The Outlander theme itself (the same tune heard during the title sequence), performed by Raya Yarbrough;
"The Skye Boat Song," lyrics and music by Boulton and MacLeod, as performed by Scottish folk duo The Corries; and
"Cuachag nan Craobh," sung in the original Gaelic by Fiona McKenzie. (McKenzie's version of the lyrics, with translation, can be viewed on page 10 of this PDF at her Web site.)
The Skye Boat Song (Various Artists)
Send to Kindle