[Video: "Bim-Bom," by João Gilberto: generally understood to be the first bossa nova song written (although not the first recorded). The lyrics repeat those two syllables in various combinations, along with phrases whose English translation (per Wikipedia) simply say, "This is all of my song / And there's nothing more / My heart has asked that it be this way." If you'd prefer to listen to all nine of the songs featured in this post at one go, you can jump over all the background, right to the full playlist at the bottom.]
New York City has its "Swing Street," a block of W. 52nd so named because of the profusion of jazz clubs which once lined the sidewalks there. Even if you've never been to Manhattan, you might have heard the name.
Lesser known is Rio de Janeiro's counterpart: Beco das Garrafas ("Bottles Alley"). Like Swing Street, it's "grown up" now, apparently with a Mercedes-Benz dealership on the corner and other upscale shops on either side. But in the late 1950s and early '60s, Beco das Garrafas hosted the birth of the bossa nova.
While researching this post, I found one source which said the term "Bottles Alley" referred to the habit of residents, of hurling beer bottles into the street to silence the noise of the "Bohemians" who frequented the nightclubs there.
The Portuguese phrase doesn't quite lack meaning, but the straight-up English translation — "new trend" or "new wave" — doesn't exactly speak volumes, either. A better way to regard the term: recognizing that Brazilian Portuguese has its own slangy usages, and that as far back as the 1930s, as Wikipedia notes, bossa represented "old-fashioned slang for something that is done with particular charm, natural flair or innate ability."
Ruy Castro's book Bossa Nova: The Story of the Brazilian Music that Seduced the World (first published in 1990) traces its origin as a term for this particular musical genre to an entertainment journalist named Moysés Fuks. Fuks was also "artistic director" for a musical group called Grupo Universitario Hebraico do Brasil, or GUHB: the (yes) University Hebrew Group of Brazil. Fuks had a colleague, one Ronaldo Bôscoli, to whom he offered GUHB's auditorium for use in promoting some kind of concert. Apparently Fuks didn't care exactly who was on the bill, other than GUHB; "He merely suggested they include someone 'who had made a name of sorts.'"
Bôscoli's first choice was a local street-and-club performer (one source describes him as "one of the biggest slackers in the business") named João Gilberto. Gilberto himself wasn't available on the chosen night, so they chose a solid alternative vocalist: Sylvinha Telles, who was familiar with GUHB's music.
Fuks's role in this? He printed up a program with the set list, and copied it for the band members. In it, "he promised a bossa nova evening." He later insisted he had no idea why he'd used the term; whatever its significance to Moysés Fuks, it stuck to the music.
—
So where did Beco das Garrafas figure in all this?
As it happened, the style of music which figured in Fuks's and Bôscoli concert had been played informally around Rio for a few years, emerging out of various Latin-tinged jazz performers' styles. It solidified formally — if that could possibly be a word for it — in three clubs on Beco das Garrafas: Bacarat, the Little Club, and Bottles. João Gilberto was a regular here, as was another musician, a guitarist, who figured prominently in bossa nova's history: Antonio Carlos Jobim.
Jobim's influence was widespread, and he is now regarded — as Wikipedia notes — as one of the most important songwriters of the twentieth century. (We previously encountered him here at RAMH — in a Friday post years ago — in collaboration with Frank Sinatra.) Although popular locally, and eventually in Brazil at large, his international breakout came when he co-wrote the soundtrack for Marcel Ophuls's 1959 film, Black Orpheus. Here's the opening song of that film, perhaps more samba than bossa nova: "A Felicidade" ("Happiness"), sung by Agostinho Dos Santos (who dubbed the vocals for star Breno Mello).
Both João Gilberto and Antonia Carlos Jobim contributed to one of the biggest (and earliest) Brazilian-US crossover hits: "The Girl from Ipanema."
Jobim wrote the song with lyrics by Vinícius de Moraes, for a musical comedy which the latter was producing.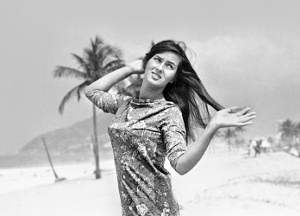 It was about a real 19-year-old girl, one Helô Pinheiro (as she came to be known), who frequented the neighborhood where the musicians hung out.
(At the left, one of many photos of Pinheiro from back then. I thought this an especially carefree pose, without being too provocative. Plenty of the images of her show her in a more classic bikini- or macrame-clad beach pose. In 1969, she was a Playmate for an issue of the Brazilian edition of Playboy, and she even appeared in a pictorial for the magazine some years later — with her equally charming daughter.)
The biggest hit version of the song was recorded by Gilberto in a session with jazz saxophonist Stan Getz, for a joint album album — Getz/Gilberto — they were working on at the time. (Jobim himself was sitting in with them.) I don't know the details of how it happened, but I picture them sort of noodling around with the tune, talking about it… and that's when someone came up with the idea of recording an English-language version. Happily, they had easy access to a vocalist capable of singing it that way: Gilberto's wife, Astrud. (Physically, she even seemed cut from the same cloth as that girl from Ipanema…)
For the album, João Gilberto did sing the Portuguese lyrics. But it's Astrud's voice on the single — easy, lilting, unaffected — which most people (and certainly I) remember:
—
And so we come, at last, to Sergio Mendes. A teenager when Jobim's career was taking off, Mendes always claimed the elder man as a mentor, and indeed, they played together off and on.
Mendes's sound evolved into something— well, here's how the Urban Dictionary (of all sources) describes bossa nova in general, in a way which applies especially to Mendes:
…a smoother, jazz-influenced version of the Samba… Bossa Nova is velvet sophistication atop a feathery five-against-four rhythm.
Light. Smooth. Jazz-infused. And yes, feathery. (I think of it as a sort of sensuous version of swing jazz: that is, sway jazz.) When Mendes came to the United States in the 1960s, he brought that sensibility with him in a succession of recording groups the most famous of which was Brasil '66.
There had been a Brasil '65 edition, by the way, which recorded for Atlantic Records. Besides Mendes (on piano) and other instrumentalists, Brasil '65 included two Brazilian vocalists, Wanda Sá and Rosinha de Valença. Mendes's US promoter and producer, Richard Adler, believed that the vocalists should be American, capable of singing easily in either Portuguese or English: he thought the group should adapt contemporary English-language songs (e.g., The Beatles' "Fool on the Hill," Cole Porter's "Night and Day") to Mendes's bossa nova rhythms and, well, sensibility.
At the same time, Adler arranged for the group to leave Atlantic Records in favor of Herb Alpert's successful A&M label. One of Atlantic's conditions: the group would have to change its name. Thus: Brasil '66.
The group hit it big with their first (self-titled) album — ironically, including a classic Portuguese-language bossa nova song, "Mas Que Nada." This became not only their first hit, but something like their signature song in the US and around the world: for a while, it seemed (to at least one member of the audience, an odd, musically naive high-school sophomore in New Jersey), television hosts wanted them to perform nothing else.
As far as I was concerned, at least, the group's appeal was visual as well as musical. Although every single member of the band was critical to its sound, in fact, in my head it consisted of three performers, who tended to appear in the foreground on TV: Mendes himself, and the two women. (For years, indeed, I thought "Brasil '66" to be the name of that duo, with whom Mendes had just recorded some joint projects.)
The women in question were the lead vocalist, Lani Hall, and a background singer named Bibi Vogel. After the first album, Vogel — a brunette with a later, more successful career as an actress — dropped out and was replaced by blonde Janis Hansen, her hair apparently artificially darkened. (In fact, although Vogel's photo is on the front of the first album, that's Hansen on the back!)
You can see the subtle difference in the front covers of the group's first two albums. On the left, we've got the original lineup, with Vogel peeking out behind the leaves at far right; on the right, in the second album, we've got Hansen at second from left. Not much difference, is there — especially with Hansen's darker hair?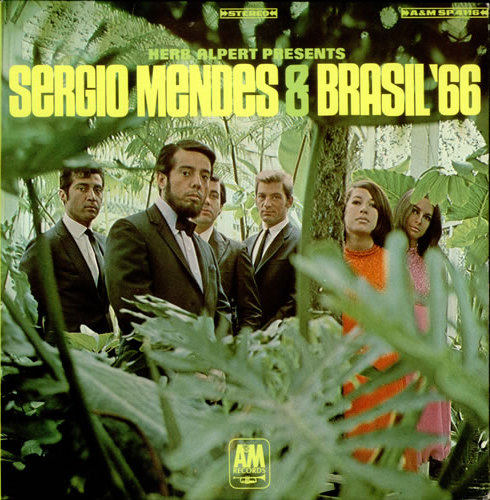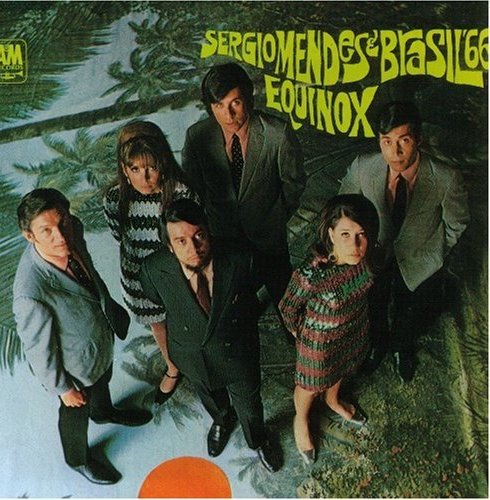 Oh, sure: the hair color isn't (and wasn't) important. (Especially since they downplayed the color then, maybe to disguise the switch — either Hansen's hair was dyed darker, or she wore a wig.) This was a recording group, after all: what mattered was the sound, and the changeover from one backup singer to another sounded seamless, especially with Lani Hall's voice a constant in the foreground.
Lani Hall, incidentally, would in 1973 marry Herb Alpert.
But damn it: I was fifteen years old. Sure, I heard the group on the radio (repeatedly, it seemed, in one song after another — over, and over, and over…). But I saw them on their album covers and TV, too. I was aware of Mendes: the tuxedo in which he seemed always to perform, the (to me) weird mustache-less beard, and of course the piano. But I really focused on, and remember most sharply still, the background vocalist of the moment.
The important thing to me, then, was the background singer's overall look — the "type," if you will: taller than Lani Hall and what we used to call, without embarrassment, leggy, a type accentuated by the clothing style — reminiscent, in fact, of what might be called the "Girl from Ipanema" style. In television appearances, the women always seemed dressed in sleek and shimmery mini-dresses, whose hemlines barely nodded in the direction of the knees. And when they swayed with the music, oh boy…!
Here's the group in a television appearance from that time. (The music doesn't quite sync up with the video; the YouTube uploader dubbed the stereo version of the hit single over the recorded visuals.) As you can see, even the TV crew seemed perhaps a bit more infatuated with the background vocalist, than with the lead.
Update 2015-08-04: A commenter suggested that Mendes's opening piano in the performance strongly resembles the opening of Ray Charles's "What'd I Say." And damn — it does. Here y'go:
—
But the song, man (you're asking) — what about the song?
Talented and successful bandleader, arranger, pianist, musician in general — Sergio Mendes may have been (may be) all of them. But unlike his mentor Antonio Carlos Jobim, he hasn't had much of an impact on popular culture as a composer. No, he's principally an adapter, someone with a flair for finding the bossa-nova heart of others' songs. (It's common to think of songs by people like The Beatles and Simon & Garfunkel as karaoke favorites, maybe, but not as the source of other artists' oeuvres. Yet Mendes performed the trick any number of times, with apparent ease. "Scarborough Fair" may have been covered by dozens of popular performers, but it's impossible to recall any of them except Simon & Garfunkel's — those chimes! that harpsichord! — any of them, that is, except Brasil '66's.)
"Mas Que Nada" represents not just a pivotal moment in Mendes's recording history, but as an adapter, too. The original was composed (and recorded) by a fellow Brazilian from back in the Beco das Garrafas days: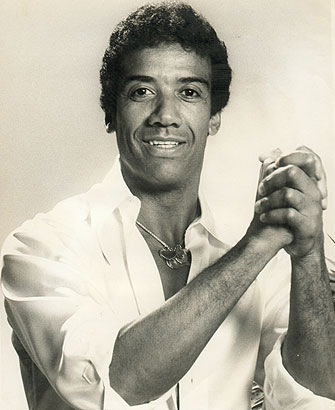 Jorge Ben. (For reasons of — apparently — his own, Jorge Ben has since the '80s been known as Jorge Ben Jor, sometimes as Jorge Benjor.)
The very best source I could find on the Web with information about both Jorge Ben and "Mas Que Nada" appears at the Best of Brazil site. I'd be foolish to try incorporating all of that here, so I refer you to that page for details. But I especially wanted to single out Randy Morse's (the writer's) research into and discussion of some of the song lyrics' more obscure elements.
On the left below, the Portuguese original lyrics; on the right, Best of Brazil's English translation (I assume but don't know how well they align semantically, although visually it seems right):
Portuguese
English
Oariá raiô
Obá Obá Obá
Oariá raiô
Obá Obá Obá
Oariá raiô
Obá Obá Obá
Oariá raiô
Obá Obá Obá
Mas que nada
Sai da minha frente
Que eu quero passar
Pois o samba está animado
O que eu quero é sambar
Oh, come on!
Get out of my way
I want to pass through
Because the samba is animated
What I want is to dance samba.
Este samba
Que é misto de maracatú
É samba de preto velho
Samba de preto tu
This samba
That's a mixture of maracatu
It's an old black [man's] samba
A preto tu samba.
Mas que nada
Um samba como este tão legal
Você não vai querer
Que eu chegue no final
Oh, come on!
A samba like this [is] so cool
You won't want me
To come to the end.
Oariá raiô
Obá Obá Obá
Oariá raiô
Obá Obá Obá…
Oariá raiô
Obá Obá Obá
Oariá raiô
Obá Obá Obá…
Note especially the Best of Brazil notes on the refrain, which Morse interprets as references to Umbanda:
…a syncretistic religion native to Brazil… which originated in Rio de Janeiro around 1920, blend[ing] elements of the African-Brazilian religion Candomblé with Catholicism, spiritualism, and Brazilian patriotism. It's a very popular religion today, especially in Rio de Janeiro and São Paulo, with hundreds of thousands of adherents. Many Brazilians practice both Catholicism and Umbanda.
Morse also digs into the apparently equally untranslatable maracatu and preto tu:
maracatu: "a type of slow African-Brazilian music that originated in Brazil's Northeast. It involves a sort of a pageant/parade, with various characters (including a king and queen) processing to the slow cadence of the drums."
preto tu: "the best meaning I can attribute to preto tu is 'your own spirit or soul.' I think the proper emphasis is on 'inner' or 'spiritual' because the use of the familiar form tu suggests a greater intimacy than the more formal você. Then again, Jorge Ben may have chosen it simply because preto tu rhymes with maracatu. Perhaps both things are true. It remains a mystery."
—
Let's wrap up this monster of a post with a playlist incorporating all the music referred to here, including the songs featured in videos. In the interest of completeness, I'll even toss in a not-very-bossa nova oddball from the era: Eydie Gorme's 1963 hit, "Blame It on the Bossa Nova."
Bossa Nova (Various Artists)
[back to top]
____________________
Aside: This three-part series has been enjoyable — and a lot of work — to put together. There's plenty more to Latin music which you can explore for yourself, of course, but I believe I've reached the end of specific songs from that genre which lodged in my brain during the 1950s and '60s. Thanks as always for reading!
Send to Kindle