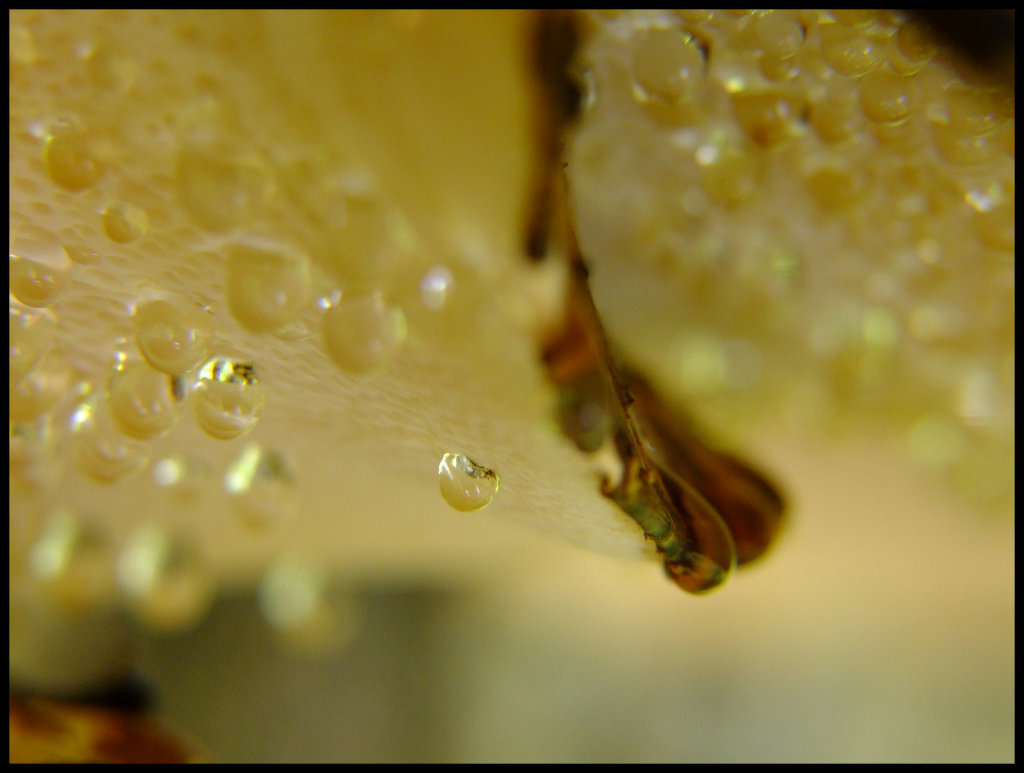 [Image: "Dryad's Saddle – Untouched Macro," by "LadyDragonflyCC." (Found on Flickr, and used here under a Creative Commons license: thank you!) Dryad's saddle is a mushroom, scientific name Cerioporus squamosus; the photographer's note on this photo says: "The mushroom's shape and lateral stem make it look suitable for woodland spirits, the dryads of Greek mythology, to ride. I've found plenty of dryad's saddle in the woods, but I'm still looking for the nymph!"]
From whiskey river:
You never hear people put it this way, and I don't intend to start a trend, but when we consider the ever-evolving process of a person's thinking, the way a person imagines and organizes the world, it could almost seem appropriate to ask each other from time to time, How's your religion coming along? How's it going? Born again, or the same old, same old? Did you successfully distinguish darkness from light in the course of your day? Is there a fever in your mind that won't go away? Mind if I prescribe a poem?
(David Dark [source])
…and:
I Have News for You

There are people who do not see a broken playground swing
as a symbol of ruined childhood

and there are people who don't interpret the behavior
of a fly in a motel room as a mocking representation of their thought process.

There are people who don't walk past an empty swimming pool
and think about past pleasures unrecoverable

and then stand there blocking the sidewalk for other pedestrians.
I have read about a town somewhere in California where human beings

do not send their sinuous feeder roots
deep into the potting soil of others' emotional lives

as if they were greedy six-year-olds
sucking the last half-inch of milkshake up through a noisy straw;

and other persons in the Midwest who can kiss without
debating the imperialist baggage of heterosexuality.

Do you see that creamy, lemon-yellow moon?
There are some people, unlike me and you,

who do not yearn after fame or love or quantities of money as
unattainable as that moon;
thus, they do not later
have to waste more time
defaming the object of their former ardor.

Or consequently run and crucify themselves
in some solitary midnight Starbucks Golgotha.

I have news for you—
there are people who get up in the morning and cross a room

and open a window to let the sweet breeze in
and let it touch them all over their faces and bodies.
(Tony Hoagland [source])
Not from whiskey river:
A Well Runs Out of Thirst

A well runs out of thirst
the way time runs out of a week,
the way a country runs out of its alphabet
or a tree runs out of its height.
The way a brown pelican
runs out of anchovy-glitter at darkfall.

A strange collusion,
the way a year runs out of its days
but turns into another,
the way a cotton towel's compact
with pot and plate seems to run out of dryness
but in a few minutes finds more.

A person comes into the kitchen
to dry the hands, the face,
to stand on the lip of a question.

Around the face, the hands,
behind the shoulders,
yeasts, mountains, mosses multiply answers.

There are questions that never run out of questions,
answers that don't exhaust answer.

Take this question the person stands asking:
a gate rusting open.
Yes stands on its left, no on its right,
two big planets of unpainted silence.
(Jane Hirshfield [source])
…and:
"In Kyoto…"

In Kyoto,
hearing the cuckoo,
I long for Kyoto.
(Basho [source])
…and:
Inky Flourish


More than one hundred years after his death, it was found that a manuscript by Charles Baudelaire, upon close inspection, bore not just an inky flourish between poems, the way today's poet might type an asterisk between paragraphs, but that each inky flourish was in fact a floating swan, an aquanaut of gracefully curving neck and carefully upturned tail feathers. And it was following this discovery that a later manuscript was examined, and upon closer inspection was clearly seen to contain not just an inky flourish between poems, but floating cellphones, the Starship Enterprise, and American hot dogs in white buns with a caterpillar of yellow mustard slinking lengthwise along the dog. But none of these things had yet been invented! was the cry of the critic. Ah, Charles Baudelaire, the visionary visionary, who once said Paris may change; my melancholy is fast, you have crawled from the depth of antiquity, by means of your own inky flourish, straight into the heart of our present day turmoil. What say you now, Charlie?
(Mary Ruefle [source])
…and:
In the Winter of My Thirty-Eighth Year

It sounds unconvincing to say When I was young
Though I have long wondered what it would be like
To be me now
No older at all it seems from here
As far from myself as ever

Walking in fog and rain and seeing nothing
I imagine all the clocks have died in the night
Now no one is looking I could choose my age
It would be younger I suppose so I am older
It is there at hand I could take it
Except for the things I think I would do differently
They keep coming between they are what I am
They have taught me little I did not know when I was young

There is nothing wrong with my age now probably
It is how I have come to it
Like a thing I kept putting off as I did my youth

There is nothing the matter with speech
Just because it lent itself
To my uses

Of course there is nothing the matter with the stars
It is my emptiness among them
While they drift farther away in the invisible morning
(W. S. Merwin [source])
Send to Kindle