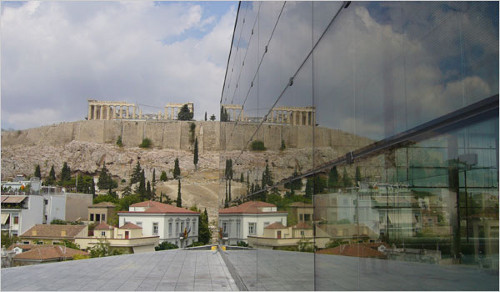 [Image above shows the Parthenon, and its reflection in the facade of the New Acropolis Museum. Click image for more information and the original photo.]
From whiskey river:
Just Thinking

Got up on a cool morning. Leaned out a window.
No cloud, no wind. Air that flowers held
for awhile. Some dove somewhere.

Been on probation most of my life. And
the rest of my life been condemned. So these moments
count for a lot — peace, you know.

Let the bucket of memory down into the well,
bring it up. Cool, cool minutes. No one
stirring, no plans. Just being there.

This is what the whole thing is about.
(William Stafford [source])
…and:
There is a bitter aftertaste when one swallows the truth, sometimes. It may be years before it becomes apparent, so long that you've forgotten that first taste, but it does come. It comes when, having thought you swallowed truth whole, what you got was only a morsel. Further, the spreading bitterness derives from understanding that what you thought was true was, actually, true, but not in the way you thought or wanted it to be.
(Terrance Keenan [source (p. 169)])
Send to Kindle