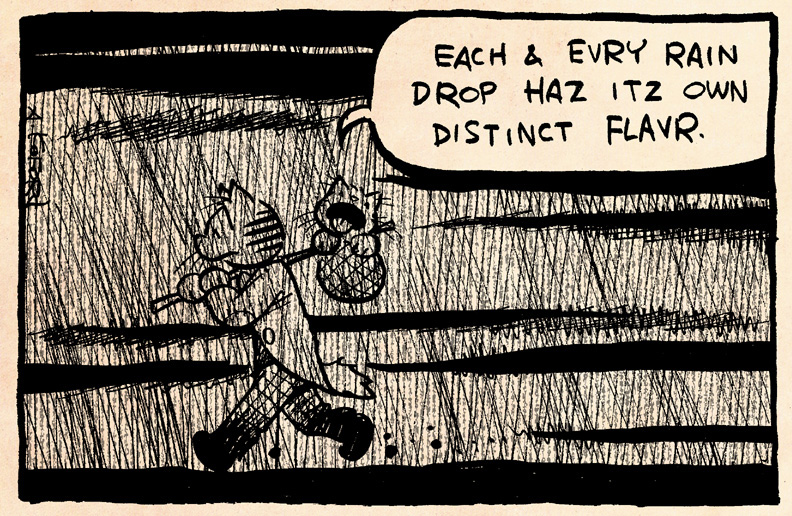 [Image: "Laugh-Out-Loud Cats #1121," by Adam Koford on Flickr.com. Used here under a Creative Commons license.]
From whiskey river (italicized portion):
Custom

There is a difference it used to make,
seeing three swans in this versus four in that
quadrant of sky. I am not imagining. It was very large, as its
effects were. Declarations of war, the timing fixed upon for a sea-
departure; or,
about love, a sudden decision not to, to pretend instead to a kind
of choice. It was dramatic, as it should be. Without drama,
what is ritual? I look for omens everywhere, because they are everywhere
to be found. They come to me like strays, like the damaged,
something that could know better, and should, therefore—but does not:
a form of faith, you've said. I call it sacrifice—an instinct for it, or a habit
at first, that
becomes required, the way art can become, eventually, all we have
of what was true. You shouldn't look at me like that. Like one of those
saints
on whom the birds once settled freely
(Carl Phillips [source])
…and (italicized portion):
White Owl Flies Into and Out of the Field

Coming down
out of the freezing sky
with its depths of light,
like an angel,
or a buddha with wings,
it was beautiful,
and accurate,
striking the snow and whatever was there
with a force that left the imprint
of the tips of its wings—
five feet apart—and the grabbing thrust
of its feet,
and the indentation of what had been running
through the white valleys
of the snow—

and then it rose, gracefully,
and flew back to the frozen marshes
to lurk there,
like a little lighthouse,
in the blue shadows—
so I thought:
maybe death isn't darkness, after all,
but so much light
wrapping itself around us—

as soft as feathers—
that we are instantly weary
of looking, and looking, and shut our eyes,
not without amazement,
and let ourselves be carried,
as through the translucence of mica,
to the river
that is without the least dapple or shadow,
that is nothing but light—scalding, aortal light—
in which we are washed and washed
out of our bones.
(Mary Oliver [source])
Send to Kindle