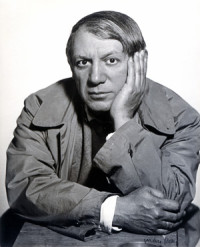 Continuing last Friday's meditation on the topic of sight, and the things which we might see differently "if only"…
First, from whiskey river's commonplace book*:
Picasso is riding on a train and someone sits down next to him.

Recognizing who he is, the person asks, "Why don't you paint people the way they really are?"

Picasso asks, "What do you mean by the way they really are?"

The man eagerly pulls out his wallet and shows Picasso a picture of his wife and says, "This is my wife."

Picasso responds, "She looks rather small and flat, don't you think?"
(by Bonnie Myotai Treace, Sensei; story also recounted elsewhere)
Not from whiskey river: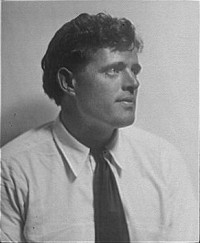 When Jack London had his portrait made by the noted San Francisco photographer Arnold Genthe, London began the encounter with effusive praise for the photographic art of his friend and fellow bohemian, Genthe: "You must have a wonderful camera… It must be the best camera in the world… You must show me your camera."

Genthe then used his standard studio camera to make what has since become a classic picture of Jack London.

When the sitting was finished, Genthe could not contain himself: "I have read your books, Jack, and I think they are important works of art. You must have a wonderful typewriter."
(quoted at PhotoQuotes.com)
From The Luminous Landscape:
…a good photograph isn't measured in line pairs per millimeter, MTF functions, S/N calculations, or any of the other measurements that photography enthusiasts recite like religious mantras. The most important tools that are used to take good photographs are the human eye, the human brain, and the human heart.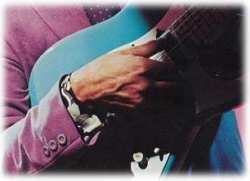 And finally, a little music. I'm not going to provide a bunch of links to online information about Ry Cooder — there's a ton of it out there. I will say that if you don't know his work, at all, I think you're in for a treat. The number which follows (not one of his hits, but a performance I've always been fond of) is a straight-up instrumental version — a re-visioning — of an Ike & Tina Turner number called "I Think It's Going to Work Out Fine." Here's what Rolling Stone said of the number in its review of Cooder's 1979 Bop Till You Drop:
Cooder's instrumental version of "I Think It's Going to Work Out Fine" takes the sweet growl of the Ike and Tina Turner original and sets it against some easy, sexy self-assurance. Ike and Tina made this number into a toe-to-toe at midnight, but Cooder's version is full of relaxed and low-slung afterglow.
"Relaxed and low-slung afterglow": love that.
Audio clip: Adobe Flash Player (version 9 or above) is required to play this audio clip. Download the latest version here. You also need to have JavaScript enabled in your browser.
__________________________
* whiskey river's "commonplace book" is what the site's author calls its archives. Unlike most blog archives, though, whiskey river's are not strictly speaking chronologically organized: "They are arranged here in random order, the way they were found."
Send to Kindle