Brief post today… Worked way later on writing-type stuff than I'd meant to. (So I guess that counts as an excuse, huh?) In any case, this one has decidedly nothing at all to do with writing.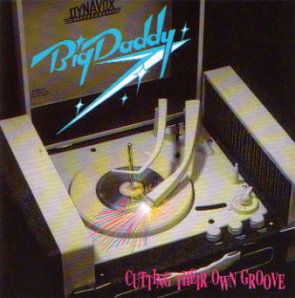 Sometime back in 1991-92, I got a very curious gift from my brother. It was a cassette tape (I later upgraded to CD) of music by a group called "Big Daddy"; the title was Cutting Their Own Groove.
On the front, an antique-looking record player seemed to be playing, was it? yes! an old 45-rpm vinyl record. A rainbow of sparks was shooting from the needle at the end of the tone arm. I flipped the cassette over, curious to see what the playlist might be. As my brother knew, my preferred musical genre at the time was oldies, so maybe…
What was this?!? All the tracks were recent hits! Whitney Houston's "The Greatest Love of All." Madonna's "Like a Virgin." "Graceland," by Paul Simon…
This was a stupid cover band! What was Mike thinking, sending me this crap?!?
Long story short: a cover band, all right. But a cover band with a difference. A difference which Mike knew would appeal to me.
Send to Kindle