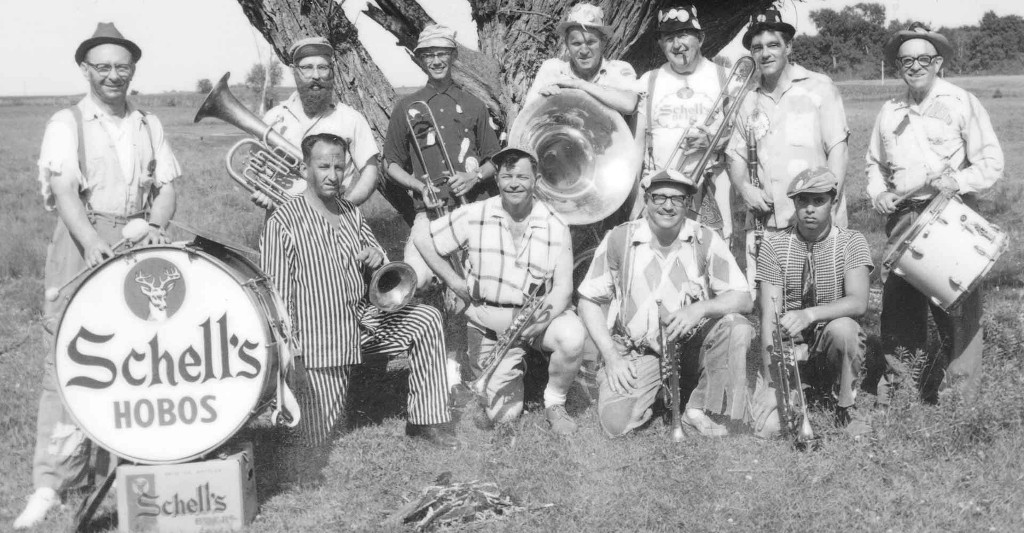 [Image: "Schell's Hobo Band," formed in 1948 as a side project of Schell's Brewery in New Ulm, Minnesota. The band itself has been successful enough that it now has its own Facebook page.]
[Don't know what this is? See the series introduction here.]
Pop culture has always offered plenty of examples of our "Happy-Go-Lucky Poor Folks" theme. Some of these examples cross over into racial stereotyping, for obvious reasons: race and social class (at least in the U.S.) are all bound up together. What better way to assuage our cultural guilt about slavery than to claim that its victims are somehow not doing that badly after all?
But then there's the old image of the hobo — the tramp — as a figure of fun. And it had nothing to do with race, only with the character's hilariously déclassé lot in life. He (it was almost always a he) just seemed so unsophisticated, so silly, y'know? This stereotype was reinforced by much older cultural symbols, particularly that of the circus or stage clown.
Think Emmett Kelly, both father and son: even though they appealed to the audience's sympathy, their first objective was laughter (however soft and gentle). "Look at the hobo," the subtext went, "trying to sweep the spotlight off the stage! Doesn't he know you can't do that?"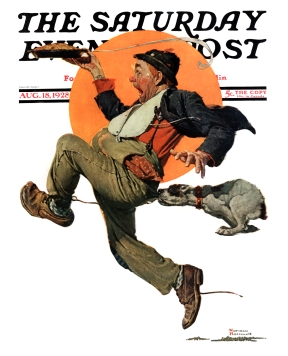 A little weirdly to our eyes and ears, maybe, one thing which seems to have struck people as especially amusing "back in the day" was the very fact of the hobo's poverty. That they didn't have two coins to rub together — gosh, how could we possibly take them seriously?
Consider Norman Rockwell's Saturday Evening Post cover at right (click to enlarge to full cover). This tramp probably (despite his belly size) hasn't eaten pie for years. But look — he can steal a freshly baked one! And look — the baker's dog will bite him on the bottom! What fun! (You could almost imagine this fellow sitting at fireside in a clearing in a forest, sharing the pie with his friends and regaling them with the comical story.)
(Yeah, I know: the geometry/physics here seem more than a little off: the dog shouldn't be perfectly horizontal, even if he's holding on tightly enough to be flying along behind the running tramp.)
Critically, though, this cover appeared in the Post in August, 1928 — just a little over a year before the onset of the Great Depression. Thereafter, with "real people" suddenly reduced to the social stature of hobos, coincidentally the jokes fell flat. These weren't random outliers in the populace: they were friends and family…
—
Send to Kindle