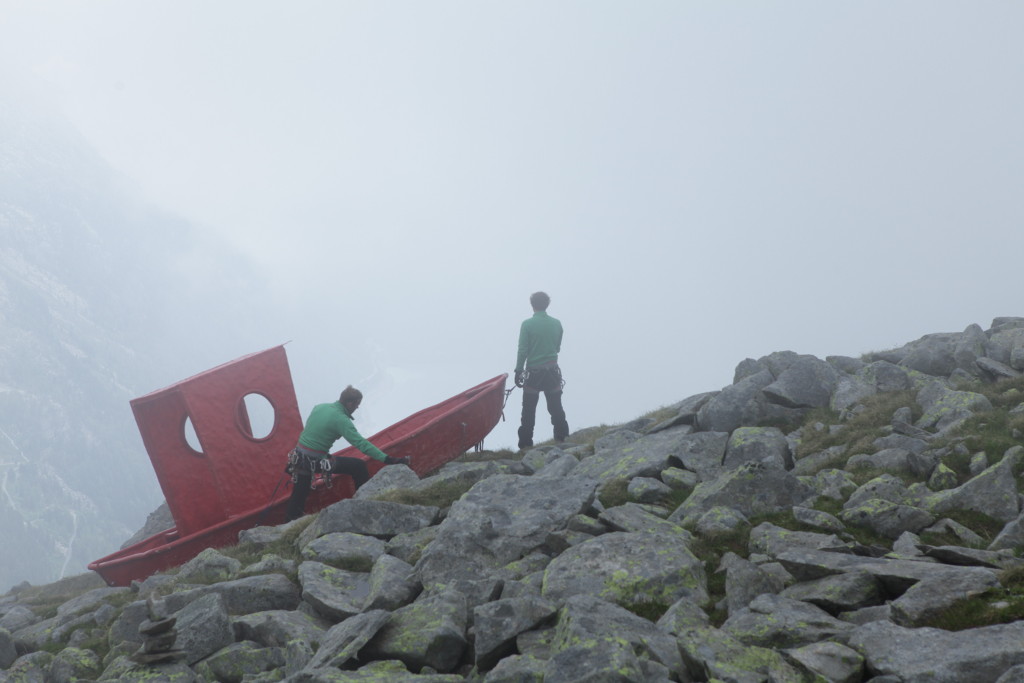 [Image: from the "passage2011" project of artists Thomas Huber and Wolfgang Aichner, undertaken for the Venice Biennale in 2011. (Found on Flickr; used here under a Creative Commons license — thank you!) The two artists built a small wooden boat, "launched" it at Furtschaglboden in the Zillertal Alps — thence dragging it over the Alps to Venice, where they would make their way to the Canale Grande to launch the boat on the water there. The Flickr page's description says: "After more than three weeks of tireless exertion, the artists reached Lago di Neves in South Tyrol, Italy. From there, they continued their journey via Bozen to Venice. A transport ship conveyed the red boat to the exhibition venue, the Luterana in the Scuola dell' St. Angelo Custode. Following a christening ceremony, it was launched and proceeded to sink within a few minutes without ever reaching the Canal Grande." The project's home page is here; you can read more about it at the English-language Der Spiegel site.]
From whiskey river:
What is the meaning of life? That was all — a simple question; one that tended to close in on one with years. The great revelation had never come. The great revelation perhaps never did come. Instead there were little daily miracles, illuminations, matches struck unexpectedly in the dark; here was one.
(Virginia Woolf [source])
…and:
Dear Friend
(excerpt)

Y.

I become each day more reckless,
too impatient for summer, the unbearable heat,
the calm that comes with it. There are no hills here,
not one, and I'm bored with the stillness

of the yellow field outside my window. And you,
who cannot keep still, who can never
look back, where will you go next?
How will I find you?

Can you feel the world pull
apart, the seams loosen?
What, tell me, will keep it whole,

if not you? if not me?
Send a postcard, picture, tell me
how you've been.
(Blas Falconer [source])
…and (last four lines):
I once had a friend. He had been teaching a long time when I was just starting. He liked telling his students he'd seen them before. In another life, at another school, the same hairline, the same kid brother back home in eighth grade. In class, he gave them obituaries to read. And though we're no longer close, here is consolation: I still believe in what he was up to: seeing if he could make them dizzy. Suggesting they write their way into or out of the disquieting facts he offered up. Offering the chance to find themselves breathless, to consider themselves a point on a circle falling and rising, falling/drawn up, as the wheel moved, moves, is moving relentlessly on. He wanted them to feel conveyor beneath their feet, when all along they'd assumed they were walking. To consider they might, somehow, for another, be a mark and a measure of vastness. A site.

As he was for me.

What do you see? What aligns? he's still asking…

Of course, I could say I won't write about my old friend. And, to be honest, I'd rather not, since I still feel regret and sadness about that loss. But things about him assert here as subject. The obituaries (you'll see). The dizziness. His belief in the uneasy matter of chaos. It's all here, important. All-of-a-piece. These lightest of strands, moments, memories unbury. Forms align in each others' presence.

It's the noticing that cracks us open, lets something in.
Shows we're in use.
Uses us.
Right now. Right this minute.
(Lia Purpura [source])
Send to Kindle