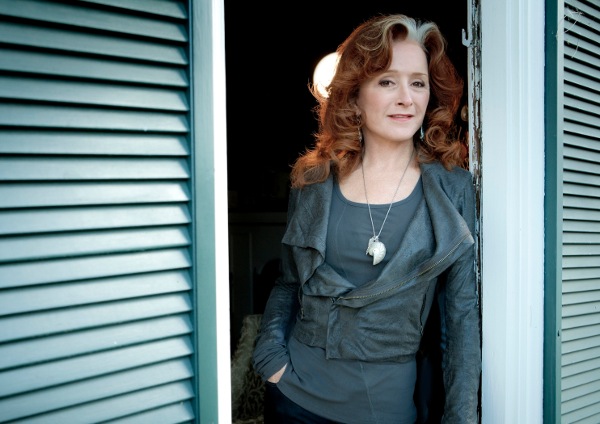 [Photo: Bonnie Raitt, by Marina Chavez. I love this photograph of her,
which (to my eye) doesn't look "staged" at all — but utterly knowing.]
Maybe this is true for women, too. But I'm certain that men of a certain age may recall, circa 1989, watching Bonnie Raitt flirt with a boyish Dennis Quaid in the video for "Thing Called Love." (Quaid did some flirting of his own, apparently.) They may recall strongly identifying with his response — not just to her, but to her music. What a great song and performance that was. But really, that rollicking Wow, I bet SHE'S fun! number barely hinted at Raitt's range, which she'd already established in nearly 20 years of developing her craft.
Rolling Stone seems to get it: not only have they placed her as #89 on their list of top 100 guitarists, they also rank her as #50 among the top 100 singers. (And for good measure, her Nick of Time — the album which included "Thing Called Love" — stands as #230 of their top 500 albums.)
Her newest album, Slipstream, is her first in years. Both the guitar and the voice shine throughout; less obviously, she has included no songs of her own, but demonstrates exceptional taste in other songwriters' work. I'm particularly taken by the third and fourth tracks, listed respectively in the title of this post.
Send to Kindle