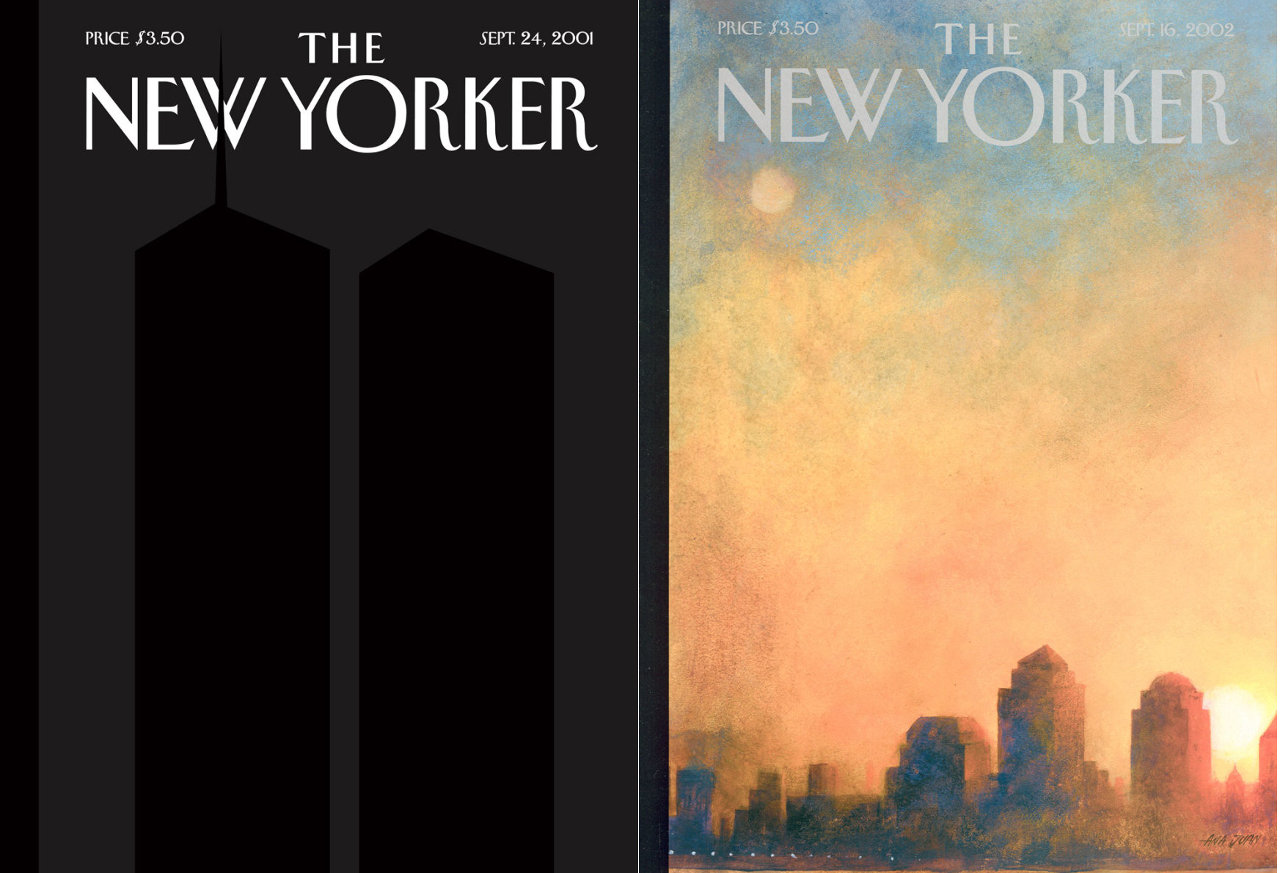 [Image: Art Spiegelman's black-on-black cover for the New Yorker issue immediately following the 9/11 attack (left, above) has been justly famous from the time of its publication. Less often reproduced, but equally effective, was Ana Juan's cover for the first-year anniversary issue (right), which achieved its effects with light and the absence of black.]
From whiskey river:
Buried under all the mute experiences are those unseen ones that give our life its form, its color, and its melody. Then, when we turn to these treasures, as archaeologists of the soul, we discover how confusing they are. The object of contemplation refuses to stand still, the words bounce off the experience and in the end, pure contradictions stand on the paper. For a long time, I thought it was a defect, something to be overcome. Today I think it is different: that recognition of the confusion is the ideal path to understanding these intimate yet enigmatic experiences. That sounds strange, even bizarre, I know. But ever since I have seen the issue in this light, I have the feeling of being really awake and alive for the first time.
(Pascal Mercier [source])
…and:
A Reward

Tired and hungry, late in the day, impelled
to leave the house and search for what
might lift me back to what I had fallen away from,
I stood by the shore waiting.
I had walked in the silent woods:
the trees withdrew into their secrets.
Dusk was smoothing breadths of silk
over the lake, watery amethyst fading to gray.
Ducks were clustered in sleeping companies
afloat on their element as I was not
on mine. I turned homeward, unsatisfied.
But after a few steps, I paused, impelled again
to linger, to look North before nightfall—the expanse
of calm, of calming water, last wafts
of rose in the few high clouds.
And was rewarded:
the heron, unseen for weeks, came flying
widewinged toward me, settled
just offshore on his post,
took up his vigil.
If you ask
why this cleared a fog from my spirit,
I have no answer.
(Denise Levertov [source])
…and:
Heaven Is Not Verbose: A Notebook
(excerpt)

Reader: So you want me to feel as if I were reading a letter addressed to someone else?
Poet: I want you to feel as if I had read a letter addressed to you by someone else and am shamelessly quoting from it.

[…]

Reader: Do you want me to recognize my everyday world in your poems?
Poet: No, I want your world to seem unfamiliar to you, once you take your eyes off the text.
(Vera Pavlova [source])
Send to Kindle