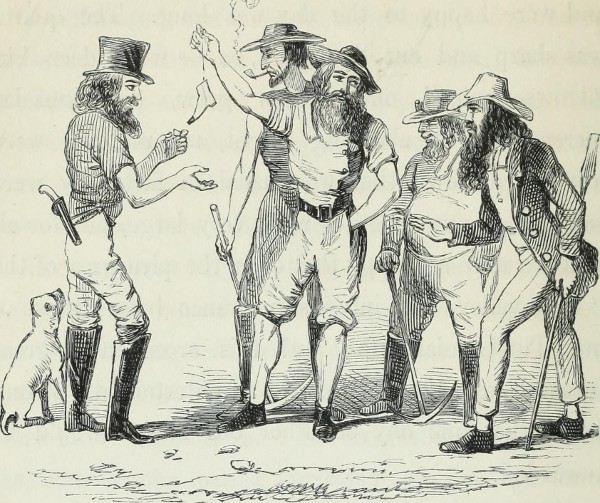 [Image: illustration from Mountains and Molehills; or, Recollections of a Burnt Journal (1855), by one Frank Marryat. (Click image to enlarge.) For the complete book in various formats, see the Internet Archive. For more information about this image in particular, see the note at the foot of this post.]
From whiskey river (italicized portion):
The Swan

Across the wide waters
something comes
floating—a slim
and delicate

ship, filled
with white flowers—
and it moves
on its miraculous muscles

as though time didn't exist,
as though bringing such gifts
to the dry shore
was a happiness

almost beyond bearing.
And now it turns its dark eyes,
it rearranges
the clouds of its wings,

it trails
an elaborate webbed foot,
the color of charcoal.
Soon it will be here.

Oh, what shall I do
when that poppy-colored beak
rests in my hand?
Said Mrs. Blake of the poet:

I miss my husband's company—
he is so often
in paradise.
Of course! the path to heaven

doesn't lie down in flat miles.
It's in the imagination
with which you perceive
this world,

and the gestures
with which you honor it.
Oh, what will I do, what will I say, when those white wings
touch the shore?
(Mary Oliver [source])
…and:
Time has no meaning, space and place have no meaning, on this journey. All times can be inhabited, all places visited. In a single day the mind can make a millpond of the oceans. Some people who have never crossed the land they were born on have traveled all over the world. The journey is not linear, it is always back and forth, denying the calendar, the wrinkles and lines of the body. The self is not contained in any moment or any place, but it is only in the intersection of moment and place that the self might, for a moment, be seen vanishing through a door, which disappears at once.
(Jeanette Winterson [source])
…and:
Living

The fire in leaf and grass
so green it seems
each summer the last summer.

The wind blowing, the leaves
shivering in the sun,
each day the last day.

A red salamander
so cold and so
easy to catch, dreamily

moves his delicate feet
and long tail. I hold
my hand open for him to go.

Each minute the last minute.
(Denise Levertov [source])
Send to Kindle