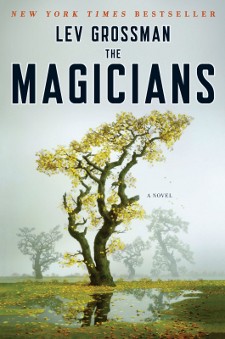 I don't know the process whereby Lev Grossman came to write the first of his trilogy, but I can imagine its developing something like this…
The germ of the story would be a what-if question an author might ask of himself, a rather involved question along these lines:
Stories centered around magic and fantasy lands are all so damned full of wonder: of the characters' (sometimes just the reader's) slack-jawed omigosh-so-utterly-amazing appreciation of the miraculous. Suppose such a book, with such a subject and setting, was populated instead by realistic, no, by out-and-out cynical characters: characters bored of magic, characters who sneer at the course of their lives which has led them to magic, characters — no matter how magically talented — who often out-and-out hate magic and refuse to use it? What would such a book be like? Hmm. Let me see…
The most direct route to an answer would start with the age of cynicism, "age" in the sense of both an historical era and a time of individual human lifespan. It would start, in short, with 21st-century American teenagers — even better, perhaps, teenagers from New York City (and specifically, best of all, from finger-snapping nasal-voweled Brooklyn).
—
Send to Kindle