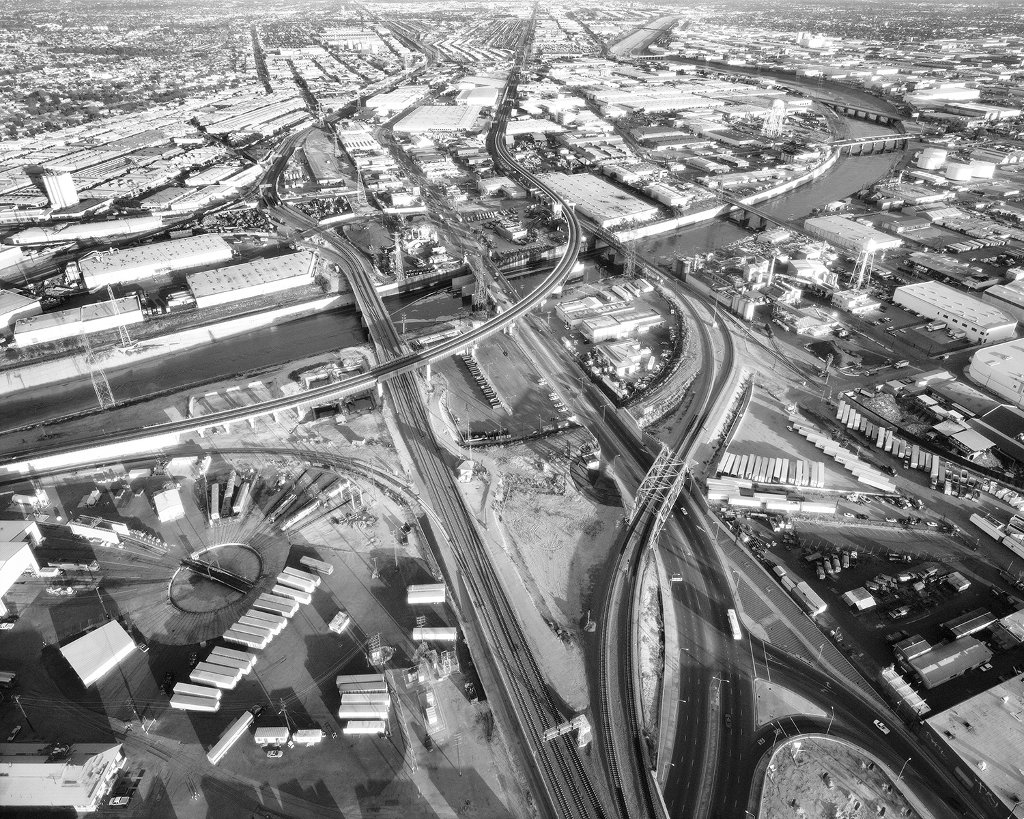 [Image: "LA River and Washington Boulevard Looking East, Santa Fe Railroad," by Michael Light. (Larger, higher-resolution version here.) See the quotation from Rebecca Solnit, below.]
From whiskey river:
We pass the word around; we ponder how the case is put by different people, we read the poetry; we meditate over the literature; we play the music; we change our minds; we reach an understanding. Society evolves this way. Not by shouting each other down, but by the unique capacity of unique, individual human beings to comprehend each other.
(Lewis Thomas [source])
…and:
The sense of unhappiness is so much easier to convey than that of happiness. In misery we seem aware of our own existence, even though it may be in the form of a monstrous egotism: this pain of mine is individual, this nerve that winces belongs to me and to no other. But happiness annihilates us: we lose our identity.
(Graham Greene [source])
…and:
Mother Talking in the Porch Swing

Inside the river is there a river?—
it could follow slow water the way
the real current follows a stiller
shore. And in your life the life that
hurries could pass, and pass its
open neighbor the earth, and its shore
the sky. To be here, and always to find
places in the current, the dreams
the river has—surely we bubbles
ought to tell about it?

Listen: One of the rooms the river has
after its bridge and its bend in the mountains
is a place waiting for the sun every
afternoon, when the sun dwells
at a slant under a log and finds
that little yellow room and a waterbug
trying to learn circles but never making
one its shadow approves. Miles later
the river tries to recall that dream,
turning with all of its twisting self
that found gravel and found it good.

Just before the ocean that river
turns on its back and side and slowly
invites the world and the air and the sky,
trying to give away everything, everything.
(William Stafford [source])
Send to Kindle