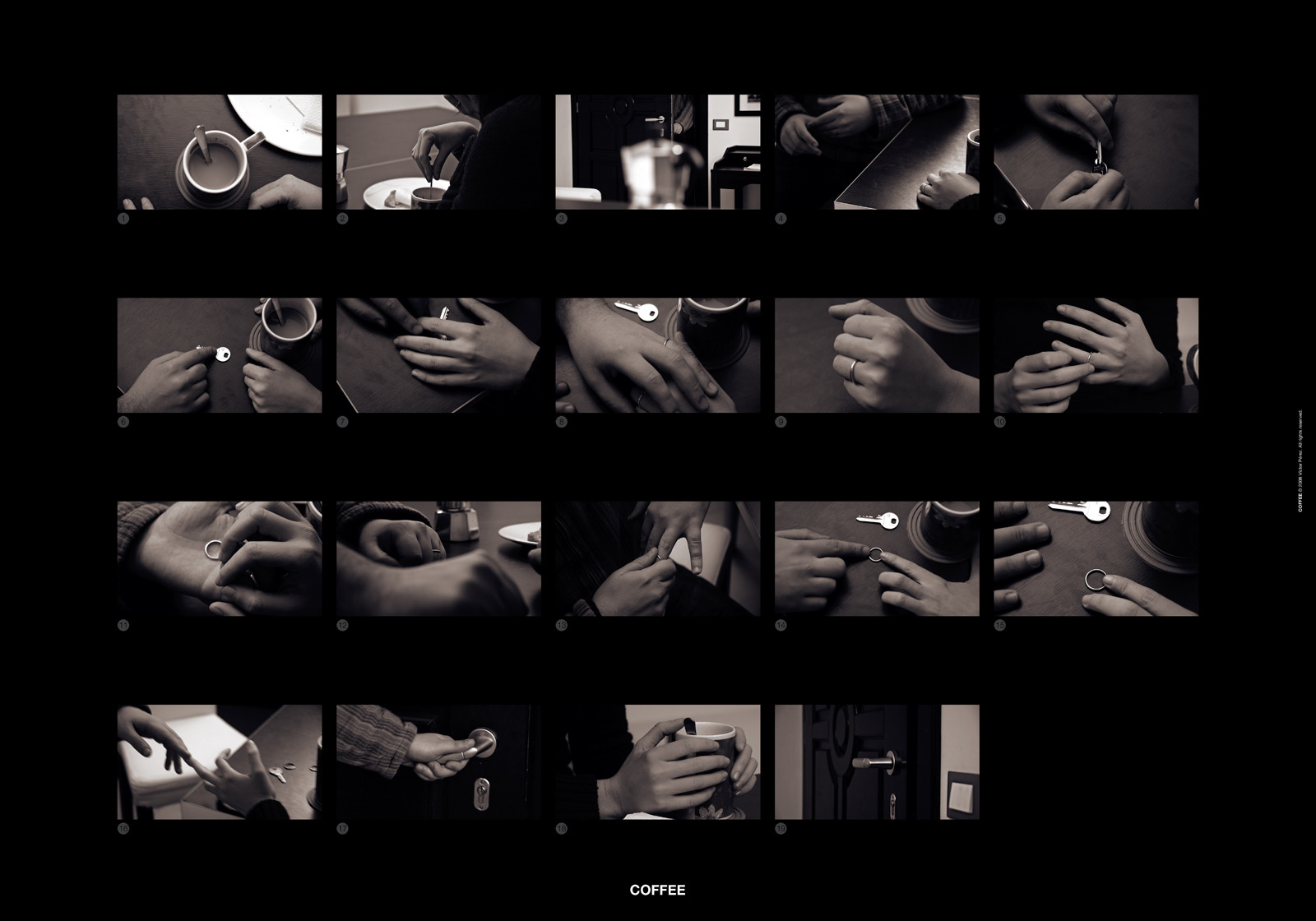 [Image: "COFFEE Storyboard," by user perezvictor on Flickr. Says the photographer (among other things), "This is a story about a man and a woman whose relationship ends. All the events occur in the time of having a coffee."]
From whiskey river:
Not Anyone Who Says

Not anyone who says, "I'm going to be
careful and smart in matters of love,"
who says, "I'm going to choose slowly,"
but only those lovers who didn't choose at all
but were, as it were, chosen
by something invisible and powerful and uncontrollable
and beautiful and possibly even
unsuitable—
only those know what I'm talking about
in this talking about love.
(Mary Oliver [source])
…and:
What We Miss

Who says it's so easy to save a life? In the middle of an interview for
the job you might get you see the cat from the window of the seven-
teenth floor just as he's crossing the street against traffic, just as
you're answering a question about your worst character flaw and lying
that you are too careful. What if you keep seeing the cat at every
moment you are unable to save him? Failure is more like this than like
duels and marathons. Everything can be saved, and bad timing pre-
vents it. Every minute, you are answering the question and looking
out the window of the church to see your one great love blinded by
the glare, crossing the street, alone.
(Sarah Manguso [source])
…and:
We waste so much energy trying to cover up who we are when beneath every attitude is the want to be loved, and beneath every anger is a wound to be healed, and beneath every sadness is the fear that there will not be enough time.

When we hesitate in being direct, we unknowingly slip something on, some added layer of protection that keeps us from feeling the world, and often that thin covering is the beginning of a loneliness which, if not put down, diminishes our chances of joy.

It's like wearing gloves every time we touch something, and then, forgetting we chose to put them on, we complain that nothing feels quite real. In this way, our challenge each day is not to get dressed to face the world, but to unglove ourselves so that the doorknob feels cold, and the car handle feels wet, and the kiss good-bye feels like the lips of another being, soft and unrepeatable.
(Mark Nepo [source])
Send to Kindle