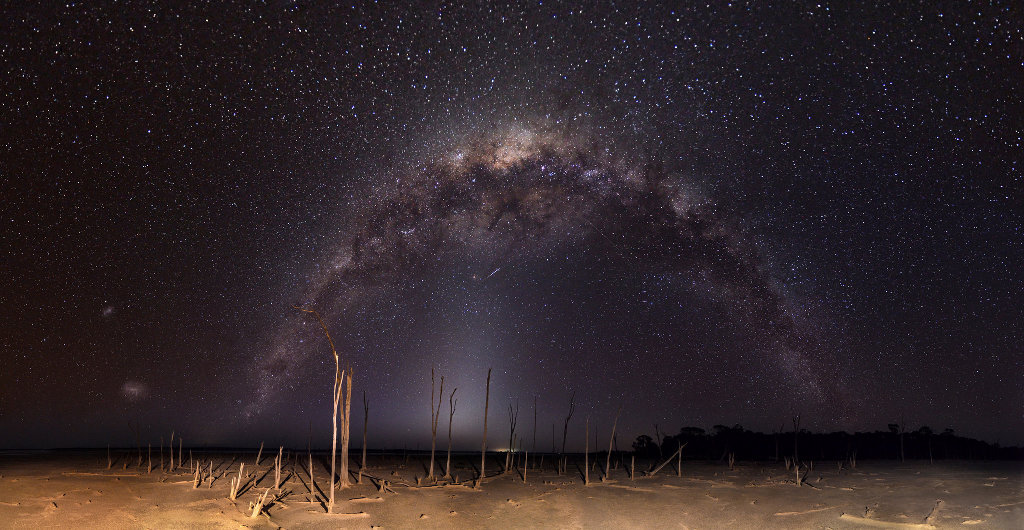 [Image: "Milky Way & Zodiacal Light over Lake Dumbleyung," by Trevor Dobson (user inefekt69) on Flickr. (Used here under a Creative Commons license.) The photographer's description says, "Lake Dumbleyung is about 215km south east of Perth. It's famous for hosting Donald Campbell's successful world water speed record attempt back in 1964. The lake was much fuller then but I was hoping for at least some water to cover the bottom of the many dead trees that line the shores, I wasn't lucky though."]
From whiskey river (italicized lines):
To Live in This World Requires

To live in this world requires
that you leave your house every morning
and step into the wind
Every morning: with all your memories
on file and the future pinned to some wall
you will have to build and tear down and
build again. If you get there. If. If.

Into the wind: first you walk the dog whose
blessed face belies the beast it is built upon
Millennia behind you, that beast enters a cave
and decides whether or not to kill a child sleeping
by a fire. It does not kill the child
because its heart has been surprised by love
Both softened and sharpened by it, inexplicably
Inexplicably, to this day

And on this day, the wind relents
The morning star lifts itself into a changeable sky
and you, carrying extra weight, wearing
last year's clothes, start walking towards the train
Seeds that grew from ancient science digest in your stomach;
your bones begin to separate because science did not plan
this length of life; your heart slows down and you feel
the pressure of dragging a million, billion years
behind you. A million, billion lie ahead that you
will know nothing about

Thus, harnessed to time, facing the inevitable,
constructed by science and fed on inexplicable events
taking place somewhere in the middle of history,
your day goes by. Miles away, the ocean
murmurs to its own beloved creatures, a mountain
applies pressure to the weaving of a golden seam
And in your house, the dog wonders
if you will make it home again. And each day,
despite or because the performance of this feat
is both a mystery and a triumph, somehow
you will. You do
(Eleanor Lerman [source])
…and:
Knowing you are alive is feeling the planet buck under you, rear, kick, and try to throw you; you hang on to the ring. It is riding the planet like a log downstream, whooping. Or, conversely, you step aside from the dreaming fast loud routine and feel time as a stillness about you, and hear the silent air asking in so thin a voice, Have you noticed yet that you will die? Do you remember, remember, remember? [*] Then you feel your life as a weekend, a weekend you cannot extend, a weekend in the country.
(Annie Dillard [source])
Send to Kindle