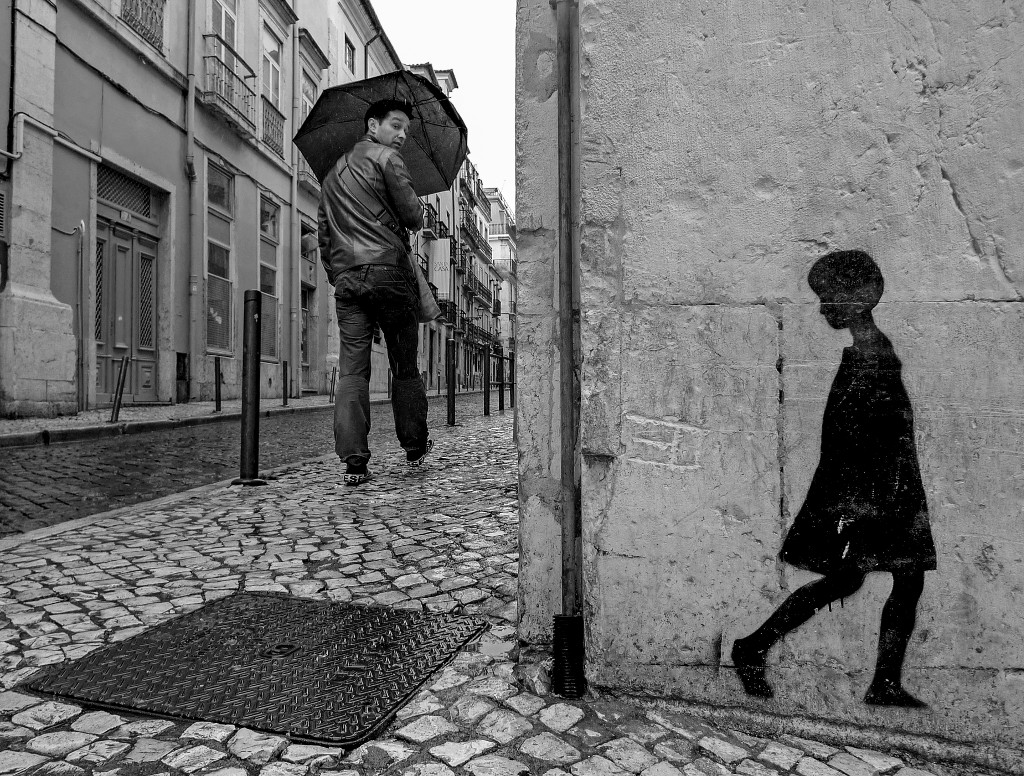 [Image: "Behind You," by Tom Waterhouse; found it on Flickr, and used here under a Creative Commons license (thank you!). The photographer says that he first saw the stencil of the girl looking over her shoulder, then crouched down and waited about twenty minutes for the shot. He knew he'd recognize it when it came.]
From whiskey river:
Preludes
(excerpt)

II

Two truths approach each other. One comes from within,
one comes from without—and where they meet you have the chance
to catch a look at yourself.
Noticing what is about to happen, you shout desperately: "Stop!
Anything, anything, as long as I don't have to know myself."

And there is a boat that wants to put in—tries to, right here—
it will try again thousands of times.
Out of the forest's dark comes a long boat hook
that's pushed through the open window
among the party guests who have danced themselves warm.
(Tomas Tranströmer [source])
…and:
Living is moving; time is a live creek bearing changing lights. As I move, or as the world moves around me, the fullness of what I see shatters… "Last forever!" Who hasn't prayed that prayer?… You were lucky to get it in the first place. The present is a freely given canvas. That it is constantly being ripped apart and washed downstream goes without saying; it is a canvas, nevertheless…

But there is more to the present than a series of snapshots. We are not merely sensitized film; we have feelings, a memory for information and an eidetic memory for the imagery of our pasts.

Our layered consciousness is a tiered track for an unmatched assortment of concentrically wound reels. Each one plays out for all of life its dazzle and blur of translucent shadow-pictures; each one hums at every moment its own secret melody in its own unique key. We tune in and out. But moments are not lost. Time out of mind is time nevertheless, cumulative, informing the present. From even the deepest slumber you wake with a jolt — older, closer to death, and wiser, grateful for breath…

But time is the one thing we have been given, and we have been given to time. Time gives us a whirl. We keep waking from a dream we can't recall, looking around in surprise, and lapsing back, for years on end. All I want to do is stay awake, keep my head up, prop my eyes open, with toothpicks, with trees.
(Annie Dillard [source])
Send to Kindle