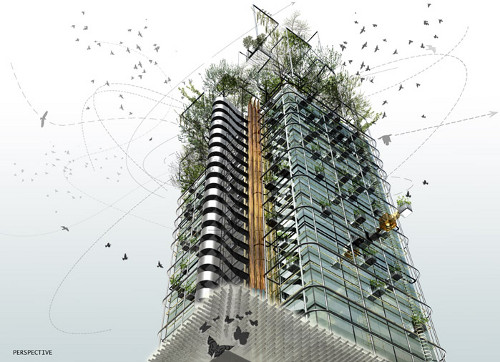 [Image: "Perspective," a portion of Engineered Biotopes; this was an entry in a 2010 Greek architectural competition called "Piraeus Tower 2010 — Changing the Face/Façades Reformation." For more on the competition, and this entry in particular, see this page at the Bustler architecture/design site.]
From whiskey river:
To My Doppelganger

You were always the careful one,
who'd tiptoe into passion
and cut it in half with your mind.
I allowed you that, and went
happier, wilder ways. Now
every thought I've ever had
seems a rope knotted
to another rope, going back
in time. We're intertwined.
I've learned to hesitate
before even the most open door.
I don't know what you've learned.
But to go forward, I feel,
is to go together now. There's a place
I'd like to arrive by nightfall.
(Stephen Dunn [source])
…and:
It is easy to overlook this thought that life just is. As humans we are inclined to feel that life must have a point. We have plans and aspirations and desires. We want to take constant advantage of the intoxicating existence we've been endowed with. But what's life to a lichen? Yet its impulse to exist, to be, is every bit as strong as ours — arguably even stronger. If I were told that I had to spend decades being a furry growth on a rock in the woods, I believe I would lose the will to go on. Lichens don't. Like virtually all living things, they will suffer any hardship, endure any insult, for a moment's additional existence. Life, in short just wants to be.
(Bill Bryson, A Short History of Nearly Everything [source])
Send to Kindle