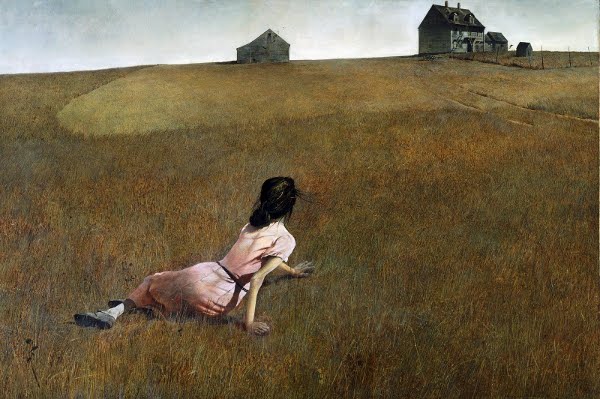 [Image: Christina's World (1948), by Andrew Wyeth… the back story of which
startled the heck out of me when I first learned it.]
From whiskey river:
I'll tell you how the sun rose
A ribbon at a time . . .

It's a living book, this life; it folds out in a million settings, cast with a billion beautiful characters, and it is almost over for you. It doesn't matter how old you are; it is coming to a close quickly, and soon the credits will roll and all your friends will fold out of your funeral and drive back to their homes in cold and still and silence. And they will make a fire and pour some wine and think about how you once were… and feel a kind of sickness at the idea you never again will be.

So soon you will be in that part of the book where you are holding the bulk of the pages in your left hand, and only a thin wisp of the story in your right. You will know by the page count, not by the narrative, that the Author is wrapping things up. You begin to mourn its ending, and want to pace yourself slowly toward its closure, knowing the last lines will speak of something beautiful, of the end of something long and earned, and you hope the thing closes out like last breaths, like whispers about how much and who the characters have come to love, and how authentic the sentiments feel when they have earned a hundred pages of qualification.

And so my prayer is that your story will have involved some leaving and some coming home, some summer and some winter, some roses blooming out like children in a play. My hope is your story will be about changing, about getting something beautiful born inside of you, about learning to love a woman or a man, about learning to love a child, about moving yourself around water, around mountains, around friends, about learning to love others more than we love ourselves, about learning oneness as a way of understanding God. We get one story, you and I, and one story alone. God has established the elements, the setting and the climax and the resolution. It would be a crime not to venture out, wouldn't it?
(Donald Miller [source])
…and:
Forgetting someone is like
forgetting to turn off the light in the back yard
so it stays lit all the next day.

But then it's the light
that makes you remember.
(Yehuda Amichai [source])
Not from whiskey river:
when you have forgotten Sunday: the love story

—And when you have forgotten the bright bedclothes on a Wednesday and
a Saturday,
And most especially when you have forgotten Sunday—
When you have forgotten Sunday halves in bed,
Or me sitting on the front-room radiator in the limping afternoon
Looking off down the long street
To nowhere,
Hugged by my plain old wrapper of no-expectation
And nothing-I-have-to-do and I'm-happy-why?
And if-Monday-never-had-to-come—
When you have forgotten that, I say,
And how you swore, if somebody beeped the bell,
And how my heart played hopscotch if the telephone rang;
And how we finally went in to Sunday dinner,
That is to say, went across the front room floor to the ink-spotted
table in the southwest corner
To Sunday dinner, which was always chicken and noodles
Or chicken and rice
And salad and rye bread and tea
And chocolate chip cookies—
I say, when you have forgotten that,
When you have forgotten my little presentiment
That the war would be over before they got to you;
And how we finally undressed and whipped out the light and flowed into bed,
And lay loose-limbed for a moment in the week-end
Bright bedclothes,
Then gently folded into each other—
When you have, I say, forgotten all that,
Then you may tell,
Then I may believe
You have forgotten me well.
(Gwendolyn Brooks [source])
…and:
razbliuto (Russian)
The feeling a person has for someone he or she once loved but now does not. [noun]
(Howard Rheingold [source, but see note below])
One of songwriter Johnny Mandel's biggest successes was composed for (and indeed, served as the "love theme" from) an otherwise forgettable Richard Burton/Elizabeth Taylor film, The Sandpiper (1965). The story goes that Mandel was given a blank check to employ the services of any lyricist he wanted; the gold standard at the time was Johnny Mercer, and thus it was Mercer whom Mandel approached. The lyrics he came up with did make reference to the film, but someone — someone, somewhere in the decision-making chain — didn't believe they fit the haunting mood of Mandel's tune. Mandel & Co. then took the song to a second lyricist, Paul Francis Webster, and it's thanks to him that we know the tune as "The Shadow of Your Smile."
(Apparently, this episode rankled Mercer for a long time — not least, because "The Shadow of Your Smile" won both the Grammy and the Oscar as best song of the year, in the latter case even beating out one of Mercer's own tunes. Who knows? He may in fact have liked the melody and, in a different universe, even Webster's lyrics… but in this universe, the best response he could probably muster was, well, the merest shadow of a smile.)
Here, Johnny Mathis and Barbra Streisand share the vocals over Dave Koz's saxophone; it's been many years since I saw The Sandpiper, but I think the visuals here all come from or are related to the film:
The song is popular as a straight-up instrumental, too — especially by artists who favor Latin rhythms. (In the film, it's first played as a jazz-saxophone piece, by Eddie Harris; the vocals are sung by a chorus over the closing credits.) I've always been partial to Herb Alpert's interpretation:
[Below, click Play button to begin The Shadow of Your Smile. While audio is playing, volume control appears at left — a row of little vertical bars. This clip is 3:30 long.]
Audio clip: Adobe Flash Player (version 9 or above) is required to play this audio clip. Download the latest version here. You also need to have JavaScript enabled in your browser.
________________________________
Note: About that razbliuto… Great notion, isn't it — that some language, Russian or otherwise, would have a single word for such a specific form of wistfulness? Some language in fact may have such a word… but the word isn't razbliuto. The Language Hat blog tells the complete story, a whisper-down-the-lane bit of folklore beginning with a 1986 book, Hodgepodge, and eventually spreading like crazy around the famously unsentimental Internet.
Send to Kindle