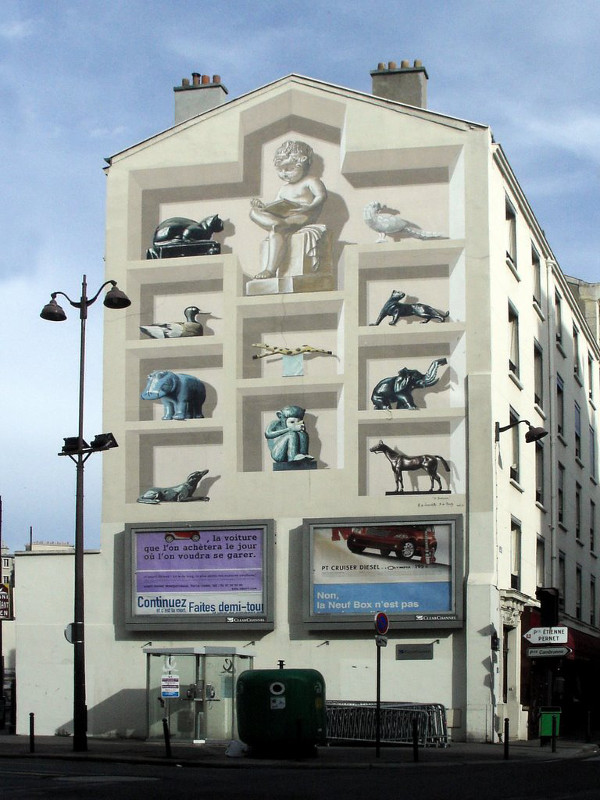 [Image: "Le Bestiaire," a mural painted by B. de Renty and Ph. de Lanouvelle (1996) on the side of a building on Rue de la Croix Nivert in Paris. (Click here to enlarge.) You can find other photos of the building around the Web; this one comes from a comment at the page cited below as a source for the Georges Bataille quotation. The mural itself may or may not still exist at that location (I couldn't see it via Google Street View).]
From whiskey river:
As children, we have all suspected it: perhaps we are all, moving strangely beneath the sky, victims of a trap, a joke whose secret we will one day know. This reaction is certainly infantile and we turn away from it, living in a world imposed on us as though it were "perfectly natural," quite different from the one that used to exasperate us. As children, we did not know if we were going to laugh or cry but, as adults, we "possess" this world, we make endless use of it, it is made of intelligible and utilizable objects. It is made of earth, stone, wood, plants, animals. We work the earth, we build houses, we eat bread and wine. We have forgotten, out of habit, our childish apprehensions. In a word, we have ceased to mistrust ourselves.

Only a few of us, amid the great fabrications of society, hang on to our really childish reactions, still wonder naively what we are doing on the earth and what sort of joke is being played on us. We want to decipher skies and paintings, go behind these starry backgrounds or these painted canvases and, like kids trying to find a gap in a fence, try to look through the cracks in the world.
(Georges Bataille [source: various sites, including this one])
…and (italicized paragraph):
The urge, starting out, is to copy. And that's not a bad thing. Most of us only find our own voices after we've sounded like a lot of other people. But the one thing that you have that nobody else has is you. Your voice, your mind, your story, your vision. So write and draw and build and play and dance and live as only you can.

The moment that you feel, just possibly, you are walking down the street naked, exposing too much of your heart and your mind, and what exists on the inside, showing too much of yourself. That's the moment you may be starting to get it right.
(Neil Gaiman [source])
Continue reading "Wonder in the Interstices"
Send to Kindle