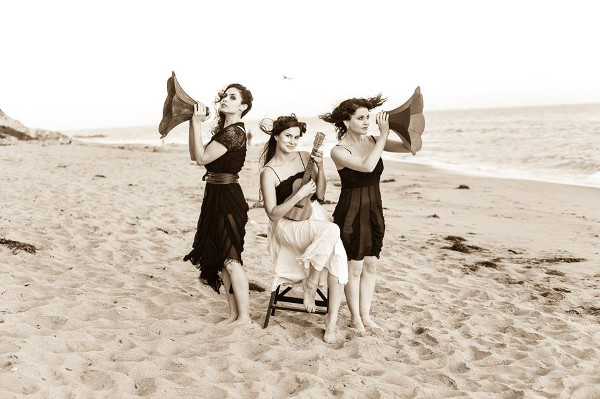 "Everybody Loves My Baby" has been bouncing around in pop music for a long time. First recorded in 1924 by Clarence Williams's Blue Five (featuring a young cornetist named Louis Armstrong, who did not sing at all in this version), it seems to be rediscovered every ten years or so. The lyrics change according to the singer's gender, but the preferred presentation features one woman singer — or a group of them — playing against a hopping, hot-jazz accompaniment.
About the comma-eschewing trio named She Her & I, unfortunately, I can tell you almost nothing. Their Web site includes no "About" page; a brief paragraph on the home pages says only:
Straight out of the zeitgeist, SHE HER & I is a vintage-meets-modern cocktail of tight harmonies, hot jazz, and big band and gypsy swing.
I think that "gypsy swing" phrase (whatever it means) probably helped me decide to feature them today. In their video performances I've seen, they come across as at once flirtatious and slightly scary (of course, I'm easily scared), and they can really sing as well as swing.
Facebook is a bit more informative, however:
Description
Inspired by the Boswell Sisters, Django Reinhardt, Duke Ellington, Etta James, The Andrews Sisters and the fervent joy of New Orleans vintage jazz…

Band Interests
jazz, swing, swagger

Artists We Also Like
Boswell Sisters, Big Bad Voodoo Daddy, Django Reinhardt, Duke Ellington, Glenn Miller Orchestra, The Andrews Sisters, Oh dear… the list is long…
(A little poking around there finally uncovered their names: Francesca Vannucci, Corrie Shenigo and Alisa Burket. It also reveals that both their record label and their booking agent is someone — or something — named "Belle Aesthete.")
I can tell you, unambiguously, that I first discovered She Her & I via another performer's video of a completely different song. Which performer, which video, which song? Patience, Grasshopper. (All will be revealed in the fullness of time, which according to my watch will be in about ten days.)
[Below, click Play button to begin Everybody Loves My Baby. While audio is playing, volume control appears at left -- a row of little vertical bars. This clip is 2:54 long.]
Audio clip: Adobe Flash Player (version 9 or above) is required to play this audio clip. Download the latest version here. You also need to have JavaScript enabled in your browser.
"Everybody Loves My Baby" has been covered by a good range of artists, with a good range of personal styles. (The Andrews Sisters — actually Boswell Sisters — approach seems to predominate.) Most recently, it made a pretty big splash when featured in the HBO series Boardwalk Empire. Wikipedia devotes an entire rather painful paragraph to a parsing of the lyrics, especially their grammatical ambiguities which apparently drive some people crazy. (Not least, one suspects, some people who edit Wikipedia articles.)
For contrast, here's the first recording, by Clarence Williams's Blue Five (including  Eva Taylor's vocals and, again, Louis Armstrong on the cornet):
Finally, a side note: Doris Day may be the only singer to have performed both "Everybody Loves My Baby" (definitely not the "good girl" Doris Day of the stereotype) and "Everybody Loves a Lover." I don't believe the songs are otherwise connected (but always welcome surprises (well, some of them)).
Send to Kindle