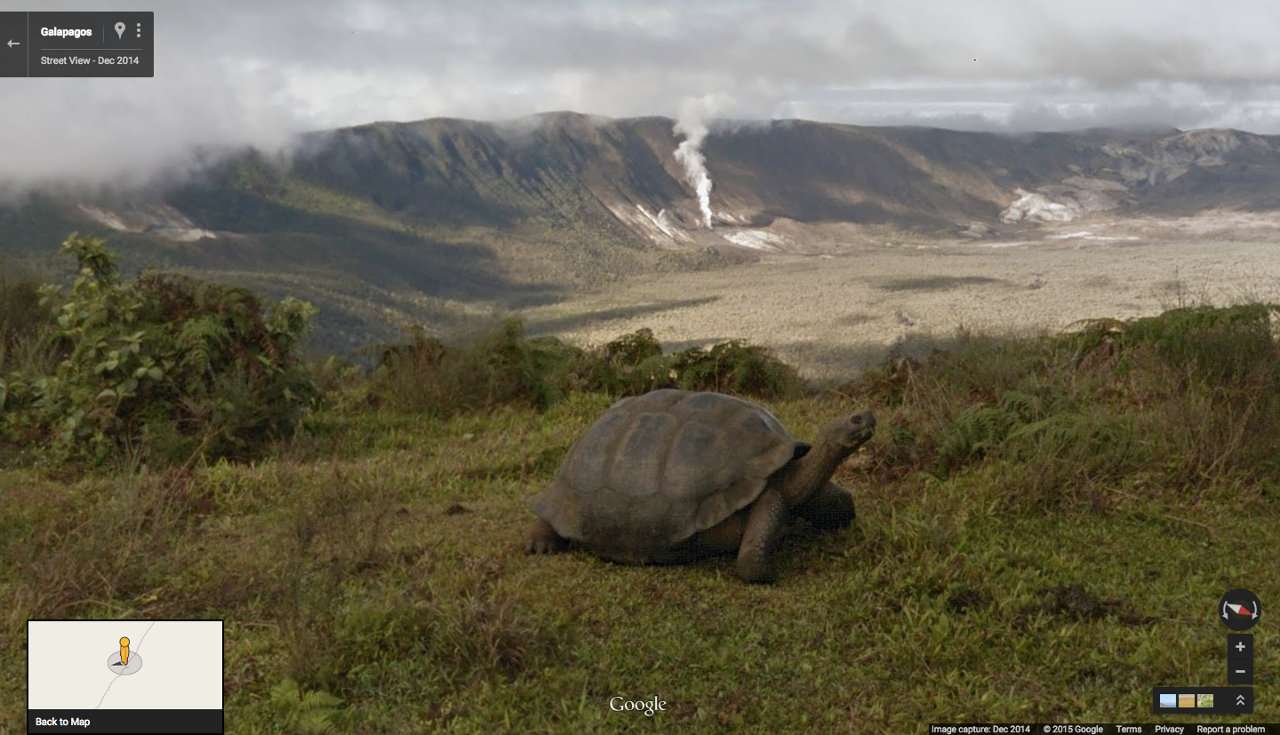 [Image: Screen capture from Google Street View, which now lets you "walk around" Galapagos with the giant tortoises. For more information, see the Google Maps LatLong blog.]
From whiskey river:
And Now it's October

the golden hour of the clock of the year. Everything that can run
to fruit has already done so: round apples, oval plums, bottom-heavy
pears, black walnuts and hickory nuts annealed in their shells,
the woodchuck with his overcoat of fat. Flowers that were once bright
as a box of crayons are now seed heads and thistle down. All the feathery
grasses shine in the slanted light. It's time to bring in the lawn chairs
and wind chimes, time to draw the drapes against the wind, time to hunker
down. Summer's fruits are preserved in syrup, but nothing can stopper time.
No way to seal it in wax or amber; it slides though our hands like a rope
of silk. At night, the moon's restless searchlight sweeps across the sky.
(Barbara Crooker [source])
…and:
Our bodies are wild. The involuntary quick turn of the head at a shout, the vertigo at looking off a precipice, the heart-in-the-throat in a moment of danger, the catch of the breath, the quiet moments relaxing, staring, reflecting — all universal responses of this mammal body… The body does not require the intercession of some conscious intellect to make it breathe, to keep the heart beating. It is to a great extent self-regulating, it is a life of its own. The world is our consciousness, and it surrounds us. There are more things in the mind, in the imagination, than "you" can keep track of — thoughts, memories, images, angers, delights, rise unbidden. The depths of the mind, the unconscious, are our inner wilderness areas, and that is where a bobcat is right now. I do not mean personal bobcats in personal psyches, but the bobcat that roams from dream to dream. The conscious agenda-planning ego occupies a very tiny territory, a little cubicle somewhere near the gate, keeping track of some of what goes in and out (and sometimes making expansionistic plots), and the rest takes care of itself. The body is, so to speak, in the mind. They are both wild.
(Gary Snyder [source])
…and (italicized portion):
A Message from the Wanderer

Today outside your prison I stand
and rattle my walking stick: Prisoners, listen;
you have relatives outside. And there are
thousands of ways to escape.

Years ago I bent my skill to keep my
cell locked, had chains smuggled to me in pies,
and shouted my plans to jailers;
but always new plans occurred to me,
or the new heavy locks bent hinges off,
or some stupid jailer would forget
and leave the keys.

Inside, I dreamed of constellations—
those feeding creatures outlined by stars,
their skeletons a darkness between jewels,
heroes that exist only where they are not.

Thus freedom always came nibbling my thought,
just as—often, in light, on the open hills—
you can pass an antelope and not know
and look back, and then—even before you see—
there is something wrong about the grass.
And then you see.

That's the way everything in the world is waiting.

Now—these few more words, and then I'm
gone: Tell everyone just to remember
their names, and remind others, later, when we
find each other. Tell the little ones
to cry and then go to sleep, curled up
where they can. And if any of us get lost,
if any of us cannot come all the way—
remember: there will come a time when
all we have said and all we have hoped
will be all right.

There will be that form in the grass.
(William Stafford [source])
Send to Kindle