[Part 1 of this series is here.]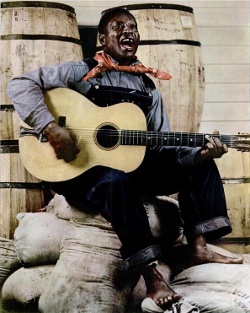 I'd heard The Weavers' "sad, wistful" closing notes of "Goodnight, Irene." I'd forgotten about the song for thirty-some years, but then decided (I did know of the song, after all) to make it the subject of a post here. A simple Midweek Music Break post, at that — not a full-blown What's in a Song monster…
And finally, after researching it some, and researching it some more, I'd actually found and listened to a recording — the first — of Lead Belly singing it for John A. Lomax in 1933.
Here it is again, so you don't have to go back to the earlier post just for it:
Audio clip: Adobe Flash Player (version 9 or above) is required to play this audio clip. Download the latest version here. You also need to have JavaScript enabled in your browser.
As I said at the end of Part 1, this confused the heck out of me. Far from the poignant I'll see you in my dreams of The Weavers' version, the narrator sounds as though he's threatening to get her in his dreams. So much for the implied sigh, hmm?
Luckily for me, Lomax — who called the song simply "Irene" at the time, probably because Lead Belly did — transcribed the lyrics then. The complete song which Lead Belly eventually recorded went like this, per Lomax's 1936 book, Negro Folk Songs as Sung by Lead Belly:
Irene

[chorus]
Irene, goodnight, Irene, goodnight
Goodnight Irene, goodnight Irene,
I'll kiss you in my dreams

Sometimes I live in the country,
sometimes I live in town
Sometimes I haves a great notion,
To jump in the river and drown.

Last Saturday night, I got married,
Me and my wife settled down
Now me and my wife have parted,
Gonna take me a stroll uptown

I loves Irene, God knows I do,
I loves her till the sea runs dry
And if Irene turns her back on me,
I'll take morphine and die.

Quit your rambling, quit your gambling
Quit your staying out late at night,
Go home to your wife and your family
Sit down by the fireside bright.
I was wrong about that get, then: kiss, like The Weavers' see, is all nice and sentimental. So it was sad and dreamy after all—
But sheesh: chorus aside, the actual verses… We've got a guy who seems to have casually left his wife of less than a week, for what? for the life of a rambling man, maybe sometimes living with her and sometimes alone? But he still and presumably forever will carry a torch for her — to the extent of threatening suicide (by drowning, by morphine overdose) if he ever thinks she's given up on him…
What the heck kind of song was this, anyway?
Continue reading "What's in a Song: "Goodnight, Irene" (2)"
Send to Kindle