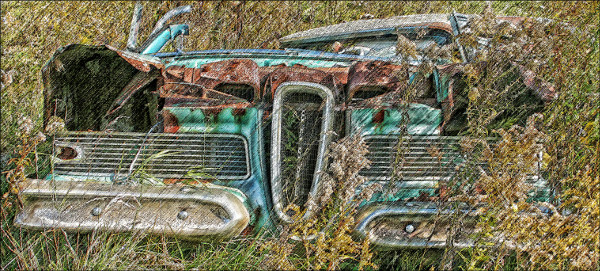 [Image: "The 1958 Edsel: Lousy Car but a Great Planter," by Bill Barber (username "wdwbarber") on Flickr. (Click to enlarge.) Used under a Creative Commons License.]
From whiskey river:
None of us can truly know what we mean to other people, and none of us can know what our future self will experience. History and philosophy ask us to remember these mysteries, to look around at friends, family, humanity, at the surprises life brings — the endless possibilities that living offers — and to persevere. There is love and insight to live for, bright moments to cherish, and even the possibility of happiness, and the chance of helping someone else through his or her own troubles. Know that people, through history and today, understand how much courage it takes to stay. Bear witness to the night side of being human and the bravery it entails, and wait for the sun. If we meditate on the record of human wisdom we may find there reason enough to persist and find our way back to happiness. The first step is to consider the arguments and evidence and choose to stay. After that, anything may happen. First, choose to stay.
(Jennifer Michael Hecht [source])
…and:
The Old Age of Nostalgia

Those hours given over to basking in the glow of an imagined
future, of being carried away in streams of promise by a love or
a passion so strong that one felt altered forever and convinced
that even the smallest particle of the surrounding world was
charged with purpose of impossible grandeur; ah, yes, and
one would look up into the trees and be thrilled by the wind-
loosened river of pale, gold foliage cascading down and by the
high, melodious singing of countless birds; those moments, so
many and so long ago, still come back, but briefly, like fireflies
in the perfumed heat of summer night.
(Mark Strand, Almost Invisible: Poems [source])
Continue reading "A Later Place"
Send to Kindle