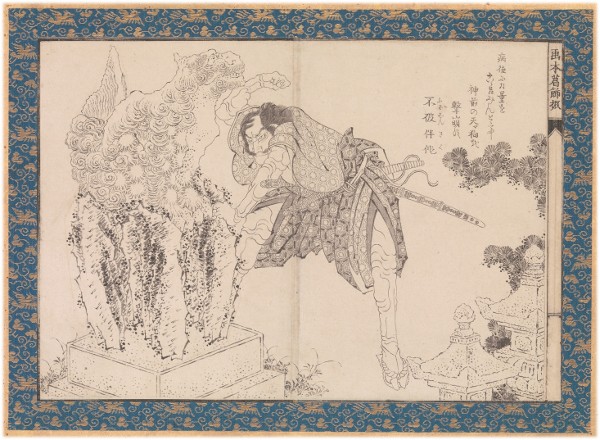 [Image: Lion and Sculptor, by Katsushika Hokusai. This is not one of the 200-odd lion drawings referred to below, but I do like the spirit it shows. See the note at the foot of this post for more information.]
From whiskey river:
Hokusai

Anger is a bitter lock
But you can turn it.

Hokusai aged 83
said,
Time to do my lions.

Every morning
until he died

219 days later
he made
a lion.

Wind came gusting from the northwest.

Lions swayed
and leapt
from the crests

of the pine trees
onto

the snowy road
or crashed
together

over his hut,
their white paws

mauling stars
on the way down.

I continue to draw
hoping for a peaceful day,

said Hokusai
as they thudded past.
(Anne Carson [source])
…and:
From the age of six, I had a mania for drawing the shapes of things. When I was fifty I had published a universe of designs. But all I have done before the the age of seventy is not worth bothering with. At seventy five I'll have learned something of the pattern of nature, of animals, of plants, of trees, birds, fish and insects. When I am eighty you will see real progress. At ninety I shall have cut my way deeply into the mystery of life itself. At one hundred, I shall be a marvelous artist. At one hundred and ten, everything I create; a dot, a line, will jump to life as never before. To all of you who are going to live as long as I do, I promise to keep my word. I am writing this in my old age. I used to call myself Hokusai, but today I sign my self 'The Old Man Mad About Drawing.'
(Hokusai Katsushika [source (in slightly different words)])
…and (italicized portion; excerpt):
11

Like clouds, once gone in their long drift,
there's no coming back—
And like the wind that moves them, we stop
Wherever we please, or wherever we come to be,
Each one in his proper place,
not too near, not too far
From That's okay and No one was ever interested enough.

How many years have slipped through our hands?
At least as many as the constellations we still can identify.
The quarter moon, like a light skiff,
floats out of the mist-remnants
Of last night's hard rain.
It, too, will slip through our fingers
with no ripple, without us in it.

How is it it's taken me almost a lifetime to come to the fact
That heaven and earth have no favorites
in either extreme?
Bits of us set out, at one time or another, in both directions,
Sleeping fitfully, heads on our fists,
Now close together and warm, now cold in the south sky.

Each one arrives in his own fashion,
each one with his birthmark
Beginning to take shape and shine out
And lead forth like a lead lamp.
Look for us in the black spaces, somewhere in the outer dark.
(Charles Wright [source])
Continue reading "Never Far Below the Surface, Bubbling Out"
Send to Kindle