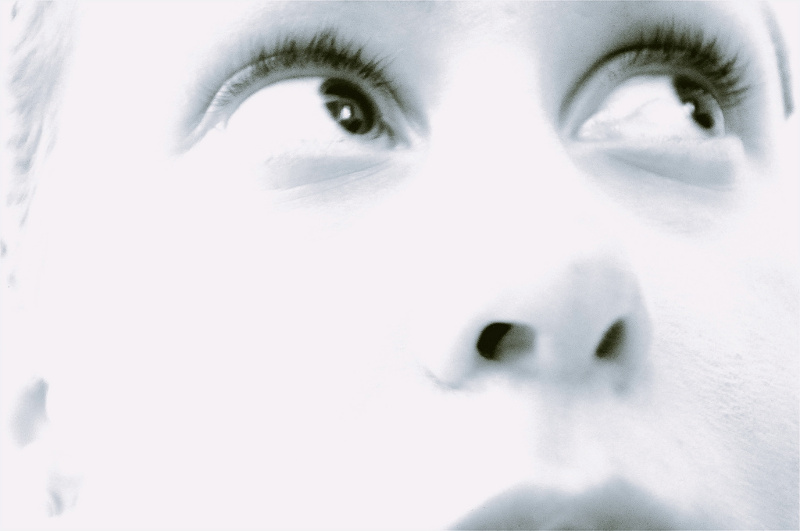 [Image: "Self-Portrait," by Alyssa L. Miller; found it on Flickr, and use it here under a Creative Commons license. (Thank you!) The glib "if someone looks to their right, they're probably lying" trick, it turns out, is not as true as was once thought. Finer-tuned studies, especially mapping what the brain is doing when one's eyes move in a given direction; looking up and to the left, as the photographer apparently was for this photo, is commonly associated with remembering visual images. Now, this photo was taken in 2009: if I contacted the photographer and asked her about the circumstances, odds are she wouldn't remember if, back then, she was remembering any image in particular — but in the present, while thinking about which photo I was referring to, then, then she might look up and to the left.]
From whiskey river:
Memory, and time, both immaterial, are rivers with no banks, and constantly merging. Both escape our will, though we depend on them. Measured, but measured by whom or by what? The one is inside, the other, outside, or so it seems, but is that true? Time seems also buried deep in us, but where? Memory is right here, in the head, but it can exit, abandon the head, leave it behind, disappear. Memory, a sanctuary of infinite patience.

Is memory produced by us, or is it us? Our identity is very likely whatever our memory decides to retain. But let's not presume that memory is a storage room. It's not a tool for being able to think, it's thinking, before thinking. It also makes an (apparently) simple thing like crossing the room, possible. It's impossible to separate it from what it remembers…

We can admit that memory resurrects the dead, but these remain within their world, not ours. The universe covers the whole, a warm blanket.

But this memory is the glue that keeps the universe as one: although immaterial, it makes being possible, it is being. If an idea didn't remember to think, it wouldn't be. If a chair wasn't there, it wouldn't be tomorrow. If I didn't remember that I am, I won't be. We can also say that the universe is itself the glue that keeps it going, therefore it is memory in action and in essence, in becoming and in being. Because it remembers itself, it exists. Because it exists, it remembers.
(Etel Adnan[no canonical source online, but quoted in the reliable brain pickings])
…and (italicized stanza):
Passing Along

People who walk by carry something so light
that no one can tell what it is. I know that burden,
lift it carefully from them and take it away
as they go on walking toward the sky.

Waiting here still I cherish whatever they find—
miles of lupine ghosting the hills,
an accurate bird whetting its call
beyond the hedgerows where they disappear.

"All I ask," my mother said, "no matter the years
and the life we have, is that when you leave
you turn and wave." That was long ago.
I like to remember—I turn, I wave.
(William Stafford [again, no canonical source online; quoted in Artful Dodge])
…and:
Morning in a New Land

In trees still dripping night some nameless birds
Woke, shook out their arrowy wings, and sang,
Slowly, like finches sifting through a dream.
The pink sun fell, like glass, into the fields.
Two chestnuts, and a dapple gray,
Their shoulders wet with light, their dark hair streaming,
Climbed the hill. The last mist fell away,

And under the trees, beyond time's brittle drift,
I stood like Adam in his lonely garden
On that first morning, shaken out of sleep,
Rubbing his eyes, listening, parting the leaves,
Like tissue on some vast, incredible gift.
(Mary Oliver [source])
Send to Kindle