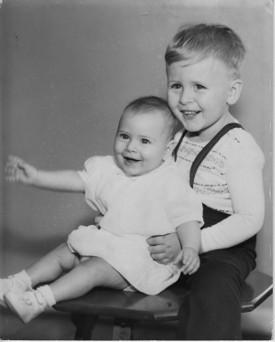 For the last couple of years, I've been sort of walking backwards in time through my siblings' birthdays, via Mid-Week Music Breaks. In 2011, I covered the Warren-Zevon-loving Kid Brother; and in 2012, The Musical Sister.
Which brings me to this year's entry on the last of the three, although she was the first to arrive on the scene: the person whom (parents aside) I've known longer than anyone in my life.
Maybe I've known her a long time — she's also the only sibling I've ever lived with once we'd moved away from home — but I don't really know much about her musical tastes. Oh, I know she listens to music, at least sometimes; certainly back in the '70s, we went to a number of concerts together for performers we were both into at the time: John Denver, James Taylor, Gordon Lightfoot, Sha-Na-Na (!)… She's alerted me to unfamiliar music every now and then, too; I'd never even heard of pianist George Winston, for instance, until she gave me his December album (still one of my favorites to listen to, regardless of season).
But unlike the other three of us, she's never really focused on music to any great extent. I don't remember that she ever took lessons of any kind — not even dancing lessons — or ever expressed any desire to play music. I've never heard her whistle or hum. I have never been driven mildly nuts by her playing a particular album over and over and over. I think the only real preference she ever expressed in anything resembling (faintly) a musical debate was My favorite of the four is Paul.
Part of it, no doubt, is that she is (has always been) just one of the busiest damned people any of us knows. As a kid, she was one of those natural-born escape-artist busybodies who keep their parents' nerves in a constant state of high alert, and she anchored a half-dozen student activities in high school while maintaining an energetic social life. Now semi-retired — after two careers in teaching and HR, which themselves bracketed a couple decades of raising three boys — she's self-employed, travels a lot, keeps in touch with lots of old friends, coordinates a lot of family "events"… On long trips, she tends to listen to audiobooks rather than music while driving/flying and during idle periods — because (I guess) otherwise it would just be time wasted. (It exhausted me just to type this paragraph; it really needed to be presented, though, as a single unpunctuated sentence.)
So no, I don't know what sort of music she listens to "recreationally," if I ever did. But I do know that one sort of music she'll at least sometimes talk about is music in the service of comedy. She used to love Mark Russell's political songwriting and performances on PBS, for instance. When we talk after she returns from a trip to, say, Chicago, she'll tell me about some hilarious cabaret act she saw while in town. She laughed as much as any of us at Belushi and Ackroyd's Blues Brothers routines.
And then there's a whole sub-genre of comic music about things meaningful to us about growing up when and where we did…
Comedian Robert Klein's stand-up act as recorded on his 1973 album, Child of the '50s, offers a few such musical treats. Klein must be something of an aspiring musician himself; he wrote and performed a couple of songs for the album, and even in the nominally non-musical bits he incorporated many musical touches — especially acting out musical instruments vocally.
In the clip below, Klein recreates the voices and the musical palette which underlay the old "Our Gang" comedies from the 1930s and '40s. We didn't see them when first released, obviously, but they were being shown quite a bit on television in the '50s and '60s, especially on kids' programs (where they'd been repackaged as "The Little Rascals"), so they were hard to miss. I think we all sort of envied the unstructured, small-fry-adventurous lives which the Gang seemed to live.
I think I do remember The Perhaps Non-Musical Sister laughing at this routine. (Say it with me, in a straining-larynx little-kid's voice: I don't feel like goin' to school today!) It took me a while to pull it together for inclusion here: I couldn't find the album available as a set of MP3s for purchase. But I did manage to grab the whole thing online, as a single giant 50MB+ monster. From that, I pulled this three and a half minutes.
So happy (a few days belated) birthday, Sis. I know you don't spend much time online — no! (pant) time! (pant) to! (pant) waste! — but maybe you'll land here some day, some time. Probably then only by mistake, and probably for just the four minutes or so it takes you to read and listen to this post. But I'll take it: those little such bursts of quiet are, for the rest of us, always worth waiting for. (Not just because all of us can finally take a breather, but yeah, that too.)
[Below, click Play button to begin Child of the '50s: Our Gang. While audio is playing, volume control appears at left — a row of little vertical bars. This clip is 3:39 long.]
Audio clip: Adobe Flash Player (version 9 or above) is required to play this audio clip. Download the latest version here. You also need to have JavaScript enabled in your browser.
_________________________
Aside: For the first time, I just looked closely at that table in the photo. I'm close to 100% certain it ended up in the apartment the two of us shared in the mid-1970s, holding the Dracaena marginata plant I dubbed "Marge."
Send to Kindle