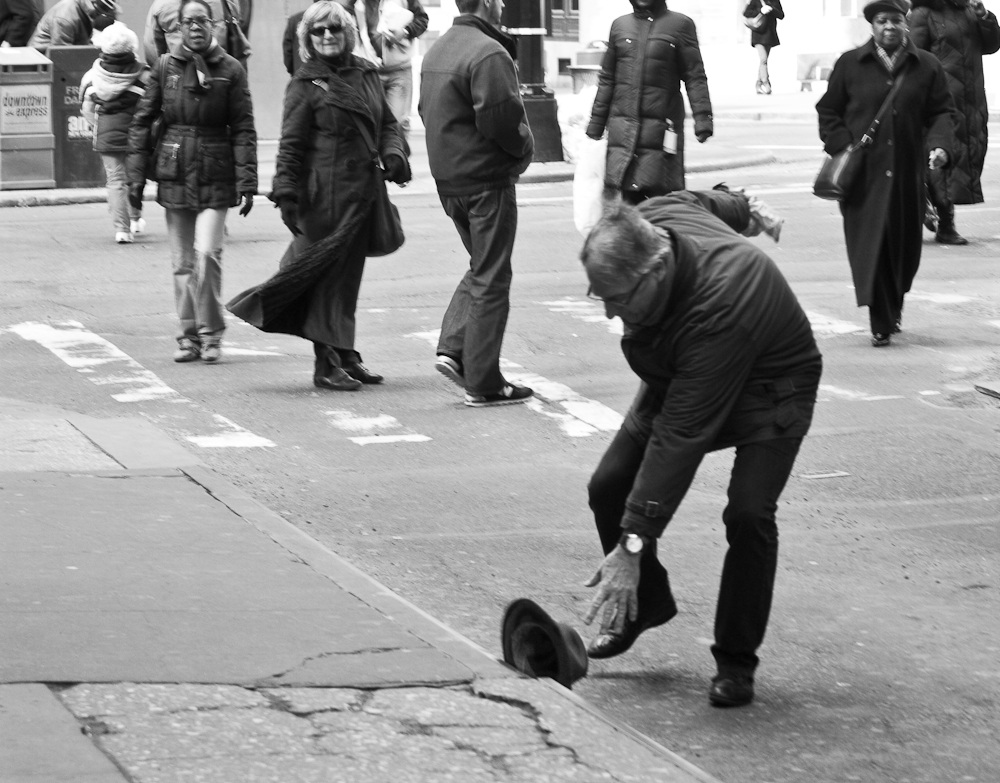 [Image: "Blown Hat Dance," by John Fraissinet (found on Flickr, and used here under a Creative Commons license — thank you!). I love that the subject's pursuit is a solitary one; to the extent that any of the bystanders notice him at all, they seem amused more than concerned, eager to join in, or anything else. When you chase your hat long enough, you get used to it: that's just the way things go.]
This year's anniversary post — if all goes well — will appear on Wednesday, April 19, rather than Thursday (i.e., the actual anniversary). If so, it will neatly confirm this year's anniversary theme: that Wednesdays (and weekends), in particular, deserve some kind of musical interlude. Each song in the mix below was featured, at least peripherally, in a post for the "Midweek/Weekend Music Break" category, sometime in the last nine years.
All right, if you really want to get technical, the earliest selection below dates back only to February, 2011. But since the very first such post didn't appear until January of that year, I figure I'm due a pass on the fact-checking.
As usual, each link in the track listing here takes you to the corresponding RAMH post. (Some of those posts featured numerous other songs, as well. You can tell which, probably, by hovering over the track title — you'll see a little pop-up label showing the post's title. If the post title names this specific song, then that song is (always? most often?) the only one covered.) To actually play the mix, scroll down a bit further on the page for the audio-player device.
This year, the little audio-player whatsit lets you download each track as it's playing — or at least as it's selected. See the little "Download" button at the top left? There you go. (You can also pop out the playlist into its own window, if you don't want to linger on the post.) The total length of this year's mix is about 70 minutes: a CD's worth. Either way, you can find this year's version of my random anniversary thoughts below the fold.
Finally, for the record, here's the list of links to earlier anniversary posts, most of which included playlists of their own. (As indicated, I did no playlist in 2009-10, nor in 2012.) One of these days I'll combine them all into a single one; shuffled, especially, they really do make for an eminently listenable mix… although, looking back on them now, maybe my first priority should be replacing all the outdated audio players with the one I'm using nowadays. Ha.
As always, implicit in every post here is my gratitude for your visit. Thank you!
RAMH@9: The Music Break Mix
Send to Kindle