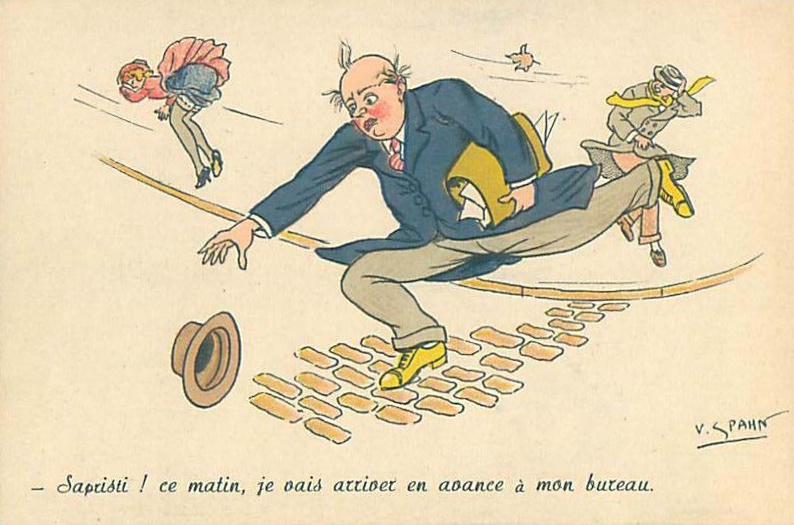 [Image: cartoon by French cartoonist/illustrator/humorist V. Spahn. Roughly translated, I believe the caption says something on the order of, "Oh, shoot — I meant to get to the office early this morning!"]
Like many people who fired up blogs in the Great Flowering Era — i.e., pre-2009, say (the year when Facebook first turned a profit, or at least become "cash-flow positive") — I imagined Running After My Hat would become a journal.
A journal, of course, is different from a diary. A diary celebrates or simply notes the everyday, with lesser or greater force depending on its import to the author; a journal discusses, considers, weighs, argues, and/or blathers on about topics which may or may not be based upon something mundane, but which may also spring, unbidden, from the author's mind and soul. The latter more closely resembles my RAMH ideal at the outset.
I suppose the place has attained that ideal, over time, although the topics have come to differ from those I'd first imagined. I apparently have much less to say about writing, for example, than I once thought I would. (On the other hand, some of this is reticence by design.)
It's also become, well, stranger than I'd planned — stranger in ways that I could not have anticipated. I didn't know, in 2008, that the blogging wave was already cresting. For a while, I actually tried to post something new every single day; by the time RAMH attained what I think of as its own peak, though — 2011-13, maybe — the posting rate had already declined, roughly in proportion to the dwindling audience.
To be fair, the decline in my output was mirrored by the decline in my input — my reading of and participation in other blogs. It's not as if RAMH were the only blog withering at the time. When Google dropped its "Google Reader" blog-aggregation product, in 2013, I believe the transformation of the Web from a writers-and-readers model to a social-chatter model was complete.
What's left, then, has become more like a real journal: a place for talking to myself, as time and circumstance allow, about topics and in ways I don't mind making public, but also about topics and in ways I can't imagine sharing in Facebook's short-attention-span theater. (RAMH posts do automatically trigger brief summary posts on Facebook, for anyone who might be interested, with links to the full RAMH entries.)
Although I haven't done a statistical analysis, I bet ninety percent of the content here has come down to two things: posts in the "Ruminations" category — all of them whiskey river Fridays posts, I think — and posts related somehow to music. Translated, this means that my output here seldom exceeds two posts weekly: not a good mechanism for attracting and retaining loyal readers, but at the same time a good tool for "keeping my hand in." I like ruminating, and I like learning (and talking at length) about some aspects of music, too: both pursuits which ultimately depend not on facts, but on the processing of facts. And I don't mind processing them openly, for my own sake, even if for no one else's.
All the other stuff I used to post about here has transitioned to That Other Place. That place has its uses, as I've learned. But there's not much room there for running after one's hat, any more than I'd find in a shopping mall at the holidays, or a crowded amphitheater.
—
Send to Kindle