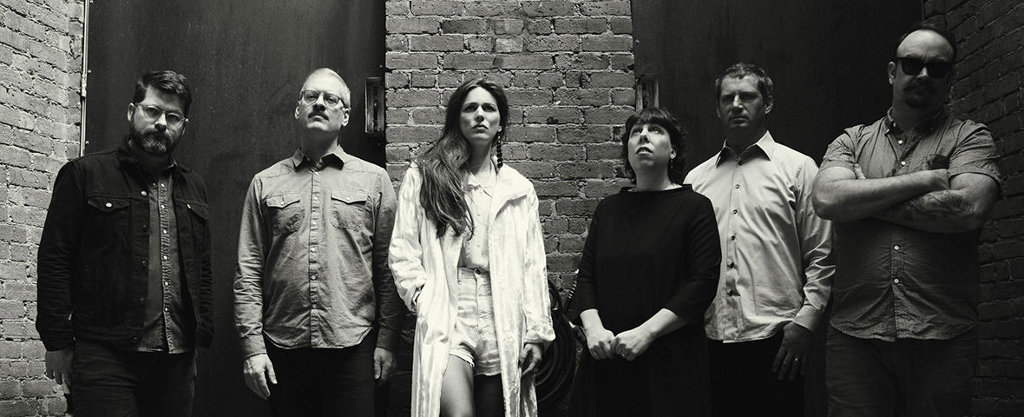 [Offa Rex: Olivia Chaney (third from left) and The Decemberists]
While I've known of The Decemberists for years, and appreciate their reputation (among folks whose musical taste I trust) as musical geniuses, innovators, and so on, I confess that I've not spent much time listening to them. I should probably be embarrassed, too, never (until now) to have heard of English folkie Olivia Chaney. But plenty of others have heard of her, raved over her songwriting and performance… So as it happens, this "Offa Rex" joint project has given me plenty of opportunity to listen to all of them together.
The Queen of Hearts, says NPR, is "an interpolation of vintage British Isles folk music as filtered through electric guitars and a sinewy rock backbeat. The result is both a tribute and translation, connecting the dots between contemporary indie music and a deeper cultural legacy." Adds The Guardian:
You're not going to go far wrong with Chaney — a thrilling singer, the Anne Briggs of her generation — on a set of folk standards, but [The Decemberists' Colin] Meloy and co also deliver. A shimmering, echoing ambience includes chiming guitars, drones, cello, harpsichord and harmonium; the churning "The Old Churchyard" is a standout.
I can't think of much to add to either estimation (or, to pick just one more, this). But yes: "The Old Churchyard, especially," grabbed me from the first listen. And Chaney's rendition of "The First Time Ever I Saw Your Face," while having almost nothing in common with Roberta Flack's, can stand right alongside it.
Here's Offa Rex then, and Queen of Hearts:
Send to Kindle