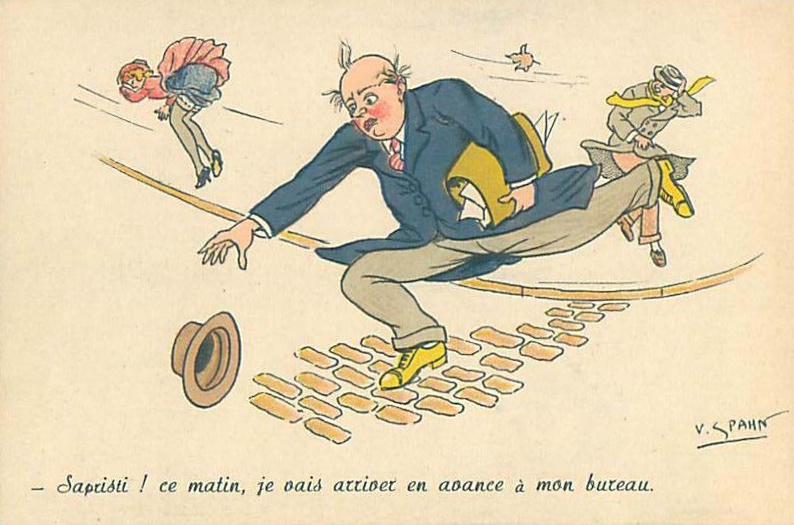 [Image: cartoon by French cartoonist/illustrator/humorist V. Spahn. Roughly translated, I believe the caption says something on the order of, "Oh, shoot — I meant to get to the office early this morning!"]
Like many people who fired up blogs in the Great Flowering Era — i.e., pre-2009, say (the year when Facebook first turned a profit, or at least become "cash-flow positive") — I imagined Running After My Hat would become a journal.
A journal, of course, is different from a diary. A diary celebrates or simply notes the everyday, with lesser or greater force depending on its import to the author; a journal discusses, considers, weighs, argues, and/or blathers on about topics which may or may not be based upon something mundane, but which may also spring, unbidden, from the author's mind and soul. The latter more closely resembles my RAMH ideal at the outset.
I suppose the place has attained that ideal, over time, although the topics have come to differ from those I'd first imagined. I apparently have much less to say about writing, for example, than I once thought I would. (On the other hand, some of this is reticence by design.)
It's also become, well, stranger than I'd planned — stranger in ways that I could not have anticipated. I didn't know, in 2008, that the blogging wave was already cresting. For a while, I actually tried to post something new every single day; by the time RAMH attained what I think of as its own peak, though — 2011-13, maybe — the posting rate had already declined, roughly in proportion to the dwindling audience.
To be fair, the decline in my output was mirrored by the decline in my input — my reading of and participation in other blogs. It's not as if RAMH were the only blog withering at the time. When Google dropped its "Google Reader" blog-aggregation product, in 2013, I believe the transformation of the Web from a writers-and-readers model to a social-chatter model was complete.
What's left, then, has become more like a real journal: a place for talking to myself, as time and circumstance allow, about topics and in ways I don't mind making public, but also about topics and in ways I can't imagine sharing in Facebook's short-attention-span theater. (RAMH posts do automatically trigger brief summary posts on Facebook, for anyone who might be interested, with links to the full RAMH entries.)
Although I haven't done a statistical analysis, I bet ninety percent of the content here has come down to two things: posts in the "Ruminations" category — all of them whiskey river Fridays posts, I think — and posts related somehow to music. Translated, this means that my output here seldom exceeds two posts weekly: not a good mechanism for attracting and retaining loyal readers, but at the same time a good tool for "keeping my hand in." I like ruminating, and I like learning (and talking at length) about some aspects of music, too: both pursuits which ultimately depend not on facts, but on the processing of facts. And I don't mind processing them openly, for my own sake, even if for no one else's.
All the other stuff I used to post about here has transitioned to That Other Place. That place has its uses, as I've learned. But there's not much room there for running after one's hat, any more than I'd find in a shopping mall at the holidays, or a crowded amphitheater.
—
So there's my anniversary rumination. How about some music?
Here are the anniversary playlists I've done so far (note that I did not do an anniversary post at all in 2012, with or without a playlist):
The lists have little in common except that I (a) followed the principles laid out in the RAMH@3 entry, and (b) selected and arranged all songs to fit on a single CD, should anyone be so inclined, and (c) no song appears on more than one playlist. (At the moment, they all also use the old-style audio-player control, which no longer works in browsers which cripple or disable Adobe Flash for security reasons. I'll try to bring them up to date soon.)
There's one obvious omission, though: although I'd built a playlist of music by women, I'd never done one of music by men. So this year's mix should redress that gap.
Back in 2013, I wrote (of my playlist of music by women):
This is a natural choice for me — for a number of reasons, not least because (on average) I simply hear women's voices better than men's. It does risk a certain uniformity of sound (I favor quieter, singer-songwriter solos over belted-out Big Voices supported by a hundredweight of metal or orchestra). On the other hand, maybe the skipping-around mindset would help…

Don't look for deeper meanings. I didn't repeat anything from the third-year anniversary mix, but otherwise I considered all songs equally. The women in question aren't necessarily "my favorite women artists"… It's just a list which, well, which by tomorrow will look to me woefully incomplete or inappropriate.
You can say much the same things about this year's mix, with gender-switching as appropriate. I will say I was surprised by how many choices I had; in my head, I picture the music variety here lopsidedly female — but it's probably very close to evenly split.
Now for specifics… Not every year of RAMH's existence is represented here (exceptions, for whatever reason: 2014 and 2016); the champ is 2008, with five contributions, while 2011 added four. I don't know that you could draw an conclusions about my musical tastes — the genres, release date, and other things they might have in common are all over the map. It's a mix of soloists and bands, instrumentals and vocals, old and new
Finally, as in earlier lists, each hyperlinked song title below takes you to the post in which the song was featured:
And now to the playlist itself. If you'd like to listen to this in a separate little window of its own while you use this browser window for other purposes, just click the little 'Popout' button at the top left:
RAMH@8: To One Thing Constant Never (a Playlist)
______________________
Footnote: A couple of stray points about this post:
The title alludes to this verse, from Shakespeare's Much Ado About Nothing:
Sigh no more, ladies, sigh no more.
Men were deceivers ever,
One foot in sea, and one on shore,
To one thing constant never.
Then sigh not so, but let them go,
And be you blithe and bonny,
Converting all your sounds of woe
Into hey nonny, nonny.
Sing no more ditties, sing no more
Of dumps so dull and heavy.
The fraud of men was ever so
Since summer first was leafy.
Then sigh not so, but let them go,
And be you blithe and bonny,
Converting all your sounds of woe
Into hey, nonny, nonny.
It seemed a suitable epigraph for the context — and, of course, it's about men. (It didn't hurt, either, that this anniversary's illustration likewise suggests things blowing with the wind.)
Coincidentally, this playlist includes the same number of songs as 2013's Cherchez Les Femmes anniversary post. I really don't plan these things… in fact, 18 seems to be the most common number of songs in these lists to date.
Thanks to a prolonged interlude of hard-drivelessness (a story which I may or may not detail here eventually), I'd begun but couldn't finish this post in time for the actual anniversary (April 20). At the time I'm composing this bullet now, on June 4, I don't know how I'll deal with this issue in the end. Will I just post this and let readers figure out (or not) what's going on? Or will I back-date the publication date to 4/20/2016? Decisions, decisions…
I was reminded as I looked at the post titles how much I like the ones I come up with for the whiskey river Fridays series. Probably my favorite among the post titles in this year's mix: "Consider the Things We Miss (Then Consider Our Missing Them)." That neatly encapsulates a lot of the feelings stirred up every year when I do an anniversary post!
Send to Kindle