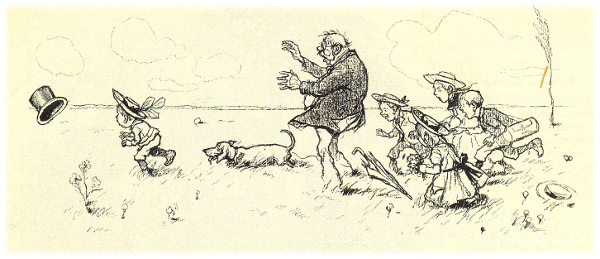 [Image: 19th-century drawing by A. Roeseler for "the German Punch," Fliegende Blätter.
Posted on Flickr by user "digitalsextant." For the whole three-panel thing, click the image.]
I wondered what I'd write about for Running After My Hat's sixth anniversary — because, damn it, I was determined to write about something rather than let it pass completely unremarked.
Before I get into the gist of my answer to that question, I thought I'd offer you up a playlist of a variety of music from posts here. Each link in the below table takes you to the post where it was featured; the links open in a new window or tab, and the corresponding posts almost always include (or link to) lyrics, if appropriate. (If you just want to see the post title and date, hover your mouse over the link without clicking on it.) The songs follow no particular sequence, except that (in my estimation) they sound pretty good in this order.
A little audio-player thingumabob appears below the track listing. Feel free to ignore this, or use it as a soundtrack for what follows.
…and here's the playlist-player doo-dad itself. (Total length of all songs together: ~78 minutes. So, yeah: settle in.)
(Note: The playlist goes automatically from start to finish, once you click the little Play button. To fast-forward to the next number, once a song is playing you'll find a little fast-forward button to the right of its progress meter — and a fast-rewind to the left, for that matter.)
Audio clip: Adobe Flash Player (version 9 or above) is required to play this audio clip. Download the latest version here. You also need to have JavaScript enabled in your browser.

—
So, to the question of the moment: why "Discoveries"?
What it comes down to is that I'd always thought of RAMH as bringing something to the Web… But on the contrary, doing the blog has in fact brought much more to me: many things completely unexpected, even unsuspected.
Take the music, for example.
The first post in which I embedded an audio player was on July 5th, 2008. The featured song then: "Cool, Cool Considerate Men," from the musical 1776. Before that Independence-Day week, I'd never seen the movie. Never heard the soundtrack. But for some reason, as soon as I heard the song I realized I wanted to figure out how to share it.
I'd contemplated sharing music before, but never acted on the notion. No hurry, I'd always thought: I had so much favorite music, I could start at any time…
What a laugh. I didn't have that much favorite music to share. And when I opened my mind to all the music I'd never listened to at all, all the artists I'd never heard of, forgotten about, ignored — wow, what a revelation.
So that's the first discovery to which RAMH led me, a discovery which I've finally boiled down to a playlist wide-ranging but short enough to fit on a CD. (It was tough.) The reason the music classifies as "new" varies. I might have known the song before, say, but never from that particular artist. Or I'd never even heard of the artist, period. Or I knew the artist like an old pair of jeans, but they'd somehow hooked up with an amazing tune. And every one of these tunes, these performances, absolutely delighted me when I first came upon them. They still do.
This is also a good time to mention another discovery: how reliable have been the musical instincts of the other bloggers and RAMH visitors whose suggestions I've read over the years. Some of the songs in this playlist I "discovered" all on my lonesome. And many, many of them came to me by way of someone else — possibly a stranger at first — whose tastes I came to admire, and to rely on.
People whose musical tastes I eventually came to rely on include (but are not limited to): Kate Lord Brown, Julie (Jules) Danielson, Froog (of Froogville), Marta Pelrine-Bacon, Nance Meeker, Jayne Guertin Schlott, Simon (of Beat Surrender), Mike Simpson, Steve Page, Cindy Page, Dad, Mom, and of course The Missus. Thanks, everyone!
On to Discovery #2, which might be summed up as: Why do I blog?
As I mentioned above, for a long time I assumed that I blogged as a way of making myself known to the outside world. The advice, after all, was universal, especially for (would-be) writers: when someone asks, Do you have an online presence?, you must have a blog to point them to.
The catch? This "universal" advice turned out to be time-limited, in effect for years but only until the widespread use of what came to be known as social media. No one really expects anyone, even writers, to maintain a really active blog these days (not unless they've got some other reason for doing so). Now those longed-for agent and editorial contacts are just as (if not more) likely curious about your presence on Twitter, Facebook, Tumblr, Instagram, and all the rest.
Furthermore, one thing continues to confound me: the extent to which writer's guidelines for publication and contests forbid previous "publication" in any form… including on a personal blog. If you're going to show off your writing on a blog, you must limit it to writing which you (a) have already published or (b) don't care to have published. While some more far-sighted publishers and periodicals are relaxing a bit on this front, they constitute a tiny minority of outlets for print.
So, again: why blog? I'm still figuring out the answer to that. Importantly (to me), I've recognized what I was getting from blogging before which I'm no longer getting, an element I had disregarded or dismissed. Which leads me to…
Discovery #3: Facebook.
I know, I know. A firehose of trivia. Insubstantial. Impermanent. Careless. Indifferently courteous. Slapdash. And all the rest: I know.
Here's the thing about Facebook, though — a reward which blogging (for 99% of blogs, including RAMH) can't even begin to touch — it is indisputably social.
I could put up a blog post after three days' work, and never hear a peep from anyone about it. I could see from web-visit stats, maybe, that some people were at least seeing the page. But unless they were friends, these visitors themselves seldom acknowledged the post: not in a comment, not in an email, not in a link back to RAMH. Silence — crickets.
On Facebook, here's what happens: you drop a ten-word wisecrack or other mot, and eight or ten people "like" it. This doesn't mean that they really like it, of course — the "like" acknowledges, reliably, only that they have seen it, and probably read it. They might comment with an emoticon, or an "lol," or an "Oh, I'm so sorry," or "Wow — I never knew that!" The point is: it's something. And that has been Discovery #3 for me, a true revelation: I never really, really blogged because I wanted to promote or market myself, or to show off my writing, or because I thought I had something important to say. Because if any of that had been true, I'd still be posting three or four or more times a week; you couldn't keep me from posting.
No. The reason I blogged, the thing I didn't realize about myself until the world moved on from blogging to all those shallow, trivial, quick-and-dirty online venues of little to no "consequence," was simply this: I needed people; I was lonely.
Anyhow, RAMH will not to my knowledge be going away for a good while. I still use blogging as a lash — an incentive — to explore music. (If I hadn't had this anniversary thing to work on, I'd have posted another pair of entries in my long-ignored "What's in a Song?" series this week.) I still like to assemble the whiskey river call-and-response things on Friday. I have not forgotten about my most recent series, on the Golden Treasury of Natural History — or, really, about any of the other topics I have written about from time to time.
And sometimes, rarely, I still like to put something here just because I don't want to consign it to Facebook's time-limited shredder.
And yes, I expect — the gods willing — I'll still be here posting a "RAMH@7" entry, and a "RAMH@8," and so on.
Thanks so much for visiting. Always.
Send to Kindle