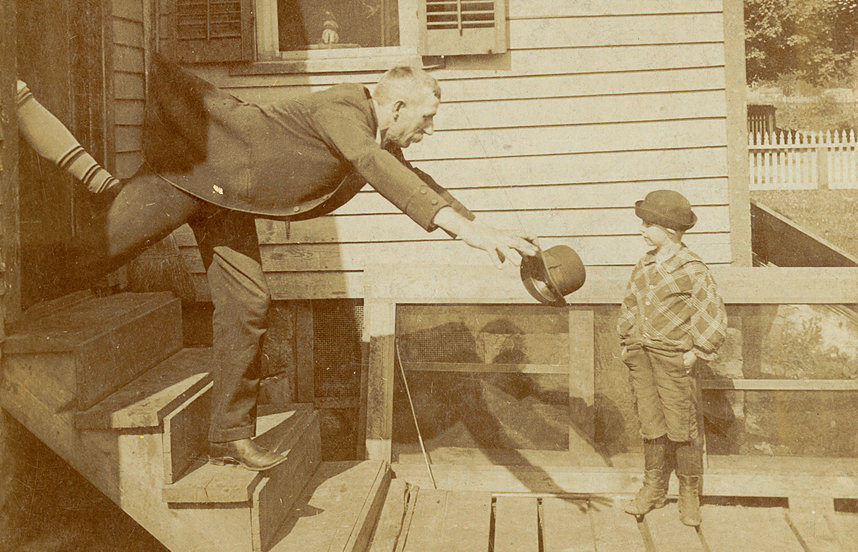 [Image: one frame of an old stereograph, the droll caption to which is "What's the matter dad? you seem put out." (Click image to see the whole thing.) Technically, the gentleman here is not running after his hat, but losing it. It is sometimes hard to tell the difference in other contexts, too.]
Time for another in what's turning out to be an annual series: a post on April 20th, featuring (as the series has developed over time):
some crazy illustration (photo/artwork) of the blog's title;
a playlist of songs from the blog's history; and
a brace of woolgatherings about the blog, and/or about blogging in general.
First, about this year's playlist: last year, the topic was "Discoveries" — songs which I'd encountered more or less as a result of maintaining this blog. (Most of their performers had been new to me, too.) This year, it felt only natural to revisit some songs I've blogged about which I'd known for years before hitting the first keystroke of what became Running After My Hat. Here's the final list, with links to the posts in which the songs were included. (Each link opens in a new browser window or tab.)
The songs have little specific in common, other than their long familiarity to me. (Two of the songs came from a single post — one appearing in the post proper, one in a comment. A disproportionate number, for some reason, came from posts in 2011… feeling self-indulgent that year, maybe… and there are none at all from 2009.) These aren't necessarily the songs most personally meaningful to me; I haven't included any which I remember because I listened to them repeatedly as a child, for example, or because they were family favorites. And there's no particular significance to the posts in which they appeared, either. The original list of all songs I knew pre-RAMH, in fact, included — unmanageably — over 200 items.
Luckily, I could start by disregarding any songs I'd used in an earlier anniversary playlist. I could likewise ignore (as I always do for these things) any songs in the annual Christmas playlists. So, after a few weeks' off-and-on-again work, I eventually whittled the list down until I came up with one which is — on my terms, anyhow — repeatedly listenable, and no more than a single audio CD in length.
("Repeatedly listenable" is a tough criterion to meet. I liked hearing every single song at the time of its posting, and on many occasions since; I was excited to (re-)discover many at the time of their posts' writing. But damn: some songs just don't hold up when you've got a CD in the car stereo, and you — by intention or not — leave it there over the course of a month or two rather than choose a successor.)
After all that, finally, here's the usual little audio-player gizmo to run through the songs in the order above.
[If you'd prefer to order the songs however you like, and/or to remove some songs from the list altogether, feel free to use your secret RAMH right-square-bracket decoder ring.]
(Note: The playlist goes automatically from start to finish, once you click the little Play button. To fast-forward to the next number, once a song is playing you'll find a little fast-forward button to the right of its progress meter — and a fast-rewind to the left, for that matter. The volume control is a little row of vertical bars visible at the left, while the music plays.)
Audio clip: Adobe Flash Player (version 9 or above) is required to play this audio clip. Download the latest version here. You also need to have JavaScript enabled in your browser.

—
As of the moment I'm keying this in, what I think of as RAMH includes:
1,182 published posts
113 draft posts
6,678 published comments (including pingbacks, replies from me, etc.)
11 comments pending approval
About 700 .mp3s ("songs," for the most part — not all posted to the blog yet)
Well north of 2,000 images (again, not all of them yet used in posts)
Unfortunately — or not — I turned off my primary site-visits tracking gizmo a couple years ago, because it had introduced some weird bug or other in the blog's behavior (maybe just with a specific browser, I can't remember). For what it's worth, though, my secondary/auxiliary tool currently displays this at the moment, as its year-over-year summary (click to enlarge slightly):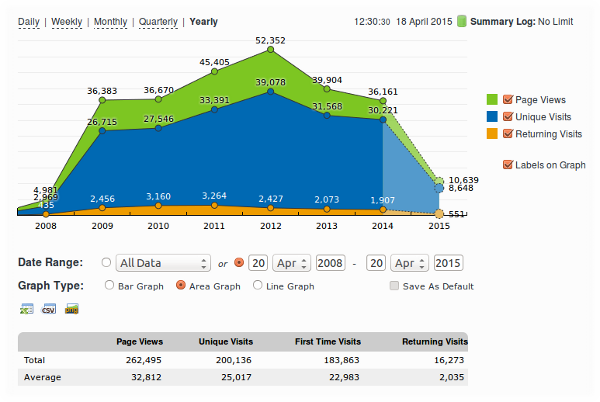 I didn't turn this backup counter on until the last few months of 2008,
and of course it's only gathered data so far on 3-4 months of 2015. So the
2008 and 2015 endpoints both undercount the actual yearly totals.

But honestly, I really don't pay attention to site visits/"hits" and related statistics anymore. Not that it's depressing, exactly… It just seems beside the point, in a world where the day-by-day/hour-by-hour traffic has all moved on to Facebook, Twitter, Instagram, Medium, Tumblr, Vine, and all the rest.
The line from Ricky Nelson's "Garden Party" occurs to me: You can't please everyone, so you gotta please yourself. I'd qualify that everyone as everyone, all the time. Obviously, at some level, everything I post here has pleased me in one way or another. But sometimes, a bit of it catches the eye of a stray visitor, too: often a long-time and/or returning visitor, but just as often a complete stranger to me. I like to imagine that long after I'm gone — at least until the clock runs out on my domain name — someone or other will still stumble upon something of interest here. (I can pretty much guarantee that almost anyone searching on the phrase propagational library will land here first. Ha.) But "like to imagine" falls short of "hope": ultimately, my writing here will never be a magnet for fame, fortune, or even simply an audience. And that's okay.
(I mean, it's like, well… The Missus and I live at the end of a block-long cul-de-sac: maintaining the lawn and the exterior of the house has nothing to do, really, with what people will think when they happen to drive past by happenstance because no one drives past by happenstance. No: this is just how we like it.)
Still, y'know, I do miss the substantive back-and-forth of blogging as it was just a few years ago; I miss simply posting here more often.
But most of the bloggers I once followed regularly have moved on, especially to Facebook. So because I do like whatever kind of back-and-forth I can get, I find myself posting things there which would have stayed here at RAMH even a year or two ago. (See, for example, this (which should be readable even if you don't have a FB account).)
Ah well. The world turns, eh? Its course, extremely locally, was already set by April 20, 2008 — if I'd been determined not to turn with it, I'd never have posted a second time, let alone a thousand times-plus!
Thanks, always, for reading.
Every blogger appreciates every site visitor, "invisible" or otherwise. Still, among the people I've known online in the last seven years, I'd especially like to salute the following — most of them bloggers, some not — who've contributed most significantly and memorably to my pleasure in maintaining

Running After My Hat

. A few seem to have completely vanished. Most, though, have moved on to Facebook (etc.), under these or other monikers, and I count myself lucky to still follow them there.
A.B.
DarcKnyt
Eileen
Eisha
Floyd
Froog
Helen
Henning
Hyocynth
Jayne
Jeremy
Jules
Julie
Kelly
KLB
Maggie
Marta
MisssyM
Moonrat
Nance
Simon
someone's
brudder
Squirrel
Tara
Tessa
Send to Kindle