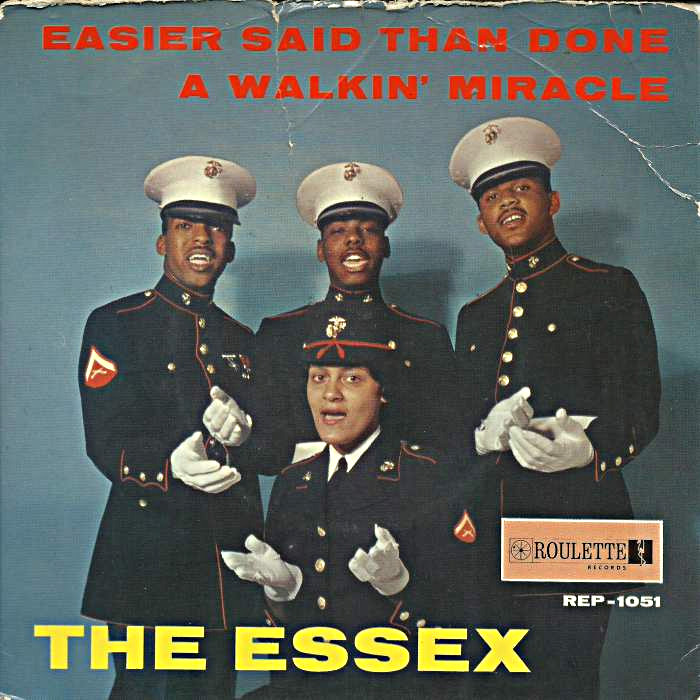 In 1961, a couple of US Marines stationed in Okinawa — Rodney Taylor and Walter Vickers — formed a vocal duo with the slightly odd name "The Essex." Shortly thereafter, they were reassigned to Camp LeJeune in North Carolina; there, they added a couple of their fellow leathernecks, Billy Hill and Rudolph Johnson. They even encountered a woman Marine performing in the base club for non-commissioned officers; they liked the way her voice sounded, and convinced her to join their act.
Still on active duty, the quartet (Johnson left after a few months) set out to polish their routines, eventually recording a demo tape of ballads to send around to the big-name labels. Roulette Records expressed interest in recording them — they'd have to audition, of course, but if that went well… Except for one thing: what song to audition with? The problem, see, was that Roulette specifically asked for something a little snappier than the ballads on the demo.
Vickers had a friend, William Linton, who worked in the base communications office. Linton claimed to be a songwriter, so they asked: Could he come up with something suitable for their audition? Together with another friend, Larry Huff, Linton cobbled together a short little thing called "Easier Said Than Done."
At the audition, as it happened, they didn't perform "Easier Said Than Done." (The group themselves didn't much care for it, in fact.) The Roulette producers liked their sound nonetheless, and agreed to release their first single, called "Are You Going My Way?" For the flip side of the single, they requested — yes — "Easier Said Than Done." But now The Essex had another problem: although they'd recorded fragments of the song, they'd never recorded a full-length version — even just a couple minutes long, the bare minimum for a 45rpm recording.
Out of the editing room emerged the "B" side, spliced together from multiple takes and pieces into a single, barely-two-minutes-plus chunk… And that pastiche, maybe needless to say, quickly swept the record's "A" side into oblivion.
"Easier Said Than Done" is one of my favorite oldies, for its sheer crackling energy. No wonder it's got that energy: the rhythm, Linton maintained, came from that of a teletype machine in the office. I also love the way the lyrics — mostly monosyllables — fit so well into every little niche of the music, and Humes's delivery taps them into place there. Yet I think it's also got one of the most disappointing finishes of any oldie. Before I knew the above story about the splicing-and-cutting, I'd always thought it sounded like the songwriters, exhausted by what came before, had simply run out of gas on the last line.
Anyway, here's 1963's "Easier Said Than Done," by The Essex. The teletype rhythm — close to the actual sound — is in the insistent background duh-duh-duh-duh, duh-duh-duh-duh (bass? rhythm guitar?) playing behind the other instruments and vocals.
[Lyrics]
The Essex didn't hang around together for more than a couple of years before their military schedules forced them to head in different directions. And after "Easier Said Than Done," their sales pretty much spiraled downhill; that hit had sat comfortably at Billboard's #1 slot for two weeks, but their next best-seller, "A Walkin' Miracle," made it –briefly, a couple months later — only to #12. (A 1995 "Best of" compilation somehow pulled together a couple dozen songs, but I don't recognize any of the others; of the 24, five are identified on the back of the album as "previously unissued tracks.") Anita Humes attempted a solo career, but that never really came together, either.
Only one other song I know of includes a background like this one: a so-called "Light Classical" piece, 1950's "The Typewriter Song," which literally uses that "instrument" with an orchestra of more conventional ones. (Its composer, Leroy Anderson, also composed "The Syncopated Clock," the Christmas hit "Sleigh Ride," and other just-short-of-novelty pieces.) Here's the Boston Pops and a brief version of "The Typewriter Song," YouTubed over images of… well, you can probably guess:
Send to Kindle