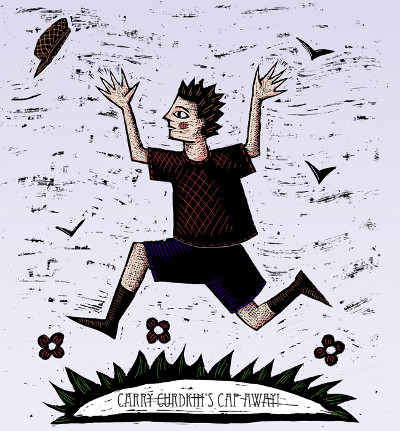 I've been trying to come up with something… different to do for this blog's second anniversary. And then along comes Google, with its wacky "Search Stories Video Creator" for YouTube.
The Video Creator's first page gives you up to six search boxes, into which you enter search terms — presumably forming some sort of "story arc." (There's also a seventh box on the form; this is used to create a "last slide," as you will see.) For each search, you also choose whether you want to search the Web in general (the usual Google search), Google Images, Google Maps, blogs, news, Google Products, or Google Books. And then, when you've made those selections, you select a canned soundtrack from among numerous genres and styles.
And when you've done all the above, the system creates a YouTube video of your search(es) results.
It's… it's weird. Also kinda cool. And/Or disconcerting. Best of all, it gave me something… different to do for the blog's second anniversary.
What I did was choose six posts from the last two years, published roughly every few months. From each of those six, I pulled key words or phrases for my search terms. I can't say that the selection is entirely random: I wanted it to be sorta-kinda representative of the way RAMH has evolved (assuming "evolution" describes what's happened here). And yet I also didn't want to select "greatest hits," "my favorite posts," or any such thing. (You'll find, for example, that none of the six was a What's in a Song post, although a couple other series are represented.)
Here are the six posts I chose:
Below is the "Running After My Hat" entry in the Search Stories pile o' stories. I decided to call it "in pursuit of headgear":
Thank you to RAMH readers, both the lurking and the commenting sorts (especially the latter!), and thank you beyond measure to the bloggers whose sites I visit regularly, and from whose words — every day — I draw inspiration.
_______________
Note: The image at the top of this post, "Breezy," is a scratchboard illustration from the fairy tale commonly called "The Goose Girl." (Caption: "Curdkin has been tormenting the main character, so she calls out 'Wind, wind, blow today, carry Curdkin's cap away!', and it does.") It is by Tanaudel, on Flickr. You can read "The Goose Girl" here, on Project Gutenberg. (That version of the story includes a striking print of the same scene; it is by one Jennie Harbour, an Art Deco-style illustrator about whom little seems to be known.)
[Hat tip to the pseudonymous Jordan Baker of Dealing in Subterfuges for alerting me to this Google/YouTube Video Creator thing.]
Update, 2010-04-26: The Teacher Tracks blog recently posted an entry on five ways which teachers can use the Google Search Stories thingum as an educational tool. It included a link to a (Google-produced) "love story" using a beefed-up version of the publicly available tool:
(Apparently this was used in a Super Bowl ad this year. Darn. I missed that, didn't I?)
Send to Kindle