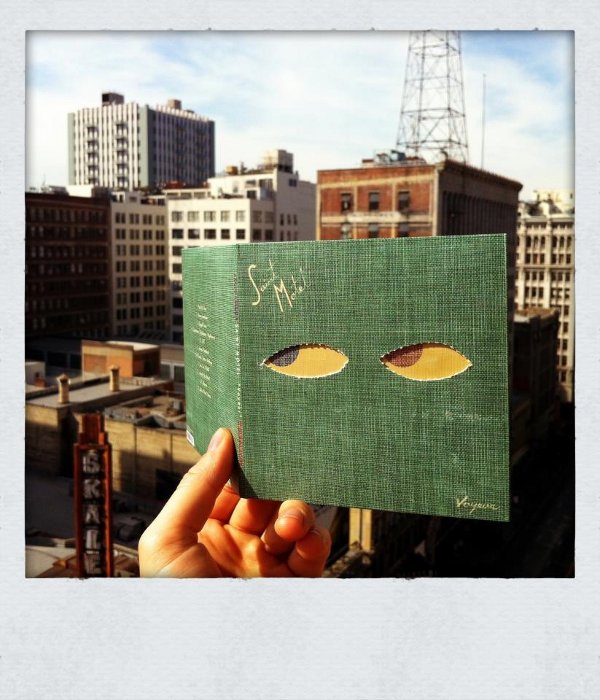 The four-piece Los Angeles band Saint Motel just released their first album, Voyeur. I really have no idea how to characterize their music, except via some vague phrase like "pop rock"; Wikipedia punts, classifying them as indie rock, alternative rock, and indie pop, while citing reviewers who strain for descriptors like "garage glam." (Uhhhhhhhh…)
The band's main songwriter and lead singer, A/J Jackson, seems drawn to now-minor but once-major news stories, like the comet-chasing mass suicide of the Heaven's Gate cult (the central inspiration for their song and video "1997").
To "get" this week's selection, the latest video from the Voyeur album, cast your mind back to mid-1935. Benny Goodman had in recent months just established his first big band. Once he turned over arranging responsibility to Fletcher Henderson, especially, Goodman had enjoyed great success on a nationwide NBC radio program, Let's Dance. The time seemed right to go on tour, starting with the West Coast. Most of their engagements out there were one-night stands, whose results might most charitably be called "mixed"; most sources report that Goodman, discouraged, was ready to dissolve the band.
And then they began a week at the Palomar Ballroom in LA. Gene Krupa, the explosive drummer who'd been with Goodman only a few months, is supposed to have said to the bandleader: If we're gonna die, Benny, let's die playing our own thing. The Palomar engagement was a huge success — so successful that it's often referred to as the moment the Swing Era began.
A/J Jackson knew of this story, and (he says) started thinking about The Jackson 5 — specifically, the point in time when the four older brothers added little Michael to the group. (The Jackson of Saint Motel doesn't mention the coincidence of his own last name, and this moment in 2012 when the band he's in seems about to really break out, but it seemed obvious to me.)
And thus, the single — and accompanying video, which Jackson directed — "Benny Goodman." Over dinner in a nice restaurant, a vaguely Steve Buscemi-ish businessman (recording executive?) tells a proud father they've got a deal, and praises his four sons as very talented. All of his sons, that is, except for the littlest one. The father, shaking his head, agrees with the businessman: Nope. He doesn't do anything much.
The little guy knows otherwise, though. He wants some respect. And he'll stop at almost nothing to get what he knows he deserves.
[Lyrics]
(Interestingly, the moment of recognition doesn't come immediately: all the diners except those at his own family's table are blown away. But that's the attention — the respect — that he wants. And he doesn't really get it until, first, he acquires a couple of leggy backup dancers; and, second, the lights go out and the kid provides the only visual stimulus in the room. There's also a racial subtext here, intentional or not: the kid, his dad, and his brothers are the only blacks in the restaurant. And he requires the help of whites to draw the attention not just of other whites, but of his own family.)
The dancer there is one Miles "Baby Boogaloo" Brown, a seven-year-old Internet and reality-TV hit in his own right. He's got Twitter and Facebook pages, his own YouTube channel, runner-up status in the 2011 America's Got Talent competition, a couple of appearances on Ellen Degeneres's TV show, and a string of viral videos to his credit. A/J Jackson says he'd despaired of finding a dancer for this video until he happened to catch one of the latter, and knew he'd found his star.
As a side note of coincidence, playing the part of the father here is Derrick Tuggle, the star of the Black Keys' hit video "Lonely Boy"… featured here at RAMH almost exactly one year ago.
Send to Kindle