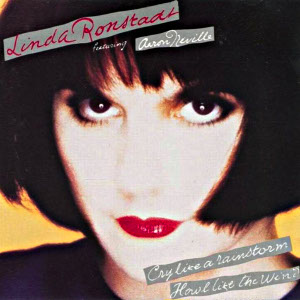 For reasons which may (if I'm lucky!) become obvious in a few days, I recently combed through RAMH to see when I'd featured this song here. I couldn't believe what my eyes (via the Search feature here, or via our Google overlords) insisted to be true: never. I'd never even mentioned it in a comment. It appears in not a single draft post. The absence didn't just defy expectations; it defied explanation — seemingly defied reality itself.*
I mean, seriously: I love this song.
When the album on which it appears came out, in 1989, I pretty much bought it automatically, knowing very little in advance: it was Linda Ronstadt, after all. And (look at that cover photo!) it clearly had nothing to do with her several previous albums — the Nelson Riddle collaborations on old standards, and so on — all of which I'd respected and listened to, even repeatedly, and even really, really liked… without ever falling in love with any of them.
So Cry Like a Rainstorm, Howl Like the Wind, unheard, seemed on the face of it a return to form.
Which turned out to be, well, not quite true. Don't get me wrong: much of it sits very pleasantly in the ears, and Ronstadt is joined on several numbers by the silken-voiced Aaron Neville. (That collaboration seemed to draw the most commentary and praise from critics, and resulted in the album's biggest hit singles… and not one but two Grammies for duet performances, in 1990 and '91.) Brian Wilson (Ronstadt told one reviewer) added fifteen parts just to one song.
But wowie, when I heard this number — as far as I can tell, just Ronstadt and the musicians — I think I almost passed out. I'd bought the album on cassette tape back then, of course; and I was single at the time, so spent a lot of time in the car by myself, to and from work, on road trips and family visits, simply to the store and back. I listened to the whole thing — this number in particular — over, and over, and over. I listened to "Trouble Again" so many times that I knew exactly how many internally-clocked seconds it took to rewind to the beginning. Nothing else quite like it appears on that album. I don't know why it was never released as a single.
Aside from the music, from the start I very much liked the meaning — the story — in this song. "I'd be so pure if it hadn't been for YOU" isn't a unique theme, by any stretch. But every other example I can think of features a man singing of or to a woman who (he claims) led him astray: that "Trouble Again" stands the standard narrative on its head makes it worth hearing on its own, specific performance aside. Its protagonist even shares all those guys' defensive self-delusion.
(Lest you think that Ronstadt's simply covering a male-written song: nope. It's a cover of a song by Karla Bonoff, who also penned a good number of other songs which have marked Ronstadt's career.)
One note in particular really lingers in the mind — It. Is. Amazing — but I'll let you discover it for yourselves:
[Below, click Play button to begin Trouble Again. While audio is playing, volume control appears at left — a row of little vertical bars. This clip is 3:19 long.]
Audio clip: Adobe Flash Player (version 9 or above) is required to play this audio clip. Download the latest version here. You also need to have JavaScript enabled in your browser.
[Lyrics]
The note in question was one of two which imprinted themselves on my brain around the same time. The other I already discussed a good while back, down towards the end of this post; there, Carly Simon rounded off "I Get Along Without You Very Well" with a lingering (and lingering, and lingering…) tug on the heart. But Ronstadt here powers through with a furious, sustained outburst of bitterness which — in the lyrics' context — means above all not to let "you" get a word in edgewise.
For the record, here's Karla Bonoff's own version. Obvious differences between Ronstadt's and Bonoff's voices aside, all the essential elements are in place (including, not least, the storyline). The note here, however — at around the 1:30 mark — lasts for only couple of seconds (vs. Ronstadt's ten-second blast). It's missing the righteous fury:
[Below, click Play button to begin Trouble Again (Karla Bonoff). While audio is playing, volume control appears at left — a row of little vertical bars. This clip is 3:34 long.]
Audio clip: Adobe Flash Player (version 9 or above) is required to play this audio clip. Download the latest version here. You also need to have JavaScript enabled in your browser.
_____________________________________
* Actually, I have shared it off the board with a couple of long-time RAMH readers. Yeah. That had to be what I was thinking of — because of course it couldn't possibly be ascribed to a hiccup of memory…
Send to Kindle