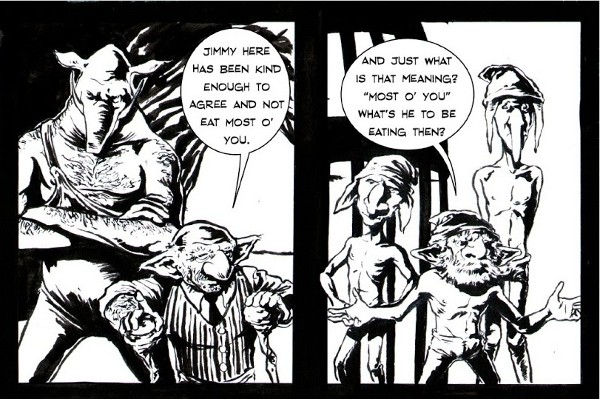 [Image: two panels from the Changeling's Child webcomic, by Bartholomew Schmidt. See the full installment from which this is excerpted here; the complete series begins here.]
Well before a writer signs with an agent or outside editor, and certainly well before anyone will consider publishing his book, he must agree to one very important contract — arguably the most important contract of all, and one which needs to be at least drawn up even before the first word goes into the manuscript*.
I speak, of course, of the writer's contract with himself (which will later be countersigned by his work, but that's another matter (and a more rickety metaphor)).
This has weighed on my mind for weeks now, without being put into words. Multiple triggers:
I've been trying to understand what I've got in Seems to Fit. Is it salable in its present form? If not, what does it yet need? Suppose I don't sell it at all, or simply choose not to: is it good enough for publication, period? If not, what does it yet need?
I've kickstarted numerous stories — some new, some recycled — without caring to do more than blip the throttles of any of them beyond a few writing sessions. Is the problem in the machines, or their maker?
With an eye to RAMH's recent fifth anniversary, I've fretted over what, exactly or even approximately, I aim to accomplish here. Does it make sense to say I'm "promoting my brand" in the absence of products to carry that brand? Even if it makes sense, how does creating one or two posts a week — always on the same one or two topics — serve the purpose? Much though I love both my whiskey river Fridays and my Midweek Music Break series, they began — and I think, were most successful — as, yes, regularly scheduled breaks in the blog's real content. As THE content, though? Thin. Very thin.
(When I look back to RAMH's first few months, I'm astonished at how frequently I posted — and they weren't generally throwaway posts, either. It's no wonder that most of the traffic here anymore comes from Web-search hits on three- and four-year-old content. When, I wonder, did I stop interesting even myself?)
I've started to notice some characteristic things I do with my fiction — not with the writing as such, but with plots, characters, and settings — which make them both easier to write and also, well, a little predictable.
Other stuff has gotten mixed into all the above, not all of it involving writing, blogging, and technology (the usual preoccupations). It's stuff, that is, going on with family and domestic life, with friends online and off-, with work, with the world at large — all very distracting generally and per se, but also specifically making me ponder Great Things only peripherally related to writing.
So, back to that contract: it has only one clause, which reads something like this (stripped of the legalese):
I, [Author], agree to write [The Work] as needed in order for [The Work] to accomplish its primary goal: satisfaction of [Author].
(Note that the clause does not assign value, one way or the other, to any particular kind of work. It doesn't matter if what motivates and will ultimately satisfy the author is fame, fortune, literary merit, or the approval of Mom and Dad. Genre fiction, textbooks, fanfic, academic fiction, poetry… No difference. You often hear that if a work doesn't satisfy an audience, it fails. This may or may not be true ultimately, but the word primary carries great weight in the contract. If [The Work] fails to satisfy the author but aims — however successfully — to satisfy others, eventually you'll end up with one very, very dispirited author.)
Some writers seem better equipped than others to honor this clause. Alas, I have come to believe that I myself am really, really bad at it. I won't cite specific cases, because it would sound like I'm blaming the people who offered the advice… when the problem really centers on my naive willingness to "go along." I am way too susceptible to influences both explicit (from well-meaning and/or honestly knowledgeable individuals who know me) and implicit ("conventional wisdom" about how to write, how to start a story, how to sustain the reader's attention and tie things off at the end).**
All right, listen: pretty much all of us crave feedback, and we all need writing advice. (I guess Nobel winners are entitled to sneer — not that they would — and MacArthur Fellowship holders may not sneer but can certainly afford not to seek out second opinions.) And having received advice, even unbidden, it doesn't hurt to at least consider it.
But trouble awaits the unwary, the uninformed, and the too easily swayed — the too agreeable — regarding both explicit and implicit pressures. At least you can take issue with individuals applying the former sort of pressure. The latter, not so much. When you hear generalized advice like Write what you know!, Character flows from action!, and You've got to grab the reader from the very first sentence! — and you hear it repeatedly, from those in authority (editors, agents, writing teachers, professional authors) — it's hard to ignore. That's why conventional wisdom becomes conventional, right? because it's true, and true always?
Yet here's what I've noticed, in re-reading Seems to Fit and all those various stories (and remembering the books which already bear my name): pretty much every single time I conceded knowingly to "what everyone knows," the work became more artificial to me, and more leaden.
I have got to (as the saying goes) knock this sh!t off, and learn to trust my own instincts. Otherwise, one of these days I'm going to wake up and proceed to the keyboard only to find that the Muse has left for good — repelled by my repeated violations of the terms of the writer's contract with himself.
If you "do art" of any kind, how do you deal with this? Do you knowingly fight either your own instincts, in favor of conventional wisdom, or vice-versa?
___________________
* Heck, this contract holds even when the author does everything on his own: self-editing, self-publishing, self-marketing, and self-distributing.
** That sentence will come as a surprise to (among others, no doubt) The Missus, who has often told me I give far too little weight to others' opinions.
Send to Kindle