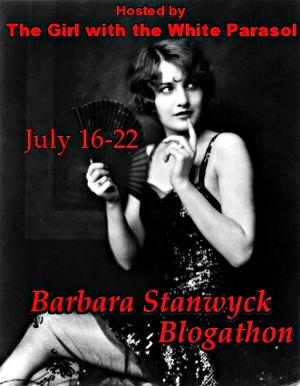 I don't know Aubyn Eli and am not sure how I got to her blog, The Girl with the White Parasol, as I did for the first time back in May or June. But I know what attracted me there: her planned week-long celebration of Barbara Stanwyck's 106th birthday. Later today I'll add my own contribution to the blogathon: a review of Crime of Passion, from 1956.
Interested in "golden era" Hollywood films or, of course, in Stanwyck herself? You could do far worse this weekend than to set aside some time to browse Aubyn's schedule of what's already been posted by the forty-plus bloggers contributing — and to mark your calendars for what's coming. Not all of Stanwyck's eighty-plus films are covered (hmm: a foreshadowing of a 107th-birthday celebration in 2014?), but it's a pretty impressive list nonetheless. And it covers not just her films, either. You'll find essays on her TV work, her career, the blonde wig she donned for Double Indemnity,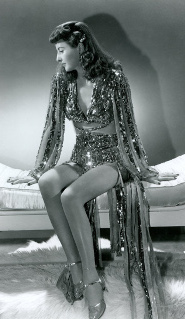 the gown (pictured at right) which inflamed Gary Cooper (and not a few male moviegoers) in Ball of Fire…
(Wikipedia says of that film's wardrobe: "In World War II, a total of 12 servicemen were pen-pals with Stanwyck; two of them asked for a poster of her in the Ball of Fire outfit for their mess hall.")

As for Aubyn herself, as I said, I know her only (and only very recently) through her blog, which focuses on "Classic Cinema, 1930-1965." (Her Twitter profile identifies her as a "Full-time fantasist." I want that job!)
But I do know what the blog's title alludes to: an anecdote related by Everett Sloane's character, named Bernstein, in Citizen Kane. He's being interviewed by a reporter, Thompson, about his memories of Charles Foster Kane (Bernstein having been Kane's long-time assistant). Thompson asks for Bernstein's guess about the famous last word, "Rosebud," and Bernstein suggests maybe it was a girl. Thompson scoffs — anyone so powerful could hardly have had just a girl on his mind at the very end — but Bernstein cuts him off with this story:
It's one of my favorite moments in the film, actually in any film — one of the favorites of a lot of people, indeed. Of course Aubyn Eli isn't suggesting a connection specifically with Stanwyck in her blog title, and I never saw a film in which Stanwyck was costumed in exactly this way. But I can confidently say that if I'd ever seen her as a young woman in a white dress with a white parasol over her shoulder, in any setting at all, yeah: I'd remember the moment at least once a month, too.
Anyway, I'll be back later today with my writeup on Crime of Passion. [Edit to add: the review is here.]
________________
About the blogathon banner image: Wikipedia says of it only, "Barbara Stanwyck as a Ziegfeld girl (c. 1924)."
Aside: I'm so sorry that the video's uploader didn't get the memo about properly sizing a clip's aspect ratio on YouTube. This squashed look drives me crazy.
Send to Kindle