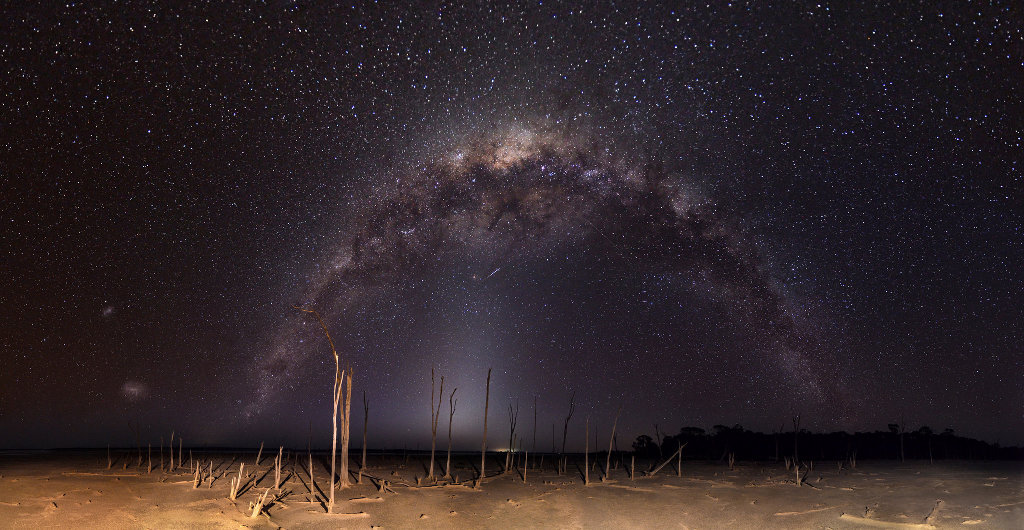 [Image: "Milky Way & Zodiacal Light over Lake Dumbleyung," by Trevor Dobson (user inefekt69) on Flickr. (Used here under a Creative Commons license.) The photographer's description says, "Lake Dumbleyung is about 215km south east of Perth. It's famous for hosting Donald Campbell's successful world water speed record attempt back in 1964. The lake was much fuller then but I was hoping for at least some water to cover the bottom of the many dead trees that line the shores, I wasn't lucky though."]
From whiskey river (italicized lines):
To Live in This World Requires

To live in this world requires
that you leave your house every morning
and step into the wind
Every morning: with all your memories
on file and the future pinned to some wall
you will have to build and tear down and
build again. If you get there. If. If.

Into the wind: first you walk the dog whose
blessed face belies the beast it is built upon
Millennia behind you, that beast enters a cave
and decides whether or not to kill a child sleeping
by a fire. It does not kill the child
because its heart has been surprised by love
Both softened and sharpened by it, inexplicably
Inexplicably, to this day

And on this day, the wind relents
The morning star lifts itself into a changeable sky
and you, carrying extra weight, wearing
last year's clothes, start walking towards the train
Seeds that grew from ancient science digest in your stomach;
your bones begin to separate because science did not plan
this length of life; your heart slows down and you feel
the pressure of dragging a million, billion years
behind you. A million, billion lie ahead that you
will know nothing about

Thus, harnessed to time, facing the inevitable,
constructed by science and fed on inexplicable events
taking place somewhere in the middle of history,
your day goes by. Miles away, the ocean
murmurs to its own beloved creatures, a mountain
applies pressure to the weaving of a golden seam
And in your house, the dog wonders
if you will make it home again. And each day,
despite or because the performance of this feat
is both a mystery and a triumph, somehow
you will. You do
(Eleanor Lerman [source])
…and:
Knowing you are alive is feeling the planet buck under you, rear, kick, and try to throw you; you hang on to the ring. It is riding the planet like a log downstream, whooping. Or, conversely, you step aside from the dreaming fast loud routine and feel time as a stillness about you, and hear the silent air asking in so thin a voice, Have you noticed yet that you will die? Do you remember, remember, remember? [*] Then you feel your life as a weekend, a weekend you cannot extend, a weekend in the country.
(Annie Dillard [source])
Not from whiskey river (excerpt):
Miss Peach: The College Years

III. The Essay

It is dumb to know what one has longing for.
I am moved by the orange stitching on a girl's corduroy book bag.

I, too, wonder what I am happy about.
There is always something natural in pieces

like sand or snow. If early Western cultures
had perceived the surface of the day as wrapping around them like a shell,
I wouldn't be here right now.
Not exactly me, not exactly here, not exactly now. The world spreads out

from how we look at one thing. I tell myself this and then I look at things for hours.
(Catie Rosemurgy [source])
…and:
You Can't Have It All

But you can have the fig tree and its fat leaves like clown hands
gloved with green. You can have the touch of a single eleven-year-old finger
on your cheek, waking you at one a.m. to say the hamster is back.
You can have the purr of the cat and the soulful look
of the black dog, the look that says, If I could I would bite
every sorrow until it fled, and when it is August,
you can have it August and abundantly so. You can have love,
though often it will be mysterious, like the white foam
that bubbles up at the top of the bean pot over the red kidneys
until you realize foam's twin is blood.
You can have the skin at the center between a man's legs,
so solid, so doll-like. You can have the life of the mind,
glowing occasionally in priestly vestments, never admitting pettiness,
never stooping to bribe the sullen guard who'll tell you
all roads narrow at the border.
You can speak a foreign language, sometimes,
and it can mean something. You can visit the marker on the grave
where your father wept openly. You can't bring back the dead,
but you can have the words forgive and forget hold hands
as if they meant to spend a lifetime together. And you can be grateful
for makeup, the way it kisses your face, half spice, half amnesia, grateful
for Mozart, his many notes racing one another towards joy, for towels
sucking up the drops on your clean skin, and for deeper thirsts,
for passion fruit, for saliva. You can have the dream,
the dream of Egypt, the horses of Egypt and you riding in the hot sand.
You can have your grandfather sitting on the side of your bed,
at least for a while, you can have clouds and letters, the leaping
of distances, and Indian food with yellow sauce like sunrise.
You can't count on grace to pick you out of a crowd
but here is your friend to teach you how to high jump,
how to throw yourself over the bar, backwards,
until you learn about love, about sweet surrender,
and here are periwinkles, buses that kneel, farms in the mind
as real as Africa. And when adulthood fails you,
you can still summon the memory of the black swan on the pond
of your childhood, the rye bread with peanut butter and bananas
your grandmother gave you while the rest of the family slept.
There is the voice you can still summon at will, like your mother's,
it will always whisper, you can't have it all,
but there is this.
(Barbara Ras [source])
* Interestingly, whiskey river omits the brief portion of this passage which begins, Have you noticed yet that you will die? The passage appears in both sources cited by whiskey river… maybe there's another version which omits it. (Not that I'm complaining; I've done the same thing in this post, with a different quotation.)
[back]
Send to Kindle