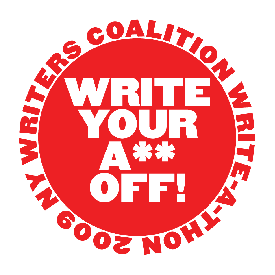 Important: Please read the update at the foot of this post. If you can't read that, at least read the boldfaced parts of the post itself. Thanks for visiting!
The blogosphere — or maybe it's just the corner I've been mostly visiting, the one with the writers and other assorted wordsmiths — seems to have been overtaken by despair recently. Or maybe it's not despair, exactly. Maybe more like anomie, a sort of formless uncertainty about the whole enterprise of getting language onto paper or screen, into lyrics and scripts.
Many people mutter, darkly, about the prospect of ever getting published — traditionally, or even at all. Others just want to take a break. Go on hiatus. Explore other creative avenues. Bug out.
Hmm.
I think we could all use a shot in the arm. Maybe we need to take a page from the New York Writers Coalition, which has designated next Saturday, May 16th, as their 4th Annual Write Your A** Off Day (or, less in-your-face, the Write-a-Thon).
At the NYWC's page of information about this year's event, you'll see that it comprises several activities:
Devote a full day to your writing
Meet Novelist Jennifer Belle!
Attend free, fun, inspiring workshops
Help fund NYWC's free creative writing programs for the formerly homeless, at-risk youth, seniors and many others
Enjoy gift-bag freebies and compete for top-pledge Prizes
Munch on Free Lunch and Light Breakfast
Now, I'm not saying we should all board (as the movie title goes) planes, trains, and automobiles and descend upon the Big Apple. Certainly not with just a few days' notice — and I'm not sure that even NYC would be prepared for the arrival of tens of thousands of even well-off, flexibly-scheduled novelists, essayists, non-fiction authors, poets, and screen- and songwriters from the hinterlands and other six continents. (Hello, McMurdo Base!)
I'm not even talking about duplicating all their events with your local versions. Again, awfully short notice and all that.
But, hmm, that one event does sound sort of appealing:
Devote a full day to your writing.
What a… what a radical idea. Not asking us to set aside 30 days, a la NaNoWriMo. Not even asking us to write for 24 hours straight, or even for a standard-issue eight-hour workday. (The official NYWC "day" is only 7-1/2 hours, from 10:30 to 6, with a break for lunch.)
Nope. It's not write for a day. It's devote a day to your writing.
Write some, sure. Nobody could object to that. But even if you never lay your fingers on your keyboard, never pick up your pen or handheld voice recorder, even then: can you set aside 7-1/2(ish) hours in a single block of 24 hours to think about, work on, research, accommodate, market, and/or otherwise honor the act and craft of writing? Your own writing, that is, and not someone else's?
Would you ever consider taking that time to attend a workshop or conference in your town, for free? If so, why not take it on your own, or with a partner?
Even if not on Saturday, May 16th: doable, you think? Any takers? Reactions? Bueller?
Update 2009-05-11:
A few points to emphasize:
If you want to spend the whole 7.5 hours actually writing, sure, go ahead. But give yourself a break somewhere in the middle of it. It's not healthy to spend 7.5 hours in front of a computer — even counting BRBs.
The exact day isn't important — not even the exact weekend, or month, or what-have-you. This is a day to make you excited and happy about your writing. If you've got to jump through hoops to crowbar it into the coming (or any other) Saturday, weekend, whatever, you are not going to enjoy the experience.
I wanted to emphasize these points because it seems an awful lot of people are stressing out and saying No, thanks: it's too inconvenient, it's flat-out impossible, and so on. If you're interested in doing this, please make it easy for yourself to do it. And if you're not gonna do it, don't bail because it's "too hard." If you need to relax a "rule" or two, I think it's better to do that than to dismiss the gimmick out of hand.
But that's just my opinion. :)
Update 2: The New York Writers Coalition, those sneaky devils, changed the URL of their Write-Your-A**-Off page. I've updated the link from their logo, above, accordingly.
Send to Kindle